A Geekgasm of "Cronos," "Inception," "Videodrome" and More New DVDs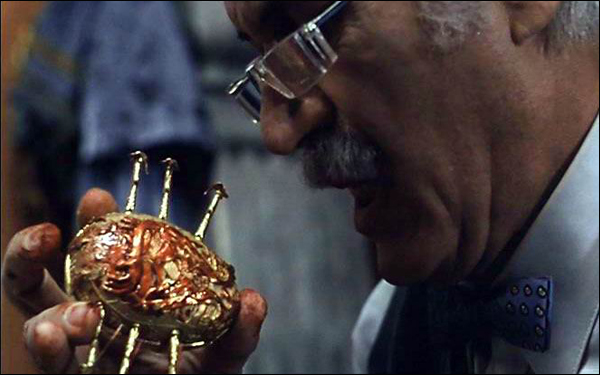 Posted by Stephen Saito on
A look at what's new on DVD today:
"Cronos" (1993)
Directed by Guillermo Del Toro
Released by Criterion Collection
After years of being out of print, Guillermo del Toro's feature debut is getting the Criterion treatment and del Toro has gone all out to make it one of the best discs ever with new interviews, his 1987 short "Geometria," two audio commentaries, a video tour of his home office, and more.
"300 Killers" (2010)
Directed by Matt Jaissle
Released by Midnight Releasing
A police chief (Johnny Andrews) who sees his city falling under the thumb of a ruthless drug dealer and sends out his best detective (Anthony Tomei) to put a stop to it in Matt Jaissle's action film.
"Across the Line: The Exodus of Charlie Wright" (2010)
Directed by R. Ellis Frazier
Released by Maya Home Entertainment
Aidan Quinn stars as a billionaire who flees to Tijuana after he's on the run for his involvement in a Ponzi scheme in search of a woman he left behind decades earlier while a federal agent and some less savory folks are in hot pursuit. Writer/director R. Ellis Frazier surrounds Quinn with Andy Garcia, Mario Van Peebles, Luke Goss, Gina Gershon, and Danny Pino.
"Barry Munday" (2010)
Directed by Chris D'Arienzo
Released by Magnolia Home Entertainment
Chris D'Arienzo's directorial debut found quite a few fans when it premiered earlier this year at SXSW, with Patrick Wilson playing against type as the smarmy ladies man in the title who loses his testicles in an attack only to finally man up when he discovers he may be a new father soon to a woman (Judy Greer) he barely recalls in this comedy. Chloë Sevigny, Malcolm McDowell, Jean Smart, and Cybill Shepherd co-star. (Interviews with Wilson and Sevigny are here.)
"Boys Life 7"
Released by Strand Releasing
Strand Releasing's latest collection of gay themed shorts features Julian Breece's "The Young and Evil," Larry Kennar's "Spokane," Gary Huggins' "First Date," and Martin Deus' "Raw Love."
"Caged Animal" (2010)
Directed by Ryan Combs
Released by Phase 4 Films
Now that he's appearing in DTV titles like "Death Race 2," apparently it's time to accept Ving Rhames a star of the Blockbuster realm. Even though he once again collaborates with director Ryan Combs from "Animal 2," this isn't necessarily a continuation of the prison saga from that DTV series, but instead the origin story of Miles "Cain" Skinner, who must defend his turf against his rival from the outside (Robert LaSardo). Robert Patrick co-stars.
"A Dog Year" (2009)
Directed by George LaVoo
Released by HBO Films
In the midst of all the excitement surrounding Jeff Bridges' performances in the upcoming "Tron: Legacy" and "True Grit," HBO is releasing this family friendly drama that was orphaned by the end of the indie label Picturehouse in 2009. Bridges stars alongside Lauren Ambrose as a writer who emerges from a midlife crisis with the help of an abandoned border collie he takes in from the pound.
"Escape from Zahrain" (1962)
Directed by Ronald Neame
Released by Olive Films
Ronald Neame directs this 1962 Yul Brenner vehicle in which the "King and I" star revolts against his country's corrupt government and makes a desperate attempt to exit.
"Fistful of Brains" (2008)
Directed by Christine Parker
Released by Brain Damage Films
This zombie western involves two brothers' feud that tears a North Carolina town apart during the 1800s when the murder of a herd of cattle leads to a series of unfortunate events.
"Fox 75th Anniversary Collection"
Released by Fox Home Entertainment
There are 75 films to celebrated 75 years of the venerable Hollywood studio, but only one is actually a DVD debut: the 1933 adaptation of Noel Coward's "Cavalcade." However, the studio is more than making up for it with a set that includes everything from "All About Eve" to "The Devil Wears Prada" and a hardcover book celebrating Fox's history.
"Franz Kafka's A Country Doctor and Other Fantastic Films"
Directed by Koji Yamamura
Released by Zeitgeist Films
KimStim has collected legendary Japanese animator Koji Yamamura's shorts for U.S. consumption for the first time, including the 2003 Oscar-nominated "Mt. Head."
"Harpoon: Whale Watching Massacre" (2009)
Directed by Julius Kemp
Released by Image Entertainment
The original "Texas Chainsaw Massacre"'s Gunnar Hansen adds to the killer cred of this Icelandic slasher flick where a group of whale watchers make the mistake of getting onto the wrong boat when their own vessel runs into rough waters.
"Hugh Hefner: Playboy, Activist, and Rebel" (2010)
Directed by Brigitte Berman
Released by Phase 4 Films
Canadian documentarian Brigitte Berman studies the impact of the Playboy founder on America's changing attitude towards sex, as well as the country's bumpy journey towards civil rights equality in this biography. Given unprecedented access by Hefner, Berman goes beyond the grounds of the Playboy Mansion with interviews with libertines such as James Caan, Jim Brown and Gene Simmons as well as the likes of Dr. Ruth, Pat Boone, Jesse Jackson and George Lucas. (My interview with Berman is here.)
"Hunter Prey" (2009)
Directed by Sandy Collora
Released by Maya Entertainment
Sandy Collora, director of that great Batman short "Dead End" from 2003, gets to helm a full-length sci-fi film about a spaceship where the crew becomes hunted by an extraterrestrial prisoner that escapes their clutches.
"Inception" (2010)
Directed by Christopher Nolan
Released by Warner Home Video
Arguably the most debated film of the year, Christopher Nolan's thriller about dream theft will now be held up to even closer scrutiny on home video where one can endlessly pause and pore over every visual twist and turn. (Plus, it can get you ready for that video game sequel.) Leonardo DiCaprio, Ellen Page, Joseph Gordon Levitt, Ken Watanabe and Tom Hardy star.
Mademoiselle Chambon
Directed by Stephane Brizé
Released by Lorber Films
Recently nominated for a Spirit Award after winning a César Award last year for best adapted screenplay and being nominated for two more, Brizé's drama centers around a construction worker (Vincent Lindon) whose idyllic family life is upset when he volunteers as a substitute teacher at his son's school and meets the titular Mademoiselle Chambon (Sandrine Kiberlain), a vibrant, violin-playing homeroom teacher who seduces the married father.
"The Milk of Sorrow" (2009)
Directed by Claudia Llosa
Released by Olive Films
Famous for being the first Oscar-nominated film from Peru, if nothing else, Claudia Llosa's drama is centered on a woman (Magaly Solier) who believes her mother passed on a life of misery at birth and attempts to escape her past. (Alison Willmore's review of the film is here.)
"The Mission" (1986)
Directed by Roland Joffe
Released by Warner Home Video
Long before Roland Joffe was directing treacle such as "Captivity" and "The Scarlet Letter," he was at the helm of this Palme D'Or winning drama that's making its Blu-ray debut about the defense of a South American tribe by a group of Jesuit missionaries led by Jeremy Irons against a slave trader (Robert De Niro).
"My Normal" (2010)
Directed by Irving Schwartz
Released by Wolfe Video
Also debuting the same day on VOD, Irving Schwartz's New York-set drama centers on a woman (Nicole LaLiberte) who supports her desire to become a filmmaker as one of the city's most wanted dominatrixes, but just as her plan starts to come together, a new relationship threatens to tear it apart.
"Only When I Dance" (2010)
Directed by Beadie Finzi
Released by Film Movement
"Unknown White Male" producer Beadie Finzi travels to Rio de Janeiro for this dance documentary that traces the journey of two fleet-footed teens, Irlan and Isabela, from the favelas of Brazil, where they face daily violence in the streets and discrimination from the national ballet companies for the color of their skin, to the Youth America Grand Prix in New York where the competition is fierce.
"Patrik, Age 1.5" (2008)
Directed by Ella Lemhagen
Released by Entertainment One
Ella Lemhagen's comedy shows the perils of not reading the fine print when a gay couple in Sweden expect to adopt a 15-month-old orphan and wind up with a 15-year-old hoodlum who objects to their lifestyle.
"Release"
Directed by Darren Flaxstone and Christian Martin
Released by TLA Releasing
This British drama centers on the romance that develops between a priest incarcerated on charges of pedophilia and a prison guard who believes in his innocence.
"Restrepo" (2010)
Directed by Sebastian Junger and Tim Hetherington
Released by Virgil Films and Entertainment
Long respected for his investigative journalism, "The Perfect Storm" author Junger joined forces with photojournalist Hetherington for a look at life inside an American platoon in Afghanistan that naturally will appear in book form ("War") as well serve as the subject of this film which captures a year in the war-torn Korengal Valley. The National Geographic release was widely lauded at Sundance where Alison Willmore called it an "artful, excellent doc" that is a "nonfiction companion to 'The Hurt Locker.'" The U.S. military has since shut down the outpost in April. (My interview with Junger and Hetherington is here.)
"Shrek Forever After" (2010)
Directed by Mike Mitchell
Released by DreamWorks Animation
If Jeffrey Katzenberg is to be believed, this will be the last time we see the big ol' green ogre, in which case, the series might've saved the best for last with this entry that reimagines Shrek's entire trajectory when a deal with Rumpelstiltskin leads to an alternate universe where Shrek hasn't yet met his true love Fiona or become a local celebrity, though if he is to survive, he must still find true love's kiss.
"The Stranger In Us" (2010)
Directed by Scott Boswell
Released by Breaking Glass Pictures
After leaving an abusive ex-boyfriend, a man (Raphael Barker) who has little experience in the urban life of San Francisco outside of his past relationship is taken under the wing of a hustler who offers both a bit of protection and danger in this drama.
"Strapped" (2010)
Directed by Joseph Graham
Released by TLA Releasing
A male hustler spends the night at an apartment building full of eccentric tenants in this drama from San Francisco filmmaker Joseph Graham.
"Videodrome" (1983)
Directed by David Cronenberg
Released by Criterion Collection
Although this appears to be a direct port from Criterion's already impressive 2004 edition of David Cronenberg's headtrip about a TV exec (James Woods) whose discovery of a hardcore Malaysian program leads him into a dangerous world where real life and television have no barriers. However, it's quite likely that the new hi-def transfer for this Blu-ray will be so good, it'll make your head explode.
"The Year of Getting to Know Us" (2008)
Directed by Patrick Sisam
Released by Entertainment One
Maybe this comedy will be known mostly as a trivia answer for what was the last vestige of Jimmy Fallon's attempt to transition from a "Saturday Night Live" star into a leading man in the movie business before returning to late night as a talk show host. But two years after writer/director Patrick Sisam's feature debut played at Sundance, a wide audience will finally get their chance to see Fallon as a man trying to overcome a privileged but dysfunctional childhood with detached parents (Tom Arnold and Sharon Stone) by returning home at the behest of his girlfriend (Lucy Liu). (trailer)