2010's Most Memorable Critical Dust-Ups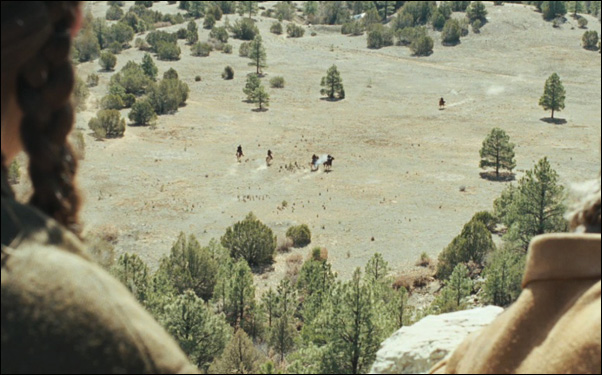 Posted by Stephen Saito on
Unlike 2009, there were no punches thrown between critics, at least that we know of, though it didn't make it any less strange a year for film writers. While there was no assault, that didn't rule out blackmail – as when FirstShowing.net's Alex Billington was accused by rival movie website writers of threatening to ruin Universal's secret screening of "Scott Pilgrim Vs. the World" at Comic-Con by revealing the time and location in advance – or the far more serious allegations of sexual abuse against IESB.net founder Robert Sanchez, who fled the country only to turn up at the first press screening of "Tron: Legacy" in November.
In substantially better developments, "At the Movies" sadly came to an end with Michael Phillips and A.O. Scott at the helm, but will be born anew under original co-host Roger Ebert's watchful eye with Associated Press critic Christy Lemire in one of the new balcony chairs that will be unveiled on public television shortly after the new year. Salt Lake Tribune's Sean Means put an end to his Departed Critic list in May, concluding that "movie criticism isn't dead," but as a profession, it needs to adapt – months later, veterans Glenn Kenny and Todd McCarthy got new gigs as the chief film critics at MSN Movies and The Hollywood Reporter, respectively. Then, at the end of the year, something truly unheard of happened: Sunset Gun writer Kim Morgan wed filmmaker Guy Maddin.
Although filmmakers and film writers aren't always that cozy (see Kevin Smith below), 2010 was a year in which many film writers were compelled to reevaluate their relationships to their peers, to their readers and to the changing digital landscape. Some dealt with it better than others, as this year's five best critical dust-ups attest.
Richard Schickel Vs. Film Criticism
In March, I went to a screening of Gerald Peary's "For the Love of Movies" with limited expectations. I had seen the Boston Phoenix critic's history of film criticism nearly a year earlier at SXSW, but I was lured in by the collection of critics assembled for a post-screening discussion moderated by IndieWire's Anne Thompson that included Peary, Vogue's John Powers, L.A. Weekly's Ella Taylor, David Sterritt, the Christian Science Monitor's Peter Rainer and yes, Richard Schickel, the recently retired critic from Time. And that was only onstage. In the crowd, there was an equally impressive array of writers that included the L.A. Times' Mark Olsen, David Ehrenstein and Sergio Leone and the Fly Rule Double's Dennis Cozzalio. If this all seems a little inside baseball, you might understand why I thought about not even writing about the event. But I did. And the fallout was quick after Schickel's grousing about the state of film criticism reached outside the walls of UCLA's Billy Wilder Theatre.
"Watching all these kind of earnest people discussing the art or whatever the hell it is of criticism, all that, it just made me so sad. You mean they have nothing else to do?" Schickel said after the screening before dropping the bomb, "I don't know honestly the function of reviewing anything." It was quite a statement coming from someone who has written film criticism since 1965 and undoubtedly has and will continue to have a role in shaping film history with his many books and documentaries on filmmakers such as Clint Eastwood and Woody Allen. And while no one on the panel agreed with his comments about much of anything that night, as Peary wrote in the comments of my article about the event, "I'm surprised how many people are taking literally his declaration of hating film criticism. What has the gentleman been doing for forty years except writing it? He might hate doing it now, but is he really saying he wasted four decades of his life?"
To which I would agree to a point – Schickel is notoriously curmudgeonly and looked very much the image of a burnt out writer. Also, the convened panel had a general air of depression around it after the film's celebration of the importance of film criticism gave way to the sobering reality that more than a few participants in the film are now out of the profession. But at the risk of sounding as cruel as Schickel did towards online critics during the panel, I felt he looked lost and far more frustrated by a future for film criticism he knows little about than the past on which he had a firm hold.
In a piece for Cinematical, Todd Gilchrist did well to explain "What it means to be a film critic in 2010," which follows all the same tenets that Schickel worked under for years with the major exception that Gilchrist has to defend what he does whereas Schickel never did. If anything good came of Schickel's often ugly comments, other than the Twitter account of @FakeSchickel, it was the passionate response that emerged that made criticism feel more relevant than ever, whether it Cozzalio's account of the evening, New York Times critic A.O. Scott's summation that "The future of criticism is the same as it ever was. Miserable, and full of possibility" or Salon.com's Andrew O'Hehir's admonition for film critics to "shut up" and do their job. As for Schickel, I saw him a few weeks ago at a press screening for Peter Weir's "The Way Back," and although I couldn't tell if he liked the film or not, the fact that he had no professional obligation to be there was reason enough to believe his remarks about never loving movies should be taken with a grain of salt.
David Eng, Tom Perkins and Paul Fischer Vs. Writing Their Own Material
While the battle over piracy rages on for all of film, film critics have experienced their own share of theft in the past year. In July, Cinematical's William Goss went through 44 "reviews" by David Eng, a PR guy in New York who started his own amateur blog David's Movie Notebook, and discovered that they had been lifted nearly wholesale from the trades, Roger Ebert, Cinematical and the New York Times, among other outlets. Working in the publicity department of Lower East Side Tenement Museum apparently didn't prepare Eng for the barrage of phone calls left by Goss and he promptly took his Twitter account private and took down the blog.
Although troubling, it was actually just a drop in the bucket compared to the actions of Tom Perkins, a British blogger who was employed to do video reviews by Hey U Guys! in the UK up until it was discovered in May by JoBlo.com that he had been passing off reviews from that site and countless others as his own after Perkins posted an early review of "Iron Man 2." Like Eng, Perkins was subsequently badgered on comments sections and his Twitter account and took a long weekend to respond, ultimately coming clean but with an apology that was akin to the "Twinkie defense." Not surprisingly, he started out with the usual "there's no excuse for what I have done" before claiming that his plagiarism was due in large part because "YouTube has become so easily corruptible these days I kind of wanted to see how corruptible it can be." If anything, Perkins proved that video reviews are only slightly less discoverable than text-based ones on a Google search, yet after swearing off taking other people's work, he continues to review films on a personal blog.
However, the charges of plagiarism weren't limited to those young impressionable youths. Paul Fischer had been a senior member of the junket circuit for sites like Dark Horizons and Moviehole for years before he was caught this year pilfering descriptions of films from the Sundance Film Festival in his reviews. Fischer's frequent presence on TV movie ads in teeny-weeny font for movies not typically given to critical praise had made him a target of those who take the profession seriously, and ultimately his undoing came at the hands of Chris Parry, a Vancouver Sun writer who had been penning negative pieces about him for years on eFilmCritic.com. (Movie City News' Ray Pride did a roundup at the time of the bad blood between Fischer and Parry, which is considerably more interesting than the plagiarism case.)
Fischer retired rather than endure further scrutiny and has posted the occasional review on a personal blog. Some came to Fischer's defense, including, rather surprisingly, Vadim Rizov, who wasn't sad to see Fischer go, but argued it was endemic of a larger problem with giving audiences of low expectations exactly what they wanted, concluding "That he prospered for so long (and he's far from the only one of his kind) is the real scandal."