12 Days of Judd Apatow: Day 4 "The Larry Sanders Show"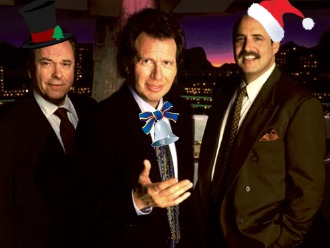 Posted by Melissa Locker on
From 1993 to1998, Our Patron Saint, Judd Apatow, was a writer and producer on The Larry Sanders Show. For those of you not blessed with skills in the math arena and/or the calendar challenged, this was before Freaks and Geeks and, thus, before Undeclared. The Larry Sanders Show starred Garry Shandling as the vain and neurotic talk show host Larry Sanders, Jeffrey Tambor as his sidekick and Rip Torn as Artie the producer with the mostest. The show offered a behind-the-scenes and satirical look at the making of a talk show including interactions between host and sidekick, host and guests, host and producer, producer and sidekick, producer and guests, sidekick and guests, and everyone else caught in the crossfire. The show set the bar for celebrity self-effacement with numerous stars stopping by to make fun of themselves. The show was very well received and won three Emmy® awards and received 56 Emmy® nominations. It was included in Time magazine's list of the "100 Best TV Shows of All Time." sitcom. It premieres on IFC Monday, January 3 at 11 pm E.T.
Here are a few of our favorite clips to help you appreciate the genius of Judd Apatow and to get you in the mood for The Larry Sanders Show:
Two 90s heros together! Norm MacDonald and Garry Shandling. Norm was just one of the many great celebrity cameos on the show:
Of course the sidekick, Hank, had a catchphrase:
And you should know that Artie is King. No, really, he is:
The Larry Sanders Show premieres on IFC Monday, January 3 at 11 pm E.T.