12 Days of Judd Apatow: Day 12 "Pineapple Express"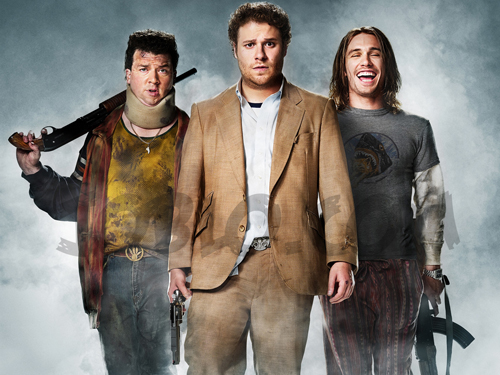 Posted by Melissa Locker on
As we wait patiently for The Larry Sanders Show and The Ben Stiller Show to join the roster of Judd Apatow's greatest hits we play on our air, we've been counting down 12 Days of Judd Apatow. Today marks the last installment of our tribute to our beloved Patron Saint. We've looked at his career from Freaks and Geeks to Knocked Up to Superbad.
There were a lot of options for our final day's homage to Judd Apatow. We could look at his recent production "Get Him To The Greek", which reunited him with Russell Brand from Forgetting Sarah Marshall and Jonah Hill from Superbad. Or we could talk about "Funny People", which is arguably his most personal film. He wrote, produced, and directed it and it starred his wife, Leslie Mann, Seth Rogen, and Adam Sandler. But, it was much more serious than one would suspect from the title, and we want to go out with a bang. Right: "Pineapple Express" it is.
In 2008, David Gordon Green directed and Judd Apatow produced "The Pineapple Express," a stoner comedy starring Freaks and Geeks alumni Seth Rogen and James Franco. The film was written by Seth Rogen and Evan Goldberg, who also wrote "Superbad." Rogen is a process server who witnesses a murder and goes on the run withhis dealer, played by Franco. Here's the trailer so you get the general plot of the film:
Is this the worst first impression on the girlfriend's family ever?
Clearly this is the best use of a Daewoo Lanos ever:
James Franco + Seth Rogen + 227 + Ten Pounds of Pot = Comedy Gold: