Yada Yada Yada Econ and Using "Seinfeld" as a Teaching Tool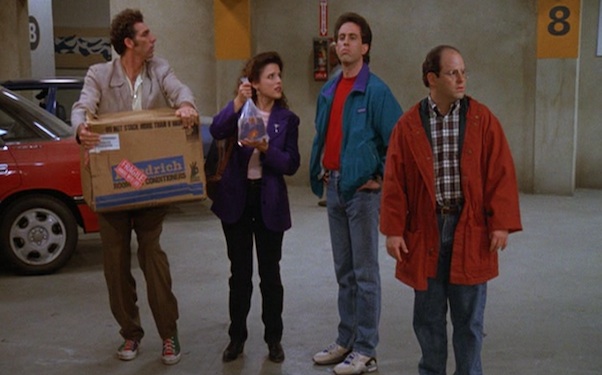 Posted by Matt Singer on
Next time someone tells you you'll never accomplish anything sitting on your ass watching syndicated "Seinfeld" reruns for the bazillionth time, you look them dead in the eye and tell them they're wrong. You're not just watching "Seinfeld." You're learning economics.
So says a website, reported on last Thursday by Business Week, called Yada Yada Yada Econ, which uses episodes of the classic '90s sitcom to demonstrate principles of economics. For instance:
"…take "The Sponge," an episode that Princeton economist Avinash K. Dixit has written an entire paper about. Hearing that her preferred brand of contraceptive sponge is being pulled from the market — creating scarcity — Elaine buys a case of them and begins to hoard her dwindling stash. She starts to think in terms of opportunity cost: Is sex with a current boyfriend worth giving up sex with a future date who might be better? Is he, as she puts it, "sponge-worthy"?
As someone who's wasted half a lifetime rewatching the same 180 episodes in an endless cycle learning economics through "Seinfeld," this was incredibly heartening news. And it made me wonder how else the show could be used as a teaching tool. Off the top of my head, I can easily envision academic applications in the following fields:
Sports Management: Future NFL executives learn how to work in the front office of a professional sports team by doing the opposite of everything George Costanza does as the assistant to the traveling secretary for the New York Yankees. And since George only got the job with the Yankees by systematically "doing the opposite" of his base impulses, I'm sure he'd approve.
Medicine: Students in the field of health and healing study "Seinfeld" for invaluable information on the dangers of holistic medicine, proper hygiene techniques and the medicinal value of Junior Mints.
Theology: Judaism? Latvian Orthodox? Festivus? "Seinfeld"'s got you covered.
So thank you, "Seinfeld," for teaching us all so much. Who says it's a show about nothing? Turns out it's really a show about everything.