Will North Korea's Temper Tantrum Help Sell "Homefront"?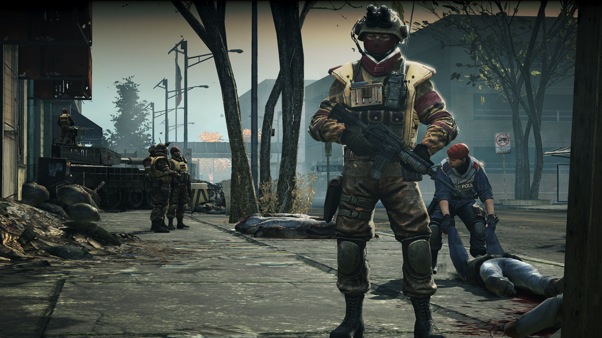 Posted by Evan Narcisse on
Right about now, the guys at Kaos Studios are feeling more than a little prescient now. That's because recent events involving North Korea and South Korea are making their upcoming game "Homefront" seem a lot less like fantasy and more like a disturbing glimpse into the future.
Monday night, the two Koreas traded artillery fire over Yeonpyeong Island with the northern nation saying that they were retaliating against South Korean military drills. The true catalyst to the shelling by North Korea has yet to be determined but some speculate that the show of military force is meant to usher in an heir to the ailing Kim Jong-Il's heir.
What does that have to do with "Homefront"? Well, the tension between the nations have made the game's bad guys a lot more scary. "Homefront" is a first-person shooter that supposes a unified Korea marshals enough military might and technological power to mount an invasion of the USA.
The game plays like a feverish nightmare of an absolute collapse of American society. Within the first five minutes of the game, your character's being detained without cause, cuffed and sent out on a bus to detainment camps. On the way, you see a child witness his parents being publicly executed and other people like lead character Robert Jacobs getting herded into barbed wire fences. Because it's a video game, a resistance movement exists and membes of that movement break Rogers out and fight the occupying Korean People's Army through the streets of small-town Montrose, Colorado. Later on in the part of the first level that I previewed, a firefight takes over a suburban home with a screaming infant and a frightened, bewildered mother at risk.
A few weeks ago, "Homefront" sounded like a playable improvisation off of "Red Dawn," where high school student fight against Communist Russian forces invading their town. The similarities aren't coincidental, since that film's screenwriter John Milius is helping craft the game's story. But, now, these new developments remind us that North Korea's aggression is very real, very strong and very unpredictable.
"Homefront" asks the most uncomfortable question: what if all that succession saber-rattling isn't just for show? What if it foreshadows something more sinister and what if we're caught unawares? This war game is different than "Medal of Honor," which tried to turn a documentary approach to an extant war into gameplay. Instead, the imaginary battles that "Homefront" imagines became a little more real. Granted, no matter how things develop between the two nations, a U.S. invasion by a unified Korea is still unlikely. But, the sensation of daily life interrupted by sudden violence is one of the things Kaos is trying to channel into the game. Lives were lost in the Yeonpyeong Island incident and, unfortunately, the developers of "Homefront" are getting more disturbing source material of what happens when things go from everyday to hellish in the blink of an eye. "Homefront" impressed me when I played it. It doesn't feel like shock for shock's sake and it used it shattered strip malls to great effect, building up an anger inside the player that makes its gun battles feel important in a way that few games achieve. What remains to be seen is how the game's own merits and any morbid curiosity about the Far East's enfant terrible will fuse together and affect the game's fortunes.
"Homefront," which is being published by THQ, comes out on March 8, 2011 for Xbox 360, PS3 and PC.