What to Watch on IFC: November 1-November 7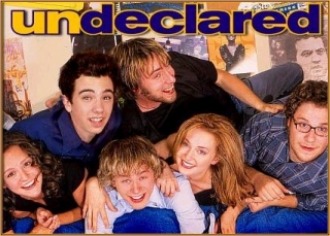 Posted by Melissa Locker on
Pack away the costumes, the ghoulish decorations and the horror films (well, maybe not the horror films), because it's a whole new month, with a whole new holiday looming on the horizon. Since Thanksgiving doesn't have as many excellent movies associated it with the fright fest that Halloween requires, we're going to do our best to not show any turkeys. This week we have something for everyone namely, Jason Statham. He stars in Crank on Thursday at 11 p.m. ET. That should put a spring in your step even as the weather turns colder.
As the seasons change, so do the television schedules and this week is bringing a lot of change. We are bidding farewell to high school with Freaks and Geeks and reliving dorm life with Undeclared on Friday at 11 p.m. ET. Hot plate top ramen, anyone?
Here is what else you need to watch this week on IFC:
Monday
It's your final chance to watch Freaks and Geeks live with your fellow nerds, dorks, burn outs, and, of course, Matt Singer and Will Weinand. While we're sad to see the kids of McKinley High go, we're are very excited to start showing Judd Apatow's Undeclared. Luckily college has a lot of familiar faces including Seth Rogen and Jason Segel, so you won't get homesick. So crack open a brewski and tune in at 11 p.m. ET right here to bid farewell to Freaks and Geeks.
Tuesday
At 9:30 p.m. ET IFC's original program 360 Sessions goes behind the music with Corinne Bailey Rae. During the half hour show she talks about her return to music, her influences and career at Abbey Road Studios.
Wednesday
Tuck the kids (and pervy roommates) into bed, light a candle, and pour a glass of wine, because Indie Sex 2: Censored is on tonight at 11 p.m ET. The documentary looks at the filmmakers and special interest groups who regulate and distribute the images that shock and titillate viewers.
Thursday
It's Jason M@#erf*cking Statham! The hottest action hero in the world (don't argue) hits the IFC air in Crank at 11 p.m. ET. Statham stars as a former hitman who is poisoned by his ex-bosses and must keep his (and yours) adrenaline pumping or else.
Friday
Between five episodes of The Increasingly Poor Decisions of Todd Margaret airing from 7:30 p.m. ET to 10:30 p.m. ET and the first episode of Undeclared at 11 p.m. ET. You may as well glue your remote control to the ceiling because you won't be changing channels all night.
Saturday
Hey, look! It's Heather Graham's Committed at 5:55 p.m. ET. We love her. If you need a palate cleanser, stick around for some serious horror with a double feature of gross when we show Quentin Tarantino's and Robert Rodriguez's Grindcore Presents: Planet Terror and Deathproof. The fun starts at 10 p.m. ET.
Sunday
Wake up at noon (ET), fix yourself a breakfast cocktail and stay in bed all day with our Arrested Development marathon. Lucille Bluth would approve. Don't bother getting up, because one of our favorite Brian De Palma films Carrie starts at 6:30 p.m. ET.