We're Asking: What's Your Favorite Terry Gilliam Movie?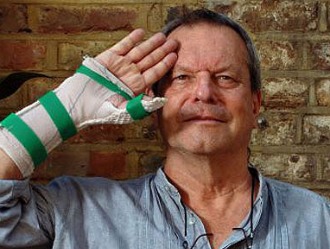 Posted by Melissa Locker on
We love Terry Gilliam. From his work as Monty Python's animator-in-chief to his many and sundry hilarious roles in Monty Python's Flying Circus (on today from 7:05 p.m. to 9:30 p.m. ET) to "Life of Brian", there is nothing about this Python we don't like.
We love Gilliam's work in front of the camera almost as much as his work behind the camera. Gilliam's work directing "Monty Python and the Holy Grail" has lead to a very prolific career as a director. One could easily argue that out of all his castmates, he has the most successful post-Python career. His movies have spanned decades, ranging from cult classic "Time Bandits" in 1975 to even more cult (culter?) classic "Brazil" in 1985 to "Twelve Monkeys" in 1995 to the "Imaginarium of Dr. Parnassus" in 2009 and he has "The Man Who Killed Don Quixote" in pre-production. His movies feature strange, fantastical and dystopian worlds populated with unusual characters you probably wouldn't meet anywhere else.
During his time behind the camera, Gilliam has worked with some of the best and brightest (and clearly the most attractive) actors including Sean Connery, Brad Pitt, Heath Ledger, Johnny Depp, and Benicio Del Toro. The hardest question when it comes to Terry Gilliam's body of work is: How do you choose your favorite?
Never ones to shy away from the tough questions, we're asking: What's your favorite Terry Gilliam movie? Tell us in the comments.
Here are a few trailers to help you decide:
"Time Bandits":
"Brazil":
"The Adventures of Baron Munchausen":
"Fisher King":
"Fear and Loathing in Las Vegas":
"12 Monkeys":
How will you ever choose?
Monty Python's Flying Circus airs today from 7:05 p.m. to 9:30 p.m. ET