"Undeclared" Ep. 1 and 2, "Prototype" / "Oh, So You Have a Boyfriend?"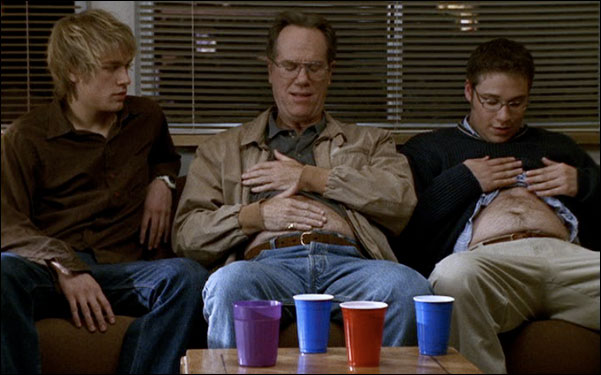 Posted by Matt Singer on
"Undeclared" is now airing on IFC, and we thought we'd take this opportunity to revisit the show that further cemented broadcast television's inability to recognize the genius of Judd Apatow. Every week, Matt Singer and Alison Willmore will be offering their thoughts on that night's episode.
Episode 1
"Prototype"
Written by Judd Apatow
Directed by Jake Kasdan
Episode 2
"Oh, So You Have a Boyfriend?"
Written by Kristofor Brown
Directed by Paul Feig
"When I'm lecturing, I expect you to listen. This is not high school." — Professor Duggan
No, it's certainly not. And Judd Apatow's short-lived college series "Undeclared" wasn't his short-lived high-school series "Freaks and Geeks," either. It was made for a different network (Fox instead of NBC), a contemporary story instead of a period piece, and just a half-hour each week instead of "Freaks"'s full hour. Maybe most importantly, with that change of format came a change in tone: "Undeclared" is a single camera sitcom while "Freaks and Geeks" was always more of a drama with comedic elements. Though they were equally spurned by audiences during their initial runs, "Freaks and Geeks" has definitely evolved into the bigger cult hit on DVD. The general consensus is that "Undeclared" is good, but not as good. So is the general consensus right?
So far, yes. But let's be fair here. Despite the fact that Apatow was a major creative force on both shows, "Undeclared" really is a very different animal than "Freaks and Geeks." I don't think it's unfair to say it was aiming lower than its predecessor; after the bitter struggles Apatow endured keeping the iconoclastic "Freaks" on the air, that was almost certainly by design. And through the first two episodes "Undeclared" hits its admittedly easier target, namely awkward observational humor about life in a college dorm, early and often.
The setting is a nondescript California university in the fall of 2001. I was a college junior at the time, and while I attended school on the east coast, I recognize a lot about this place from the tacky dorm furniture to the Dandy Warhols theme song that was a particular favorite that year at our college radio station. Our hero is Steven Karp (Jay Baruchel), a dweeby Jewish kid who's bought into one of the big myths of college: the chance to completely reinvent yourself in an environment where no one knew you in high school (a myth that was explored on "Freaks and Geeks," in the episode "Noshing and Moshing"). The "A" story of these first two episodes involve his budding relationship with his neighbor Lizzie (Carla Gallo), who sleeps with him after an intense fight with her long distance boyfriend Eric ("Freaks and Geeks" MVP Jason Segel, doing outstandingly creepy work as a disembodied voice on the other end of a telephone).
Through two episodes, the early theme in "Undeclared" is about how women play games and act crazy. Lizzie impulsively sleeps with Steven in Episode 1 but she doesn't even tell Steven that she has a boyfriend until Episode 2, where she invites him to a pseudodate that ends with a long kiss on the lips. Meanwhile, Steven's father Hal (Loudon Wainwright III) tells his son that after decades of marriage, Steven's mother wants a divorce. Though Hal's a goofball (and as he notes in one hilarious scene, has the hairy beer gut of an 18-year-old), there's no indication so far that he's a bad husband or a bad provider. His side of the story — the only side of the story we get — is that Steven's mom is breaking his heart for no good reason. We'll have to see how this theme develops through the series but it already marks a big difference from "Freaks and Geeks" where the roles for women were a bit more diverse and nuanced.
As for the world of "Undeclared," it's kind of remarkable how a show designed to reflect the modern college experience already looks like more of a period piece than "Freaks and Geeks" after less than ten years. From the "X-Files" posters to the "American Pie" screening on the quad, to Lizzie's clunky cellphone and "Waaazzup?" greeting with Eric, "Prototype" and "Oh, So You Have a Boyfriend" play in 2010 like an unintended parody of turn of the century pop culture. Alison, you were in college at this time too: how do you react to seeing dorm life circa-2001 today? Were you chuckling with recognition at the sight of the "Snood" t-shirts too? Or were you lucky enough to escape that dorktastic obsession?
Alison: "Snood"? I scoff at your "Snood" addiction! Okay, I was actually of the cult of the basically identical (though it did come first!) "Bust-A-Move," which provided mindless solace whenever it was two in the morning and I had a paper due in a few hours. But yes, the music, the set dressing, the pop culture references are all very of their moment, and that moment is almost a decade gone, and while "Freaks and Geeks" careful recreation of the cultural detritus of its age made it a great period piece, "Undeclared"'s dead-on capturing of then-current college life means that it does now seem noticeably dated.
Like a lot of sitcoms, "Undeclared" takes a little while to find its feet, establish its characters as more than quick sketches and set up the interpersonal relationships that provide forward momentum for the storylines. What's interesting about the pilot, "Prototype," is its mixture of more formula establishing elements — the most obvious being Monica Keena's Rachel Lindquist, whose only given quality in this first episode is one of anxiety — with the kind of warm but unflinching honesty we've come to know and love from "Freaks and Geeks." Take the conversation between Hal, Lloyd (Charlie Hunnam) and Ron (Seth Rogen) leading out of that beer belly comparison, in which Hal sighs that "the women, they don't appreciate you" and Lloyd counters that surely Hal's wife also put in time and work into their relationship, and that its failure can't only be blamed on her. Hal doesn't want to hear it, but Ron's won over by the reasoning.
Standing out also is the scene in which Lizzie and Steven try to will themselves into believing that college really will provide the escape and the freedom they'd hoped, despite the fact that they've each just been given harsh reminders of how close the burdens of home are — a quick car ride or phone call away. Obvious obstacles aside, the two are a good match in their powers of rationalization alone. Steven's constantly striving to believe in own reinvention and possible coolness, while Lizzie's doing everything she can to tell herself she's happy in a relationship that's clearly awful and making her miserable.
In terms of "Freaks and Geeks" alums, there's the aforementioned Segel as the so far disembodied voice of Lizzie's oppressive, insecure boyfriend from hell, and Rogen as Ron, playing a character not that far removed from Ken Miller, with a shorter haircut, glasses, and a Canadian background to match the actor's sometimes accent. But what about the newcomers? Baruchel's Steven could absolutely be Sam Weir, post-growth spurt (and skipped ahead 20 years) and ready to set aside geeky things for the promise of partying, girls and semi-adulthood. Gallo's Lizzie bobbles between charming and irritating in her enthusiasm and her inability to put her foot down when it comes to Eric, and neither Rachel nor Timm Sharp's Marshall have gotten much definition yet, though Sharp does bring some nice bits of physical comedy to the well-trodden joke of a lecture being boring enough to put you to sleep.
Then there's Lloyd. The UK-born Hunnam is currently kicking ass and taking names as the very plausibly American Jax Teller on "Sons of Anarchy," but in this series, he plays a sort of magical Brit (the first we see him, he's actually wearing a Union Jack t-shirt) who displays immense ease with the ladies and immense shamelessness in using his vague exoticism to help that along. Matt, Lloyd seems to me as both the most sitcommy character (at least at the outset) in "Undeclared," but also the most fun. Do you agree? And does Hunnam's accent ever strike you as weirdly uneven for a guy who's actually English?