Tupac Shakur and Mickey Rourke Fan Art Face Off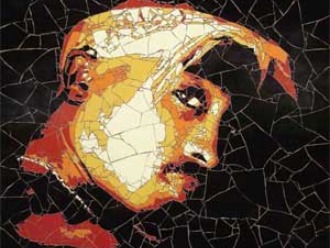 Posted by Melissa Locker on
In 1995's Bullet, Mickey Rourke stars as a junkie out on parole who takes the buy local mantra very seriously and rips off his neighborhood drug dealer played by Tupac Shakur. While obviously a Mickey Rourke/Tupac Shakur face off is the stuff of legends, the real question is: Who has worse better fan art? While most people would quickly answer Tupac, because he's Tupac and a martyr and up in heaven directing angels to bust rhymes and saving puppies from pratfalls, you may be surprised at the fan fervor for Mickey Rourke.
Here's our analysis of the art scene:
You can buy these on Etsy right now. Respect.
While no one is painting MIckey Rourke's mug on dungarees, this Mickey Rourke-plus-chihuahua oil painting was for sale on eBay (where else?) and got multiple bids:
That said, no one is improving famous works of art by painting Mickey Rourke's grizzled visage onto them. No, no, only Tupac (and maybe Biggie) can truly ameliorate a Van Gogh:
Yet, why paint over a modern masterpiece when you can create your own?:
It seems that for every one of these out there:
There's one of these:
Are the two equally adored muses? Well, we're not willing to call it a draw until some truly devoted Mickey Rourke fan gets some ink tattooed to rival this:
Advantage: Tupac Shakur
Bullet airs on IFC at 11 p.m. ET