Translated: Keiji Inafune's Exit Interview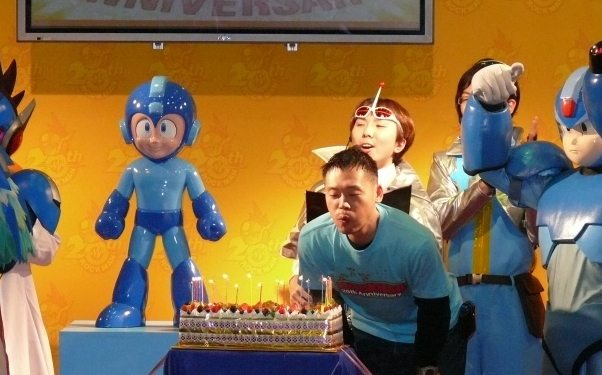 Posted by Evan Narcisse on
Gentle readers, before you say, "More on Inafune, Narcisse?!," consider this: the man created Mega Man.
Mega Man.
He worked at one company for more than two decades, steering it to great success in the hyper-competitive Japanese video game market. And he walked away from all of that. That doesn't happen everyday.
So, the most telling things about the three-hour interview wherein his separation from Capcom gets explained are the notes of futility and angst that Inafune strikes when speaking of his tenure. The translation comes by way of the NeoGAF forums [http://www.neogaf.com/forum/showthread.php?t=411847], home to the most dedicated gamer communities on the web. The interview originally ran in Japan's 4Gamer magazine.
KI: The reason why I'm quitting is basically because I think that the game industry itself must change the way it goes about making games. You might think I'm being hypocritical, but the really big wall that the Japanese game industry is hitting is the changing of its creators into salarymen.

4G: I think I know what you mean, but please elaborate.

KI: Well, when I was about 20, I was really passionate and entered the game industry, but now I'm in my mid-40s. It's a matter of my age. My generation is, for better or worse, holding the game industry back.

4G: Do you mean that the system of companies committing to employ for life is spoiling people?

KI: That's right. There are a lot of people who take their company's commitment for granted and don't work as hard as they should. This could be said of the entire industry, and of course Capcom is no exception.
In a previous post about Inafune's exit, I speculated that he might head west for his next venture. But, in the translated interview, he states rather fervently that he'd never do that:
KI: So if I can, I want to change the Japanese game industry. I don't want to abandon it. After I leave Capcom, I don't want to, for example, just work for EA, Activision, and Rockstar. That would be abandoning Japan.

I only know Capcom as a publisher, so I want to see the good and bad parts of other publishers in Japan and overseas, and based upon everyone's feedback about the Japanese game industry, go about changing it.

4G: So you're taking on the role of triggering change in the Japanese game industry.

KI: There's already a first trigger (ed: Inafune-san has long respected Hino-san of Level 5, so this may be who he's talking about.), and I want to draw on that and be a further driving force.

So to get back to the prior discussion, in many ways I want creators to be more self-aware and quit just being a salaryman. If all of the creators feel the same way, the industry will definitely change. It just takes a change.
One of the more intriguing takeaways from the piece is the fact that the anti-salaryman model Inafune's looking for already exists. Developers like Hothead Games are staffed by people who left corporate game development behind, people who have found a quicker, more creatively satisfying method of creating interactive entertainment.
Any way you slice it, the article's a fascination portrait of a storied game-maker at a crossroads. Interestingly, the Capcom blog post where Inafune announced his exit has been taken down. Nevertheless, this 4Gamer interview is also a trove of information on dev studio head counts, profit and loss considerations and the corporate culture of one Japanese video game company.