"The Nutcracker in 3D"'s Intriguingly Disastrous Reviews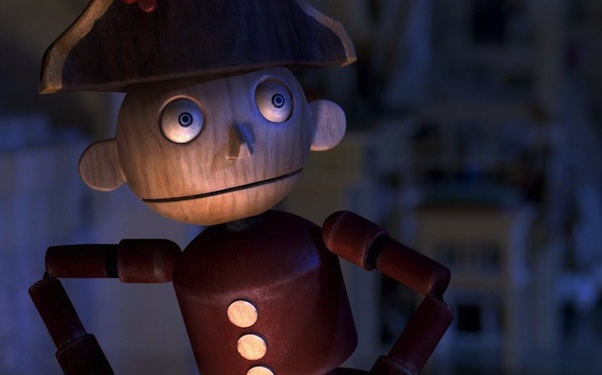 Posted by Matt Singer on
As someone with a morbid fascination with bad movies, I'd pinned all my hopes for a holiday film disaster on "Burlesque," Christina Aguilera's rumpy ode to the joys of PG-13 gyrations. But that industrial video for the corset industry inspirational story about dance has gotten only middling reviews, and currently stands at 33% on Rotten Tomatoes, not the sort of notices you need for a future cult classic. But it looks like I might have backed the wrong horse, as Andrey Konchalovskiy's incredibly loose adaptation of "The Nutcracker" has garnered the most toxic (and yet oddly intoxicating) reviews of any movie this year.
Currently sitting at 0% on Rotten Tomatoes, "The Nutcracker in 3D" sounds like one of those holy grail bad movies that combines crass commercialism (the film, shot in 2007, was post-converted to 3D for release) and hopelessly misguided passion (the director has been trying to make this version of "The Nutcracker" for twenty years). And what distinguishes this version of "The Nutcracker?" Well, it apparently ditches most of the dancing, adds lyrics to the classic Tchaikovsky music, and even tosses in some dark Holocaust metaphors for good measure. As Peter Martin from Twitch eloquently puts it, that's "both nutty and cracked." Here's a sampling of the reviews, starting with David Edelstein's from New York:
"Is this movie a tax shelter? Is there some "The Producers"-like scheme to open and close in a week and make off with the unused three-quarters of the budget? Amid the laborious CGI chases in muzzy 3-D, I glanced at my 8-year-old daughter, who put her hand on my arm and said, "It's okay, Daddy. I'm not mad at you for taking me to this."
Christy Lemire, Associated Press (who also compared the movie to "The Producers"):
"Uncle Albert shows up with some toys, including a wooden nutcracker shaped like a boy, whom he has nicknamed NC. Uncle Albert is meant to be Albert Einstein, and Nathan Lane plays him as a jaunty, heavily accented buffoon who frequently looks into the camera to make inane observations. He also sings a song to the kids about the Theory of Relativity which is painful in its literal-mindedness. This is just one example of the clunky lyrics Tim Rice ("Evita," "Jesus Christ Superstar") has contributed, which distract from the purity and grace of the music. During "Waltz of the Flowers," the Snow Fairy sings to Mary: "Is each day a new beginning? Do you have a fight worth winning?"
J. Hoberman, The Village Voice:
"The evil rodents who take over the city in a bit of 9/11-evoking terror are nothing less than Ratzis–they even operate an extermination camp for children's toys, complete with crematoria. Konchalovsky not only anticipated "Toy Story 3″'s dump truck to hell sequence, he exceeded it. In one fantastic bit of business, Turturro (or his avatar) dances an exultant flamenco amid toys heaped in the street like bundles of confiscated clothing. The wildest thing about this movie is its faith that what kids (and parents) really want for Christmas is a "Nutcracker" version of the Final Solution."
Roger Ebert, Chicago Sun-Times:
"Only one thing could have made this film worse, and they haven't neglected it. That would be to present it in 3-D. They have. The movie was filmed in Hungary in 2007, and perhaps those studio execs screening it sensed a certain lack of enthusiasm. Maybe they thought that by retroactively "adapting" it to 3-D, it would play better. No luck. I've seen bad retro 3-D, but I've never seen 3-D as bad as this. The film is so dim and dingy, you almost wonder if the smoke from those burning toys is drifting between you and the screen."
And on and on. Reviews this epically bad only come along once in a very long while. As A.O. Scott wrote in The New York Times last weekend in a piece about why we go to the movies (to not be bored, basically), "Very few movies are so bad that they ruin the experience of moviegoing." For a film that bad to sneak past all the various gatekeepers of the movie business requires a degree of either bad judgment or mass delusion that's nearly impossible, almost as impossible as a movie emerging from that same system as a masterpiece. That's what makes "Nutcracker" my must-see bad movie this holiday weekend. Sorry Christina.
The trailer for "The Nutcracker in 3D." Give it credit: it doesn't try to hide the weirdness.