The Movies You Have to See Before Making Your 2010 Top Ten List *UPDATED*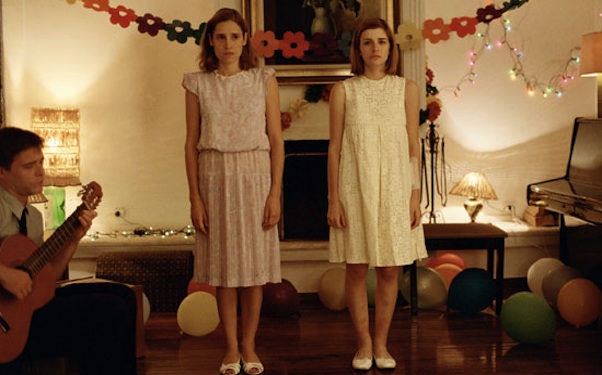 Posted by Matt Singer on
We've got less than a month until top ten lists for 2010 are due. Which means we've got less than a month to catch up on all the films we missed. In an effort to make sure I don't overlook anything in my own personal movie cramming session, I posted this message to Twitter earlier this afternoon:
Finish this sentence: "The movie you need to see before making your 2010 best-of list is ____________."
The responses I got, from professional critics and amateur enthusiasts, created such an impressive list, that I thought it was worth sharing. Obviously there are holes, and the nature of my question to Twitter means massive hits like "Inception" didn't get mentioned. But this is a good place to start catching up, and I'm more than willing to make this a living document. If there are movies you think deserve to be added, send me a message on Twitter.
I did not edit any of the suggested titles for taste; the only films that didn't make the cut were the ones that don't have 2010 release dates (like frequent but ineligible recommendation "Certified Copy"). I divided up the remaining suggestions by their release status; the link in each movie's title will bring you to its official site where you can find out more information about how to track it down. And out of the 59 films that follow, I've only seen 24. Which means I have a lot of work to do these next couple of weeks.
Last updated: 11/17/2010, 2:40 PM
All movies suggested by readers via Twitter
Already Opened
Amer, directed by Hélène Cattet and Bruno Forzani
The American, directed by Anton Corbijn
Animal Kingdom, directed by David Michôd
Army of Crime, directed by Robert Guédiguian
Daddy Longlegs, directed by Josh and Benny Safdie

Devil, directed by John Erick Dowdle
The Father of My Children, directed by Mia Hansen-Love
Lourdes, directed by Jessica Hausner
Ne Change Rien, directed by Pedro Costa
[REC] 2, directed by Jaume Balagueró
and Paco Plaza
Resident Evil: Afterlife, directed by Paul W.S. Anderson
Now Playing
127 Hours, directed by Danny Boyle
Alamar, directed by Pedro Gonzales-Rubio
The Anchorage, directed by C.W. Winter & Anders Edström
Carlos, directed by Olivier Assayas (also available on demand)
Dogtooth, directed by Giorgos Lanthimos
Enter the Void, directed by Gaspar Noé (also available on demand)
The Girl Who Kicked the Hornet's Nest, directed by Daniel Alfredson
Exit Through the Gift Shop, directed by Banksy (also available on demand and through iTunes on November 23)
Four Lions, directed by Chris Morris
Inception, directed by Christopher Nolan
Jackass 3D, directed by Jeff Tremaine
Joan Rivers: A Piece of Works, directed by Ricki Stern
Lebanon, directed by Samuel Maoz
Let Me In, directed by Matt Reeves
Our Beloved Month of August, directed by Miguel Gomes
The Social Network, directed by David Fincher
Tiny Furniture, directed by Lena Dunham (available on demand November 26)
A Woman, A Gun, and a Noodle Shop, directed by Zhang Yimou
Opening Soon
And Everything is Going Fine, directed by Steven Soderbergh, opens December 10.
Another Year, directed by Mike Leigh, opens December 29.
Black Swan, directed by Darren Aronofsky, opens December 3.
Blue Valentine, directed by Derek Cianfrance, opens December 31.
How Do You Know, directed by James L. Brooks, opens December 17.
The King's Speech, directed by Tom Hooper, opens November 26.
Love and Other Drugs, directed by Edward Zwick, opens November 24.
Rabbit Hole, directed by John Cameron Mitchell, opens December 17
True Grit, directed by Joel & Ethan Coen, opens December 22.
White Material, directed by Claire Denis, opens November 19.
Now Available on DVD
A Prophet, directed by Jacques Audiard
Bluebeard, directed by Catherine Breillat (also available on Netflix Watch Instantly)
The Crazies, directed by Breck Eisner (also available on Netflix Watch Instantly)
Eccentricities of a Blond-Haired Girl, directed by Manoel de Oliveira (also available on Netflix Watch Instantly)
Everyone Else, directed by Maren Ade (also available on Netflix Watch Instantly)
The Exploding Girl, directed by Bradley Rust Gray (also available on Netflix Watch Instantly)
The Ghost Writer, directed by Roman Polanski
The Girl Who Played With Fire, directed by Daniel Alfredson (also available on Netflix Watch Instantly)
Greenberg, directed by Noah Baumbach
Holy Rollers, directed by Kevin Asch (also available on Netflix Watch Instantly)
I Am Love, directed by Luca Guadagnino (also available on Netflix Watch Instantly)
The Last Airbender, directed by M. Night Shyamalan

Mother, directed by Bong Joon-ho (also available on Netflix Watch Instantly)
Please Give, directed by Nicole Holofcener
Red Riding, directed by Julian Jarrold, James Marsh, and Anand Tucker (also avilable on Netflix Watch Instantly)
Restrepo, directed by Sebastian Junger and Tim Hetherington (available on December 7)
The Runaways, directed by Floria Sigismondi
Scott Pilgrim vs. The World, directed by Edgar Wright
Sweetgrass, directed by Ilisa Barbash and Lucien Castaing-Taylor (also available on Netflix Watch Instantly)
Wild Grass, directed by Alain Resnais
Winter's Bone, directed by Debra Granik