The Last Hold Outs, Beatles Finally On iTunes, But Who Yielded?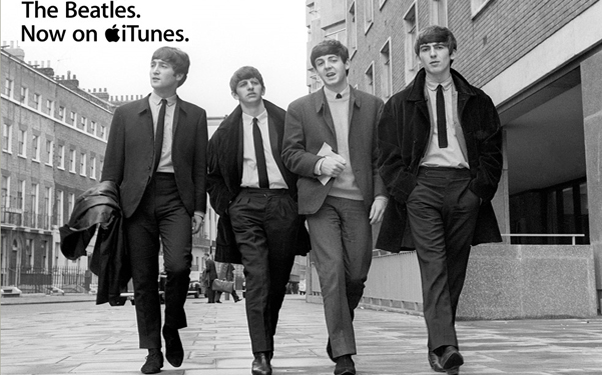 Posted by Brandon Kim on
After a series of secret back room negotiations between EMI and Apple Corps, complete with a code name ("Bastille"), the two labels finally came together over a royalties agreement, which then allowed a deal to be brokered with Apple Inc and iTunes to release the Beatles' catalog digitally.
After all the lawsuits, rights issue debacles, and one too many Apples, the deal was finally struck with CEO Roger Faxon representing the Beatles' record company EMI and Jeff Jones, the head of Apple Corps representing the band members and family. "We called the project Bastille," Faxon told The New York Times, after "the revolution."
How much of a revolution this is remains to be seen, if you're capable of downloading music from iTunes, you're capable of ripping CD's (or if you're like me, ripping your LP's) to mp3's and may have done so ages ago.
According to THR, "the real issue has always been the dispute between Apple Corps and EMI, which owns the master recordings, over what percentage of royalties EMI should pay to the band." Any lingering taint from the legal dispute between Apple Corps and Apple Inc, over the latter not coming up with an original name, seems to have been long forgotten.
If that's true, then credit for the deal largely goes to Faxon, who seemingly came to the table with a more giving nature, and greater royalty compensation to the band than EMI was willing to offer in the past. He denied that EMI bent under their debt pressures, saying it was just that, "the time had come for the Beatles to go digital."
On the consumer side, if you check now you should see individual tracks for $1.29, albums for $12.99, and double albums at $19.99. Box sets are a steep, $149.99, quite a bit for something that includes none of the packaging that collectors so cherish. We don't know the exact terms of the major deal, but the NY Times states that a standard iTunes deal gives 70% of each sale price to the label, who then pays their royalties out from there.
One winner in the deal is Michael Jackson whose estate owns 50% of the Sony/ATV side of the Beatles catalog, and who even in death, remains the King of Pop.