The Jimi Hendrix Murder Theory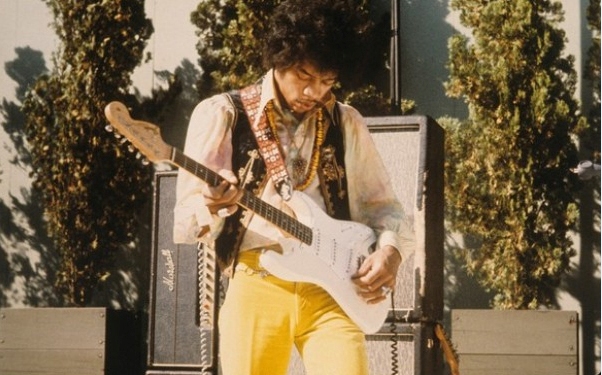 Posted by Brandon Kim on
London, 1970. Jimi Hendrix dies from choking on his own vomit after an accidental drug overdose. That's the story of the great guitarist's demise we've all been told and believed, but sometime last summer a roadie who worked for Hendrix's manager, Mike Jeffrey, claimed that Hendrix was murdered. The motive? Money.
James "Tappy" Wright tells all in his book "Rock Roadie" which he spoke about on WNYC the other day. He decided, now in his mid 60's, that he had to let the truth be known. Though he wasn't physically there, he does have a compelling tale. He claims that Hendrix was purposely drowned in wine by his manager, Mike Jeffrey, with the help of a couple thugs. Apparently, Jeffrey had taken out a $2 million life insurance policy on the 27 year-old guitar hero and he meant to collect on it. Wright alleges that Jeffrey was in debt, he was borrowing money from the mob, and since Hendrix was thinking about leaving him, he simply had him killed.
The doctor who attended Hendrix at the time backs up Wright's version saying murder by drowning is "plausible." He added recollections of the huge amounts of wine they took out of Hendrix in attempt to resuscitate him. "We kept sucking him out and it kept surging and surging. He had already vomited up masses of red wine and I would have thought there was half a bottle of wine in his hair. He had really drowned in a massive amount of red wine." [Telegraph]
There have always been sketchy elements to the story — the powerful German sleeping pills, the girlfriend Monika Danneman's changing contradictory account of the night in question, and then her death, ruled a suicide, in 1993 after 23 years of being accused of playing a role in Hendrix's death (it came after a related libel case was brought against her). Mike Jeffrey died in a plane crash in 1973.
Listen to Leonard Lopate's full interview with the" Rock Roadie," which also including tales about Tina Turner, Elvis Presley,The Beatles and LSD water fountains at Woodstock.