Seeing The Future of Movie Theaters in Crab Rangoon Dip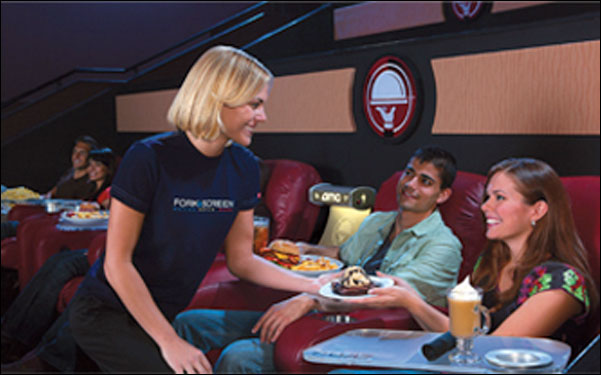 Posted by Alison Willmore on
It's long been held that concessions are where the money actually is for movie theaters. So the real surprise in the announcement that AMC theaters are going to start serving restaurant-style food is that it took so long.
According to the press release, AMC Dine-In Theatres are now open in four locations around the country, with a fifth in West Orange, NJ opening today.
In the grand tradition of our beloved Austin-based Alamo Drafthouse, these theaters will offer in-theater dining (with a server delivering your order during the film) and booze, with a $10 or $15 minimum order depending on the set-up. The theaters also include a bar named, hilariously, MacGuffins®.
It's odd to see something so similar to the Drafthouse so corporatized (and being referred to as part of "a proprietary approach"), but they're dead on in this being a clear trend in moviegoing. With VOD, home theaters, online streaming, Blu-ray and on and on, there's less motivation than ever for casual moviegoers to trek to a multiplex just to see a film — the added frills of IMAX, 3D and the ability to order a hot meal ("including Crab Rangoon Dip, Thai Coconut Chicken Tenders and Chocolate Loving Spoon Cake"!) with your feature are all efforts to differ the experience from home viewing and make it more of an event.