AFI Fest 2010: "The Fighter," Reviewed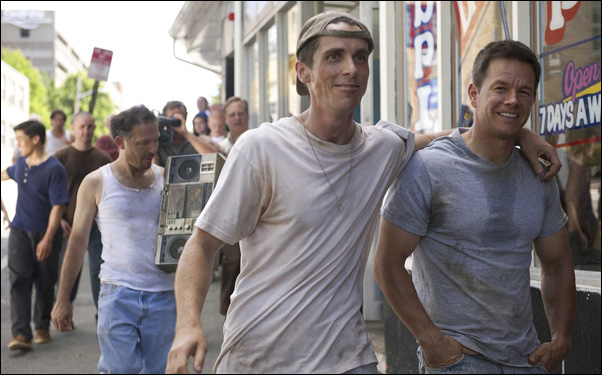 Posted by Stephen Saito on
Reviewed at the 2010 AFI Fest.
In his introduction to "The Fighter," Mark Wahlberg mentioned no less than four times how hard he worked to get the film made, even telling the audience that he'd mow lawns and shovel shit for two hours for anyone who didn't enjoy the film. In case that didn't endear himself to those assembled for the secret screening at the Mann's Chinese, he killed with the opening line, "I haven't seen a crowd like this since I performed with the Funky Bunch."
While one can see all four years of training onscreen in the biceps of Wahlberg's Micky Ward, if there was one wish I had as I watched "The Fighter," it would be that his third collaboration with "Three Kings" and "I Heart Huckabee's" director David O. Russell was a little more funky. As it stands, wobbles and gives as good as it gets, "The Fighter" is a sturdy piece of entertainment that adds a wrinkle to the traditional underdog tale by having Ward's greatest battles come from within his own family.
Nearly an hour passes between Ward's first and second fights in the film, spent largely shaking off the pull of his domineering momager Alice (Melissa Leo) and his drug-addled half-brother Dickie (Christian Bale), who once was a promising boxer himself until he became addicted to drugs. It's by design that Ward is marginalized by the two, whose plans for Micky's career are selfishly devised and in some part meant to further Dickie's flagging career, and though Ward is given some backbone by a local bartender he falls for (Amy Adams), it's not surprising how often he says he wants to quit.
Yet as far as the film is concerned, this seems to have an unfortunate trickle down effect on Wahlberg, who's mostly passive as the dutiful son while his co-stars Leo and Bale run roughshod with thick Bawston accents and in Bale's case, a live-wire energy that's equally (and accurately) beguiling and maddening as a crack addict. Boxing fans might appreciate this particular dynamic since the real-life Ward was famous for his ability to do the rope-a-dope, a technique that's hinted at during the film's fight sequences, but it's an odd requirement for Wahlberg outside the ring as the film's lead where he can only wait out Leo and Bale as they chew the scenery. (Odder still, the one aspect of Ward's character that isn't unquestionably saintly — his relationship with the mother of his young daughter who despises him — is largely left unexplored.)
Typically, patience is a virtue in Russell's films, where the gradual discomfort of long scenes give way to something authentic, and in fact, the film's richest scene — a showdown in the Wards' living room after Micky suggests he changes trainers from his brother to a Vegas professional that devolves into a personal attack on his new girlfriend — seems to have evolved out of his tried-and-true methods. However, "The Fighter" is the first film Russell isn't credited with writing himself and it's telling that the film is far more visually idiosyncratic than it is narratively. The collision of screenwriter Scott Silver's strident dialogue against cinematographer Hoyte Van Hoytema's wandering camera that has an Altman-esque desire to look around every corner results in a naturalistic-looking film that doesn't entirely feel natural. Instead, it's a rah-rah crowdpleaser defined most by the blaring horn section of the Dap Kings' remix of The Heavy's "How You Like Me Now" after every one of Ward's victories and the inclusion of a traditional training montage before Ward gets his shot at the title.
Certainly, that's no reason to dismiss "The Fighter," which hits all the beats a film like this should and rises above its station with strong performances from Bale, Leo and Adams, who is let loose to play against type and curse up a storm while still occasionally batting those wide eyes with a tinge of red around them. That should come as good news for Wahlberg since he won't have to get out the lawnmower, but also don't expect him to be pulling out an Oscar speech anytime soon, either.
"The Fighter" opens in limited release on December 10th before expanding on December 17th.