The Danny Elfman & Tim Burton Music Box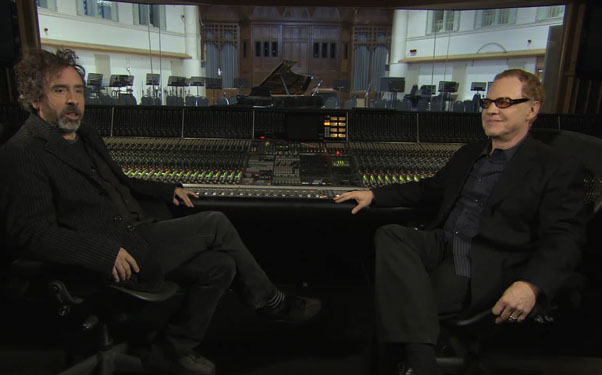 Posted by Brandon Kim on
"This is kind of a geeky thing," Danny Elfman said, about his music box set coming out based on all of his work with director Tim Burton over the years. It includes 13 original scores that the former Oingo Boingo frontman composed for Burton films from "Pee Wee's Big Adventure," to "Batman" right up through 2010's "Alice in Wonderland." There are also early demos, the kinds of things Elfman played only for Burton and was at first hesitant to release, all on 16 CD's.
The thing itself is actually a functioning music box, that plays a newly recorded Elfman piece. What's more there's a working zoetrope on it's top that animates art and photos created by both Burton and Elfman. A colossal 250 page linen-wrapped hardbound tome stamped with gold foil, titled "Danse Macabre: 25 Years of Danny Elfman and Tim Burton," boasts a foreword written by Johnny Depp gives you something to caress while listening to Elfman's twinkling reveries.
Check out Elfman talking about it and how big of a geek he is with THR:
Here's the promo for the Danny Elfman & Tim Burton 25th Anniversary Music Box, which only sets you back $500 bones. I like how Burton repeatedly conjures up the idea that the box contains a severed head, at one point suggesting that it should be Danny Elfman's.