Nine Must-Own DVD Stocking Stuffers Not on Store Shelves This Black Friday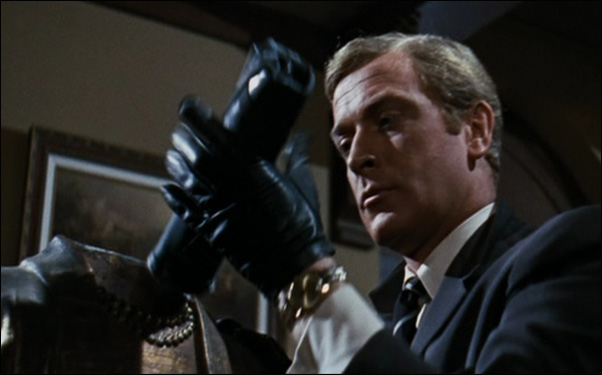 Posted by Stephen Saito on
With Black Friday nearly upon us, the urge for many a movie buff's friend or significant other will be to grab that $5 Blu-ray of "Angels and Demons" off the shelf and call it a day. (Oh, we're only kidding with "Angels and Demons." Titles like "Kick-Ass" and "The Wrestler" will be nearly as cheap.) But for those who are willing to be a little more adventurous or just looking to impress, many of the major studios have started to open up their archives to make DVDs to order for films that may not be popular enough to have warranted a major pressing in the past, but certainly have their fans and have long been unavailable on any format.
Warner Brothers, in particular, has pioneered this type of mail order program with Warner Archives, which has made available over 700 films since originating last year while similar services from MGM (Limited Edition Collection), Universal (Vault Series) and Sony (Columbia Classics) have trickled onto the market, all of it to the great benefit of the cinephile, who can pick up everything from long-neglected silent films, foreign offerings (Andre Techine's "Thieves" is on Columbia Classics), and recent bursts of nostalgia (the Richard Grieco's "If Looks Could Kill" is on Warner Archive). Although there's something for everyone, it can also be overwhelming to comb through everything that's become available, so here are some personal favorites that are ripe for rediscovery this holiday season.
"Gambit" (Universal Vault Series) – By the time I saw "Gambit" at the original Alamo Drafthouse in downtown Austin as part of Quentin Tarantino's curated QT Fest in 2000, Ronald Neame's 1966 comic caper had already come and gone from video stores on VHS and was only available via the rare 2:40 a.m. airing on TCM, a particularly strange fate given that stars Shirley MacLaine and Michael Caine have remained popular and it played like gangbusters for anyone lucky enough to be in attendance at the Drafthouse that night. Naturally, Tarantino recounted a history of the film that was probably more detailed than those who were actually involved in its production, telling the crowd to pay special attention to the film's tagline, "Go ahead tell the end…but please don't tell the beginning."
Perhaps since Universal could no longer rely on the film's central gimmick involving the heist of a priceless artifact in Hong Kong as a selling point, they let the dust collect on a potential DVD version until this past March when it was released as part of the initial offering in their Vault Series, exclusive to Amazon. However, anyone willing to order "Gambit" will realize shortly the film is far more than a gimmick, luxuriating in the witty rapport between the know-it-all Caine and the streetwise MacLaine long after the surprise of the film's unconventional structure pays off. This is no doubt what attracted the Coen brothers to write a remake a few years back that they intended to direct until they went on their post-"No Country for Old Men" tear, resulting in "The Last Station" director Michael Hoffman recently stepping in to revive the project.
"The Landlord" (MGM Limited Edition Collection) – To hear Nick Dawson explain it in his first-rate biography "Being Hal Ashby," the "Harold and Maude" director's first feature was done in by boobs – on the poster and in United Artists' marketing department. In adapting Kristin Hunter's novel, Ashby had directed a thoughtful, sharp-elbowed culture clash comedy about an apathetic upper cruster (Beau Bridges) whose plans to turn a brownstone in a lower-class neighborhood into his personal pad are thwarted when the building's tenants begin to pierce his chilly exterior.
Of course, Ashby's delicate seriocomic tone is difficult to replicate in advertising, so United Artists decided on a campaign that would target an audience the same age as the then-28-year-old Bridges with a cheeky poster of a finger approaching two doorbells with the not-so-subtle implication they were breasts. Facing a lower threshold of scrutiny in the pre-Internet era, "The Landlord" still was able to score Lee Grant an Oscar nomination for best supporting actress as Bridges' mother in the film, but most blamed the ads for derailing the film's chances at the box office and likewise, probably resulted in the film sitting on the shelf in MGM archives during the DVD boom in spite of Ashby's renewed popularity. As Alexander Payne told GOOD Magazine in his 2008 tribute to the film that he cited as a major influence on "Sideways," "Discover it the way I did: Just see it."
"The Outfit" (Warner Archive) – Somewhere between the exploitation flicks and the meticulous crime dramas being pumped out by studios during 1970s existed the films of John Flynn, whose later career would resemble the former but always maintained the determination and polish of the latter. His best film, 1977's revenge thriller "Rolling Thunder," the one that Quentin Tarantino named his production company after which stars William Devane as a G.I. who struggles to reintegrate into civilian life until he's forced to revisit his Vietnam self when the moment calls, will soon be available through MGM's manufacturing on demand (and if you can't wait, it's available through Hulu).
However, equally coveted, if not quite as well-known by the public at large, is Flynn's 1973 policier "The Outfit," an adaptation of Donald Westlake alias Richard Stark's third novel about Parker, the unstoppable thief who had previously been featured in John Boorman's "Point Blank." While that 1967 film is generally accepted as the finest incarnation of the brute (and its 1999 Mel Gibson remake "Payback" is the most popular), "The Outfit" is the least stylish of the Parker films, but also possibly the truest to Stark's hard-boiled intentions and his seedy settings. It was actually one of just two films Flynn is credited with writing himself and served up one of the films that gave Robert Duvall his tough-as-nails reputation as Parker surrogate Macklin, who takes on the mob (and takes away their money) after they kill his brother. As Roger Ebert wrote in the introduction to his review in 1973, "An outline of the plot would make it sound pretty routine, but what makes the picture superior is its richness of detail," a nuance that may have led to a lack of appreciation for the film at the time and led to a substantial wait on DVD. Needless to say, fans of gritty '70s cinema and film noir (who will appreciate Robert Ryan's presence) should be overjoyed to have it available now.
"Cold Turkey" (MGM Limited Edition Collection) – Though he produced many films and even was nominated for an Oscar for writing "Divorce American Style," up until last year, I was completely unaware that Norman Lear, the legendary creator of such television shows such as "All in the Family" and "The Jeffersons," had ever directed a movie. But not Joe Dante, who programmed a double bill of Lear's only feature film with the equally overlooked 1967 James Coburn comedy "The President's Analyst" at the New Beverly Cinema in Los Angeles and put up the film's trailer (with commentary from screenwriter Larry Karaszewski) on his Trailers From Hell! site to burnish the reputation of "Cold Turkey."
Today, it's nearly unthinkable that a film starring such household names as Dick Van Dyke and Bob Newhart could go under the radar when both were near the height of their powers, but that's what happened with "Cold Turkey," a biting satire about a small town that finds salvation for their financial woes by entering a contest sponsored by the tobacco industry where they will win $25 million if everyone in the community gives up smoking for a month. After seeing no such dollar signs in "Cold Turkey"'s future, United Artists gave up on the film, assuming that Van Dyke as the opportunistic minister who turns the town's abstinence from smoking into a national cause célèbre and Newhart as the maniacal cigarette exec whose publicity stunt backfires weren't the roles the public would want to see them in, especially given the film's downbeat ending. Two years after the film was finished in 1969, UA decided to release "Cold Turkey" after Lear had made his name in television and it was even a minor box office success. Ironically, the edge that kept it from being released, even on DVD, is what makes it still relevant today and more importantly, funny.