Ten Actors Most Likely To Kick You In The Face (If You're A Movie Bad Guy)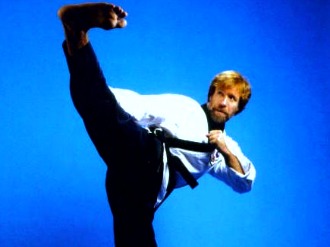 Posted by Melissa Locker on
As we prepare for the Thanksgiving holiday, we are thinking of all the things we are thankful for. Obviously action movies are near the top of the list. (Right after documentaries and horror films.) Helping get us in the holiday spirit, Hero is airing at 1:35 p.m. ET.
The film stars Jet Li as a …well, hero, alongside a who's who of ass-kicking action stars: Zhang Ziyi, Tony Leung, Maggie Cheung, and Donnie Yen. Directed by two-time Academy Award nominee Zhang Yimou, the film is a wide-sweeping epic of a time when the Chinese landscape was populated with warring kingdoms, nameless heroes, and famed assassins. Also, the fight scenes rule. Tony Leung versus Jet Li? Yeah, we'll watch those two battle it out any day of the week.
As is typical of action movies, the fight scenes really got us thinking. Who are the ten actors most likely to kick you in the face? If you're a movie bad guy, natch.
Here are our picks. Remember to mention them in your Thanksgiving lists:
Jet Li is a kung fu legend for a reason. Fighting an entire class of aspiring fighters? All part of being a legend:
Jean-Claude Van Damme is probably the toughest Belgian we know. Yes, that includes Hercule Poirot. Watch the final fight from "Bloodsport" and you'll see why:
Before moving on to Hollywood, Jackie Chan fought his way to the top with incredible fight scenes like this one from "Drunken Master":
Tony Jaamay not be as well known as Jet Li or Jackie Chan, but that just means he fights harder. We're showing his film The Protector Sunday, Nov. 28 at 6:00 AM EDT:
Charles Bronson would kick you in the face, light up a cigarette, and adjust his ascot without breaking a sweat. He also has no qualms about grabbing a guy's junk for a good cause:
Chuck Norris is a karate kind of guy. He first achieved notoriety as Bruce Lee's rival in "Way of the Dragon" and then kicked ass in "Missing in Action." And then, this one time, he fought a bear:
Bruce Lee is The Master:
While he is now a reality television star, Steven Seagal once operated a dojo in Japan and is an aikido black belt. He also doesn't abide sass, backtalk, or lawbreakers:
If you have any doubts as to whether Jason Statham would kick a bad guy in the face, watch this clip from "The Transporter":
Kurt Thomas. If you haven't seen "Gymkata", you have probably never seen a pommel horse used as a weapon:
Hero airs on IFC at 1:35 p.m. ET and again Sunday, Dec. 5 at 10:25 a.m. ET and at 6:55 p.m. ET