Starstruck: Movies for Aspiring Rocker Girls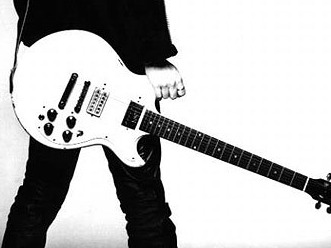 Posted by Melissa Locker on
Starstruck airs on IFC at 11:05 a.m. ET. It is the story of an Australian teen who dreams of becoming a pop sensation. Her cousin is determined to manage her and their adventures in pursuit of super stardom make for light musical comedy fare. Will Jackie become famous? Can she win the talent show and save her parents' cafe? Will Angus get the girl? Can Jackie handle the pressure? In many ways, these are universal questions that plague every up-and-coming wannabe rock 'n' roller. While in olden times people used to look in Virgil or the Bible for answers, we turn to movies.
Here are a few films that should be in every aspiring rockstar's cinematic playlist:
Down and Out With the Dolls (Dir. Kurt Voss, 2001)
It's a raunchy, raucous tale of an all-girl punk band from Portland, Ore. The girls are gritty and crass, which makes the movie all the more fun.
Jubilee (Dir. Derek Jarman, 1978)
A cavalcade of punk rock bands including Siouxsie and the Banshees, The Slits, and Adam and the Ants parades across the screen in avant guard queer filmmaker Derek Jarman's ode to rock. Bonus points because Brian Eno provided the score.
The Runaways (Dir. Floria Sigismondi, 2010)
The fictionalized account of Joan Jett's and Cherrie Currie's rise to rock super stardom is, perhaps surprisingly, a great film. In fact, it is on our list of films you have to see before making your 2010 top ten lists.
Girl (Dir. Jonathan Kahn, 1998)
The film version of Blake Nelson's phenomenal young adult novel "Girl" is the story of an over-achieving high school girl played by Dominique Swain (remember her?) who abandons it all to live the rock 'n' roll dream. The film is notable for the incredible supporting cast of rising stars including Selma Blair, Tara Reid, Summer Phoenix and Portia de Rossi Degeneres.
Don't Need You: The Herstory of Riot Grrrl (Dir. Kerri Koch, 2005)
This documentary chronicles the Riot Grrl movement and features interviews with everyone from Bikini Kill's Kathleen Hanna to Sleater-Kinney's Corin Tucker. The interviews combine with live performance footage to document an essential moment for women in music.
The Legend of Billie Jean (Dir. Matthew Robbins, 1985)
Couldn't find the trailer to this film, but Joan Jett's video for the theme song gives you the gist of the story. Basically, Helen Slater cuts her hair and ups her punk cred a hundred-fold:
Starstruck airs on IFC at Thursday, Nov. 18 at 11:05 AM ET and Tuesday, Nov. 30 at 9:50 AM EDT