Star Off: Cate Blanchett vs. Keira Knightley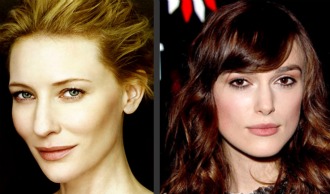 Posted by Melissa Locker on
By typical Hollywood convention, Keira Knightley and Cate Blanchett shouldn't be in competition for roles. You see, blondes, like Blanchett, play sunny happy personalities and/or ethereal beauties, while brunettes like Knightley can play sassy, smart, or smoldering depending on the part. It's the Chaucer standard that became the Disney princess standard (that became the David Lynch standard but we'll save that for another time): blondes Cinderella and Sleeping Beauty required princes to rescue them, but brunette Snow White was shacked up with seven dwarves before needing any old prince. Yet, when studying the careers of Keira Knightley and Cate Blanchett you realize that maybe Hollywood is starting to realize that Chaucerian typecasting based on hair color is a wee bit outdated.
Cate Blanchett has skillfully managed to avoid typecasting. Sure she's played her fair share of fairies (unless Galadriel in Lord of the Ringswas an elf, then she's never played a fairy) and delicate beauties, because she, well, she is a delicate beauty. But Blanchett has really made a name for herself playing smart and ambitious women, namely Queen Elizabeth (Elizabeth) and Katherine Hepburn (The Aviator). Heck, she was even managed tough, ethereal, and telepathic in The Gift. In Little Fish (which airs today at 2 p.m. ET) she plays a recovering drug addict. Clearly this is no Disney princess movie, although we never saw the tragic tale Cinderella: Behind the Magic.
It's Blanchett's drive to play tough-as-nails yet sensitive characters that puts her in Keira Knightley's career path. Knightley has played nothing but perky, outspoken brunettes who defy convention. See Pride and Prejudice and the entire Pirates of the Caribbean oeuvre. She even got to play an assassin in Domino. The closest Knightley has come to defying standard brunette roles is her ad campaign for Chanel No. 5. It seems clear that Blanchett could play any of the roles that Knightley has managed, but it's hard to imagine Knightley as Veronica Guerin or I'm Not There, let alone Galadriel.
Advantage: Cate Blanchett
Watch a young (and dyed blonde) Keira Knightley kick the heck out of a soccer ball in Bend It Like Beckham at 5:45 p.m. ET. Little Fish airs at 2 p.m. ET.