'Sling Blade' And The Portrayal of Developmental Disability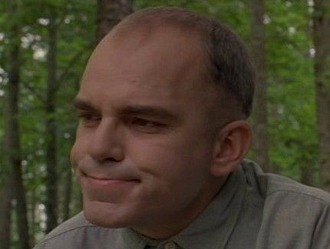 Posted by Melissa Locker on
Tonight at 11:30 p.m. ET we are showing Sling Blade, a film that marked the directorial debut of country singer turned actor Billy Bob Thornton. The film was based on George Hickenlooper's acclaimed short "Some Folks Call it a Sling Blade" and brought Thornton into Hollywood's spotlight and, perhaps, to Angelina Jolie's attention. (Remember when they were married and wearing vials of each others' blood? Ah, memories.) The film starred Thornton as Karl, a developmentally disabled man with a violent past and a jutting jaw who was recently sprung from the mental institution and moved back home and into old patterns that begin to play out. Thornton was nominated for an Oscar for his portrayal of Karl. His nomination for best actor in a leading role, came just two years after Tom Hanks won for his role in "Forrest Gump", as a man living with a developmental disability and a unique ability to run really quickly.
While the Academy Awards have recognized actors who step into the shoes of those living with mental illness and development disabilities, some people who work and live in those communities find the portrayals offensive. Lauren Potter as Becky Jackson and Robyn Trocki as Jean Sylvester both on "Glee" and Chris Burke ("Corky" from "Life Goes On") do excellent work while living with Down's Syndrome, so why cast, say, Juliette Lewis in "The Other Sister"? Still, actors ranging from Rosie O'Donnell in "Riding the Bus With My Sister" to Johnny Depp and Mary Stuart Masterson in Benny & Joon to Leonardo DiCaprio, who was nominated for his supporting role in "What's Eating Gilbert Grape", continue to show their acting chops struggling with challenges that millions of people living with disability face every day.
What do you think of stars playing people living with developmental disabilities?
Here's Chris Burke in "Life Goes On":
Here's Billy Bob Thornton in "Sling Blade":
Head to the comments and tell us who you think does a better job acting?
Listen to our podcast on Physical Disability in Film.
Sling Blade airs on IFC at 11:30 p.m. ET Sunday, Dec. 19 at 7:00 p.m. ET and Monday, Dec. 20 at 1:45 a.m. ET