Exclusive Premiere: "The Model: Oshun and The Dream" Featuring Seu Jorge And Almaz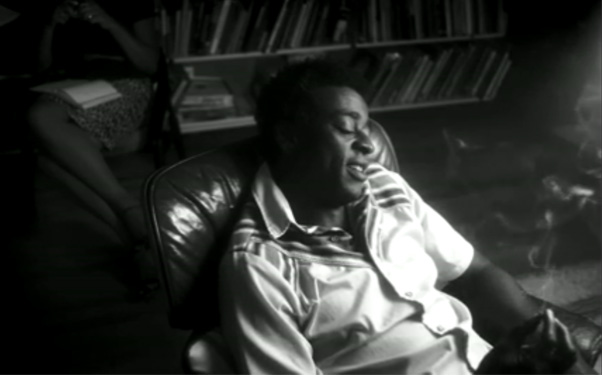 Posted by Brandon Kim on
Earlier this month we premiered the first part of the short film,"The Model," featuring the golden throated Brazilian charmer, Seu Jorge ("City of God," "Life Aquatic") as a character called Marcello. Along with the smoothest version of "Everybody Loves The Sunshine" ever recorded, Seu Jorge And Almaz's cover of Kraftwerk's "The Model" was teased at the end. Here, in chapter two we get treated to more of Jorge's hypnotic take on the song and how it fits into the recurring dreams of a mysterious woman that have come to consume him.
I corresponded with Jorge (born Jorge Mário da Silva) about the film and his related album "Seu Jorge and Almaz." When I asked him what film he would live in if he could choose any, he said he'd like to be "the little kid in 'Cinema Paradiso.'" Read the rest of our chat below where Jorge, who was born into poverty in a favela in Rio, tells of a very different kind of dream that preoccupies him in real life — a better world for his daughters.
In "The Model" Marcello is obsessed by a woman in his dreams, tell me about her and her hold on him.
Actually I can't even tell if she's a model. She looks like a supernatural divinity who does not come from our planet. She's like a spirit incarnate, in a woman's body — a really seductive one.
Do you have any recurring dreams like that in real life?
I must say I don't have any recurring dreams like that. My dreams come to me, leave me a personal message and then just go away.
You play a man of extreme cool, heavily relaxed. How much Jorge Mário da Silva is in that character? And if that does capture your real inner cool, as we've seen elsewhere from you, what gets you excitable, unhinged?
I think I'm definitely a cool and relaxed person. I've been through so many difficulties in my life that it's really difficult to find something that could make me crazy, apart from injustice and cowardliness. The only thing that preoccupies me is the wellness of my daughters and nephews because they are the new generation and I want them to live in peace and harmony.
I dig the good feeling of community and family that comes through in this short film. You're very much associated with your humble beginnings with your role in "City of God," and actually growing up in a favela in Rio. Not to suggest you have any thoughts of abandoning your roots, but do you ever see yourself living the high life in the Hollywood Hills?
Of course I do! And I will quote Joãozinho Trinta, a very famous Brazilian carnavalesco [carnival show producer]: "The ones who like poverty are the intellectuals; the poor like luxury and wealth."
Michael Jackson, Jorge Ben, Roy Ayers, great choices. How did you choose the artists and cover songs for the album?
Recording this album, it wasn't planed you know? Antonio Pinto, Lucio Maia and Pupillo were in Antonio's studio recording the track "Juizo Final" for a Walter Sales movie and they needed a singer so they called me. When it was done we kept on playing; we had no plans for the next few days so each one of us came back with ideas and propositions. I think we choose songs we wished we had written ourselves: Pupillo proposed that we do "Rock With You" in an Al Green way, I initiated the Roy Ayers cover and Lucio proposed this song, "The Model," for instance.
All right, you walk in the door of your home, what's the first room you make a point of going into and what are you doing there?
I am going directly to my daughters' bedroom in order to give them both a huge kiss.
Check out more Seu Jorge and Almaz on Now Again Records.