Rockabilly Buddies, Conan O'Brien And Jack White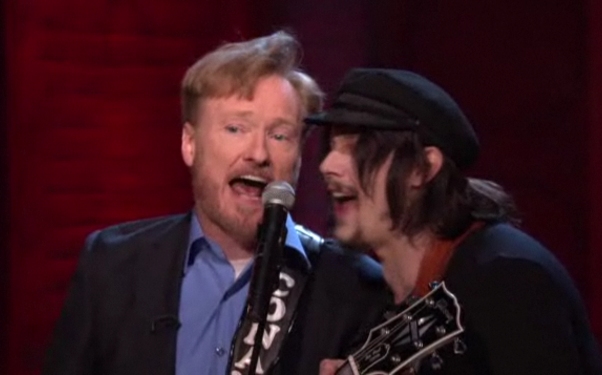 Posted by Brandon Kim on
For Conan's debut show last night it's new home on TBS, he brought in pal Jack White, as musical guest. The famous buddies met over a decade ago in a bowling alley and have been on notorious friends ever since. The camaraderie was thick, the facial hair, scruffy as Conan joined White for the rock out segment of the show.
The two ripped it on stage with Jimmy Vivino and crew, playing "Twenty Flight Rock," an Eddie Cochran oldie from 1957. The duo played the song together before, and recorded previously on White's Third Man label.
Check them out if you missed it, or just to see them a second time, reaching over and fooling with each others guitar during the song like giddy little kids.