Robert Downey Jr.'s "The Route" and the Lost Art of the Long-Form Car Commercial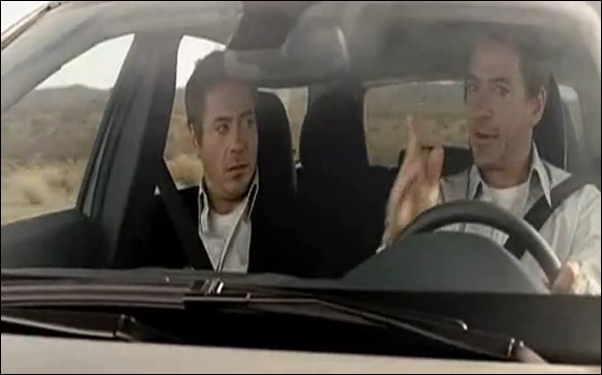 Posted by Stephen Saito on
Last week, the Internet was abuzz with a new stop-motion ad for Planters that featured Robert Downey Jr. as the new voice of Mr. Peanut, but it was actually a commercial featuring a pre-"Iron Man" Downey Jr. that caught my eye when I came across One Cool Thing A Day's selection of "The Route," a 12-minute ad produced by Volvo for its line of V50 station wagons. Produced by the Swedish carmaker in 2004, "The Route" does indeed show off all the amenities of the V50, but also functions as a surreal, elliptical piece of noir, courtesy of "The Grifters" director Stephen Frears, wherein Downey Jr. confronts himself as a not-so-compatible travel companion for himself in his search for a town called Confidence. The first part is here (and the link to part two is here):
At the time, Martin Buckley, a strategic planner from the ad firm that produced the short, said of "The Route," "If you want people to come to the Internet and spend their valuable time to view your film and product, you better make it worth their while. We know the true Volvo prospect is highly curious and appreciates advertising that is both creative and intelligent."
Whether "The Route" can actually be appreciated as something beyond advertising is up for debate, yet besides being a quick payday for its creative team in between films, it was notable for being a rare moment when the auteur theory made its way into marketing. While big-name directors make commercials all the time while waiting to direct their next feature, it's far less often that they get to helm something longer than 30 seconds. And for car companies looking to make an impression on the Internet, the mid-'00s was a prosperous enough time to throw millions at burgeoning area of viral marketing.
"The Route" was actually the less successful follow-up to "The Mystery of Dalarö," Volvo's eight-minute 2004 ad that seemed like an undercooked BBC report about the strange occurrence of 32 people buying the same sedan in a Swedish village at the same time and even calls upon Karl Jung expert to explain the meaning. ("We all born with collective unconsciousness," says the expert.) The ad campaign, which never targeted the U.S., caused something of a sensation in Europe where many speculated about the film's credited director Carlos Soto, until it was revealed that "Soto" was really a pseudonym for Spike Jonze, who continued to play tricks on the public by questioning the initial ad with a director's cut.
In an interview with The Internationalist, Volvo's director of global advertising at the time said "Dalarö" was a product of having an ad budget half the size of other car companies and needing to be creative. However, Volvo wasn't alone in pouring money into these mini-movies. "L.I.E." director Michael Cuesta helmed a softly-lit 15-minute promotional film for Lexus in 2003 called "Three Journeys," following three couples as they made their way to the California coast, that was handed out at auto events around the country on DVD and have now become collectibles.
However, they are not nearly as prized as the granddaddy of the form, BMW's "The Hire" series, which was launched in 2001 to hawk Beemers and showcase Clive Owen as an elusive chauffeur simply known as "The Driver." The ads were spearheaded by David Fincher, who never actually directed one of his own, though it's probably no coincidence that "Se7en" screenwriter Andrew Kevin Walker penned the first installment "Ambush" for the late John Frankenheimer to direct. Shorts from Alejandro González Iñárritu, Ang Lee, John Woo, Joe Carnahan, Tony Scott and Guy Ritchie followed, not to mention my personal favorite, Wong Kar-Wai's moody, introspective "The Follow" with Forest Whitaker and Mickey Rourke:
Incidentally, it was Whitaker's involvement that was reported to have kept the DVDs of the Web series in limited supply since his contract required "The Follow" to only be shown online. BMW ultimately decided to end the series after 2002 because of cost, instead putting out a comic book that continued the adventures of the Driver. Though "The Hire" is widely seen as changing car advertising for good, it was a pioneer of a trend that was short-lived. Still, its influence can be seen today even in shorter car commercials directed by less famous names like Ivan Zacharias, who lensed this 2009 Audi ad featuring Jason Statham.