Requiems: The Melodramatic Imagination of Darren Aronofsky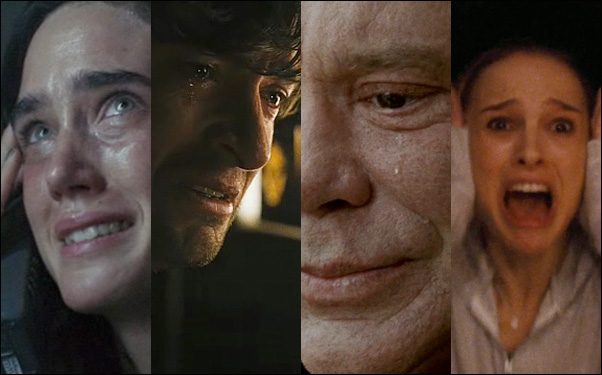 Posted by Anthony Kaufman on
Darren Aronofsky may have young hipster's cred, established with his fast-cut, technically daring early features "Pi" and "Requiem for a Dream." But look closely and you'll see a purveyor of old-fashioned melodramas.
While the Brooklyn-born director often shows a surface fascination with the frazzled postmodern condition, à la the films of far chillier contemporaries such as Christopher Nolan, David Fincher or the Wachowski brothers, the core of his hot-blooded weepies are about lovers and mothers, fathers and daughters — the traditional stuff of family melodrama, in which "characters made for operettas play out the tragedies of mankind," according to film theorist Thomas Elsaesser.
Though "Pi's" Maximillian Cohen may be the least obvious of Aronofsky's melodramatic characters, the severe-minded mathematical fanatic echoes Elsaesser's observation that the "true pathos" of the melodrama derives from "the very mediocrity of the human beings involved, putting such high demands upon themselves trying to live up to an exalted vision of man." This applies equally to Aronofsky's entire gallery of scientists, wrestlers and ballerinas.
"Requiem for a Dream," the most tripped out of his oeuvre, with its shaky body-cam cinematography and flashy split-screens, is a beloved cult fave among kids today. But the plight of the movie's four spun Brooklynites is traditional melodrama, recalling Nicholas Ray's 1956 classic "Bigger Than Life," in which James Mason's schoolteacher loses control of his life under the influence of external forces, in his case, the mid-century wonder drug cortisone. If this were tragedy, Aronofsky's characters would make a difficult, highly conflicted choice with critical results; instead, they fall prey to circumstances seemingly beyond their control and hurl inexorably to their doom.
With "Requiem," Aronofsky also shows his penchant for woozy lovers (the amount of tears Jared Leto and Jennifer Connelly shed would fill at least six hankies) and the relationship between wacko moms and their children. In Ellen Burstyn's portrayal of diet-pill fiend Sara Goldfarb, for which she was nominated for an Oscar, the actress degenerates from a bloated coach potato to a thin-railed zombie.
Her metamorphosis reminiscent of the sad collapse of 1950s heroines such as Bette Davis in "Mr. Skeffington." Burstyn's character — like that of her fellow losers Leto, Connelly and Marlon Wayans — elicit sorrow via their sorry fates; as they lay in their beds at film's end, curled up into fetal positions, they illustrate Peter Brooks' notion that the purpose of melodrama is to convey a sense of moral good in a post-sacred world by equating victimhood with virtue.
Aronofsky's next film, the long-in-the-works (and troubled) production of "The Fountain," is a full-blown tearjerker. As Hugh Jackman's conquistador/scientist/space traveler fights to find a cure for his dying wife (Rachel Weisz), the film jumps through epochs and treats the viewer to psychedelic visions of transcendence, but it's stuffed with sentimental lines of eternal devotion ("All these years, all these memories, there was you — you pull me through time") and a gushy yearning for lost love… watch Weisz, her long brown curly hair a-flowing, disappear away into snowy landscapes.
None of this alone necessarily constitutes the mushy heights of melodrama. But Aronofsky's self-serious tone doesn't allow for subtler emotional tones. Even in the "The Wrestler," with its inherently humorous subject matter, the kitschy world of professional wrestling, Aronofsky creates a "regretful old-warrior-weeper," as critic David Edelstein writes in his review of the film. "Is Aronofsky being tongue in cheek? I don't think he's ever tongue in cheek," adds Edelstein.
Mickey Rourke's pathetic wrestler is another version of Burstyn's Goldfarb, a swollen human being hooked on broken dreams and estranged from his child. There's a wonderful break from all the emotional drubbing when Rourke's Randy "The Ram" loses it working in a butcher shop, but ultimately, this is a story about a man who just wants to be loved: his tearful confession to his daughter ("I'm an old broken down piece of meat and I'm alone — and I deserve to be all alone") is the film's emotional climax and shows the "The Wrestler" to be yet another bout — not of the mind or the body — but Aronofsky's bleeding heart.
"Black Swan," Aronofsky's new psycho-ballet thriller, represents the culmination of the director's melodramatic tendencies. Natalie Portman stars as another obsessed and overly ambitious victim-hero, whose moral purity is without question at the same time as it brings about her downfall. And in the film's contentious struggle between Nina and her mother, Barbara Hershey's overprotective ex-dancer Erica, who has laid her failures squarely on her daughter's delicate shoulders, Aronofsky follows the template of countless mother-daughter rivalries from melodramas past, whether it's Mildred and Veda Pierce in "Mildred Pierce," or Annie Johnson and Sarah Jane in Douglas Sirk's "Imitation of Life."
In many ways, though, "Black Swan" finds Aronofsky on his most solid footing. What elements might have felt pretentious in "Requiem" or overly saccharine in "The Fountain" work to a wonderfully delirious Sirkian effect in "Black Swan." When Hershey's Mommy Dearest briefly goes berserk after Nina rejects her offering of a piece of cake, it's campy and effective, over the top and ever so insightful into the characters' psychic wounds.
Rather than somber and portentous, "Black Swan" embraces the melodramatic imagination in all its lurid glory. With Nina's extreme highs and lows, bloody toe nails, self-mutilating scratches, psychic breakdowns and an epic final fall — and all of it played against the elaborate backdrop of a majestic ballet performance with Nina fully decked out in majestic white feathers, "Black Swan" makes for the year's most vivid melodrama since "Twilight: Eclipse."
One wonders what Aronofsky's newly announced "Wolverine" project will bring. Come to think of it, with its adolescent angst, quasi-family conflict and emotionally driven superpowers, the "X-Men" franchise should make for a perfect match.