Recommended: Salman Rushdie on Video Games and the Future of Storytelling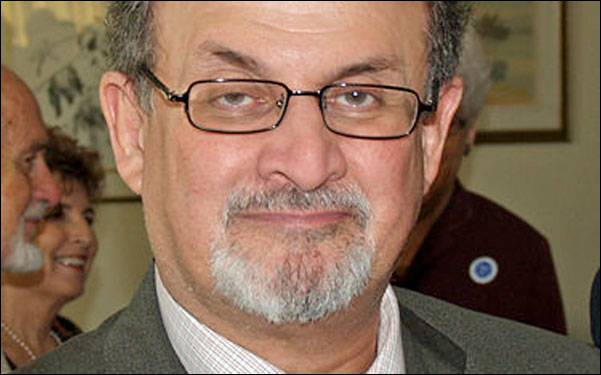 Posted by Evan Narcisse on
Novelist Salman Rushdie's no stranger to the power of the fantastic. He won the prestigious Booker Prize in 1981 for "Midnight's Children," a novel that followed 12 children who basically had superpowers and were born the night that India became independent. In 1988, then-Supreme Leader of Iran Ayatolla Khomeini famously called down a fatwa by for Rushdie's death because his "Satanic Verses" dared to radically re-imagine the prophet Muhammad. One of his best books is "Haroun and the Sea of Stories," a grown-up children's story about a boy who journeys to a mythical land to heal the source of all tales.
Rushdie's newest book is a sequel to "Haroun" and concerns itself with video games. "Luka and the Fire of Life" follows the title character–who's Haroun's younger brother– on an archetypal hero's quest, as tries to steal the Fire of Life to wake his mysteriously dormant father. Website BigThink has Rushdie talking about how video games have influenced this latest work written for one of his sons:
…My 13 year-old boy Milan and his friends all seem to be playing right now is this wild west game called "Red Dead Redemption" and one of the things looking over… I mean I don't even pretend to understand what is going on really, but one of the things that is interesting about it to me is the much looser structure of the game and the much greater agency that the player has to choose how he will explore and inhabit the world that is provided for you. He doesn't… in fact, doesn't really have to follow the main narrative line of the game at all for long periods of time. There is all kinds of excursions and digressions that you can choose to go on and find many stories to participate in instead of the big story, the macro story. I think that really interests me as a storyteller because I've always thought that one of the things that the Internet and the gaming world permits as a narrative technique is to not tell the story from beginning to end–to tell stories sideways, to give alternative possibilities that the reader can, in a way, choose between.
I'm a big Rushdie fan and have winced when he's painted video games as lowest-common-denominator consumer culture. So, what's most admirable about his observations is that he at least admits that there's a palette of possibility around video game creativity. It's something a lot of literary old-media types tend to gloss over, the idea that something inherent to games as medium allows for a different type of human connection or transmittal of ideas. I think a lot of gamers don't feel too far from Rushdie's point-of-view and want games that tell stories in interesting ways. Here's hoping we get them sooner rather than later.