Not Quite a Love Song for Justin Long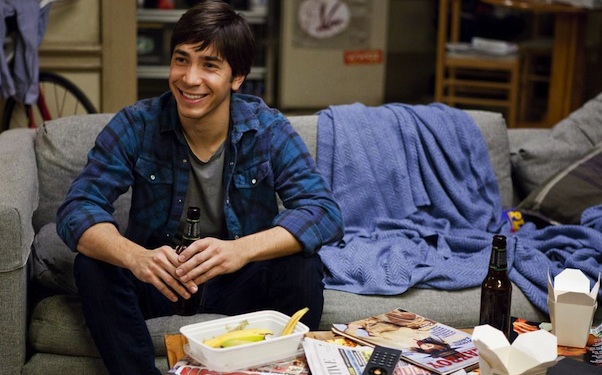 Posted by Matt Singer on
It's the critic's job to be honest and fearless. But it's not always easy: just ask Movieline critic (and frequent IFC.com contributor) Michelle Orange. A few months ago, Michelle panned the romantic comedy "Going the Distance," and in doing so she described one of the film's stars, Justin Long, as "a milky, affectless mook with half-formed features and a first day of kindergarten haircut." Ouch. But just because her honest opinion was an unflattering one didn't mean she took pride in dishing it out. In an excellent piece on The Rumpus, Michelle, who is herself a fiction writer and knows what it's like to have others critique your work, discusses the nature of negative criticism and her own conflicted feelings about having to put down the art of others:
"After filing the review my editor replied immediately, singling out that line for some editorial snaps. This had the opposite of its intended effect, and sent me wobbling. I lay awake that night, not wondering so much if I had been fair but if I could have found a way to be less glancing and harsh, or alternately if I have the stomach to be as unsparing as someone who considers themselves first and foremost a critic must be. Maybe if I'd had more time; maybe if I didn't have to watch so many of these godawful movies; maybe if I hadn't had to look at the Mac guy's overdeveloped bare ass not once but twice."

Witty negative criticism is part of the fun of reading movie reviews; unless, of course, you happen to be the target of that witty negative criticism. At least Justin Long had a sense of humor about it, reading Movieline's "Going the Distance" review verbatim during his appearance on "Late Night With Jimmy Fallon." But that didn't make Michelle feel any better, and thus her fascinating article on The Rumpus. And guess who showed up in the comments to respond? Yep, the milky, affectless one himself, Justin Long. His lengthy, complimentary response read, in part:
"I have to say, I'm surprised by the amount of stock you seem to invest in my looks. I absolutely agree with you too, I'd be hard-pressed to hold a candle to even a fraction of Drew's beauty – in my humble opinion, she's the most beautiful girl in the world. Is that a message you want to proliferate though? That people of higher aesthetic echelons should stick to their own? Maybe you're frustrated because it so rarely works the other way – I don't remember the last time I was asked to accept a female romantic lead who was "punching above her weight class" – though it does happen…Regardless, I really meant what I said about your writing – I love film too and I love reading about it – so keep up the good work and I'll try to pick better projects (though I did love filming that one) but short of some reconstructive surgery, unfortunately there's nothing I can do about my mug (blame god and/or my parents on that one)."
We can debate whether or not the correct response to criticism is to lay a guilt trip on the writer another time. For now, let's stick to the more pressing issue: the connection between writer and subject in the age of Internet criticism. It's a topic that's coming up with increasingly frequency lately: older critics accusing younger ones of palling around with directors at film festivals and slanting their writing accordingly, and directors taking to websites to defend their work anonymously. The distance between artist and critic has narrowed significantly. Is that a bad thing?
Only if the parties let it. Criticism works best in a vacuum, with the writers' thoughts untainted by studio publicity freebies or dissenting voices from other critics or nagging worries that the director on the firing line dated your old roommate and word might get back to him about what you write. Still, this strange and brief encounter between Michelle Orange and Justin Long is actually a good example of how this thing should look. Long may have disagreed with Orange's assessment of his performance (and his looks) but he's willing to concede that she is entitled to it. Orange may have had some reservations about writing what she wrote, about bruising someone's feelings, but she didn't let them get in the way of honesty. If she starts pulling her punches the next time she's assigned a Justin Long picture, or if he suddenly starts burning her picture in effigy the next time he's on "Lopez Tonight," then we've got problems.