Rachid Bouchareb Goes "Outside the Law"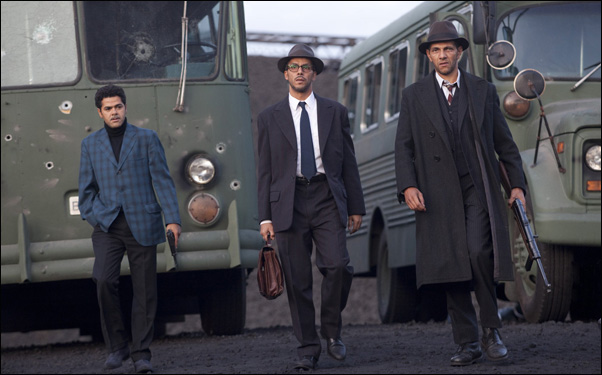 Posted by Stephen Saito on
"I need to wait a few years to make another movie like this," says Rachid Bouchareb, the director of "Outside the Law." It's a statement that doesn't need much explanation, though not for the reasons you might think. Roughly a thousand protesters came out of the woodwork to picket the "Outside the Law"'s premiere at Cannes this summer, a response to the film sight unseen by French nationalists who believed Bouchareb's portrayal of one of the nation's darkest hours as their occupation of Algeria violently came to an end during the mid- 20th century.
Months later, through a translator, Bouchareb appeared to shrug off the protests, saying, "France has been in this sort of debate about colonization and it's own past for many years. And that debate always sort of turns into a political one."
So what did intimidate the director about "Outside the Law"? Having to deal with the thousands of extras required over two weeks of shooting to mount Sétif massacre of 1945, a turning point in French-Algerian relations that left 103 people dead and provided the entry point for Bouchareb's stirring follow-up to his Oscar-nominated 2006 World War II drama "Days of Glory."
"To prepare the movie we took more than one year," says Bouchareb. "Fourteen months preparation with a crew, 10 months to prepare and build the sets. ["Days of Glory"], the movie before, it was easier because you had one costume, one location."
The scope of the film, which involved filming in four different countries, might've been new to Bouchareb, but the actors involved weren't. "Outside the Law" actually carries over three of the central cast members from Bouchareb's last historical epic — Jamel Debbouze, Roschdy Zem and Sami Bouajila – yet they do not play the same roles, going from soldiers fighting for the French military, in spite of the discrimination they faced as Algerian enlistees, to brothers who separately work towards independence for their North African homeland.
That Bouchareb considers "Days of Glory" to be an easier shoot might sound strange, considering much of the action in "Outside the Law" takes place not in the heat of battle, but in the backrooms of the Parisian underground where Debbouze's crafty Saïd paves the way for his more politically-motivated brothers with his investments in a cabaret and a young boxer who could be Algeria's first champion in the ring. Meanwhile, the brothers Abdelkader (Bouajila) and Messaoud (Zem) integrate themselves into the FLN, a rebel liberation organization that resorts to violence to get their message across.
In a way, the brothers' approach is an apt metaphor for "Outside the Law" itself, which finds its momentum as a traditionally rousing rags-to-riches crime narrative while thoroughly examining the myriad forces that determine success or failure in Algeria's push for freedom. (Bouchareb has routinely cited Jean-Pierre Melville's "Army of Shadows" as a reference point for its slow simmer.) However, that isn't to say that the director agrees with that assessment.
"I wouldn't say it's a crime story," says Bouchareb. "The crime, the reason behind it, is the politics. The only crime is to want to be a free man."
Given the film's epic scope and the tightening of film financing these days, it's a little surprising that Bouchareb says he had no trouble pulling the production together, a byproduct of the international success of "Days of Glory," though the ambition behind it firmly puts it in the camp of films mentioned as the kind they just don't make anymore.
Yet despite successfully managing the logistics of filming such large-scale scenes as a recreation of the Sétif massacre or "Outside the Law"'s climax inside a subway station using the passing subway cars to witness public riots, Bouchareb appears to be prouder of the smaller moments, something that prompted discussion of his last film, "London River," on more than a few occasions in the course of conversation. Still unreleased in America, the film centered on the families of victims of the London subway bombings, starring Brenda Blethyn as a mother in search of her daughter who forges a connection with a West African Muslim man (Sotigui Kouyate) who is looking for his son. ("It's a wonderful movie," Bouchareb says, beaming, adding that he wanted something less intense between "Days of Glory" and "Outside the Law.")
And indeed, he will get his wish to make a smaller film for his next project, a buddy comedy between two female police officers called "Belleville's Cop," which will shoot in Los Angeles early next year. Co-written with "48 Hours" screenwriter Larry Gross, the film will revel in the culture clash between an Arab and American cop, something that's been hallmark of Bouchareb's work to date.
"My movies are kind of always the same theme," says Bouchareb. "'London River' has parts of 'Outside the Law' and parts of 'Days of Glory.' 'London River' has the African guy go to London. In "Days of Glory," they go from North Africa to Italy. It's about cultures meeting. What changes is the way I change to film it."
"Outside the Law" is now open in limited release.