Quincy Jones Keeps The Record Straight On Kanye West, Michael Jackson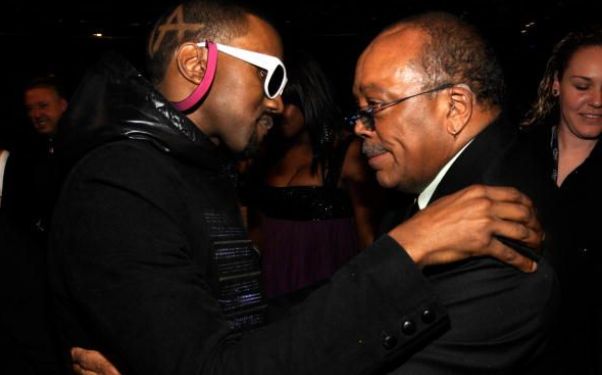 Posted by Brandon Kim on
Quincy Jones has been making the rounds for his new album, "Q Soul Bossa Nostra," which is also a tribute album to none other than legendary mega producer, Quincy Jones. He's had some choice things to say yesterday about all these Michael Jackson releases (which he says "should have all stayed in the vault") and about Kanye West, which have come out rather negatively today. Vulture posted this tirade Jones went off on when a reporter started out his question with, "West is similar to you in that he's the producer everybody wants to work with in the last decade…." And Jones interrupted:
"How man? No way. Did he write for a symphony orchestra? Does he write for a jazz orchestra? Come on, man. He's just a rapper. There's no comparison. I'm not putting him down or making a judgement or anything, but we come from two different sides of the planet. I spent 28 years learning my first skill. I don't rap. It's not the same thing. A producer has to have some sort of skills that enable him to be a producer. It's totally different to know what to do with 16 woodwinds you know from piccolos down to bass clarinet. It's a whole different mindset. No comparison. None."
The reporter followed up asking Jones what he thought of Kanye and he responded, "I don't think about him much." Damn. Then he called him a great rapper, but changed he subject to Ludacris, whom he clearly favors. But Quincy was quick to temper his statements and put up a post on his website responding to the negative press.
"I'd appreciate it if people didn't take my comments about Kanye West ( @KanyeWest ) or anyone else for that matter out of context to contrive a story. I have nothing but respect for my little brother Kanye and what he has achieved in his young career and I look forward to watching his evolution as an artist. There is a reason why we put him on the new We Are The World 25 for Haiti – he's a great rapper. But having been in the music business for more than 60 years and having been fortunate to accomplish what I have over that time, it's not unreasonable to put a comparison of Kanye at this time in his career and myself into the proper perspective. This is not dissing Kanye, this is simply trying to express that I'm not a rapper! I don't need to take anyone else's props away from them. Let's all just try and keep the record straight." – Quincy D. Jones
For more comments by Quincy about the demise of the record industry and how people are just trying to "make money" off of Michael Jackson head to Rolling Stone.