AFI Fest 2010: Quentin Dupieux, the One-Man "Rubber" Band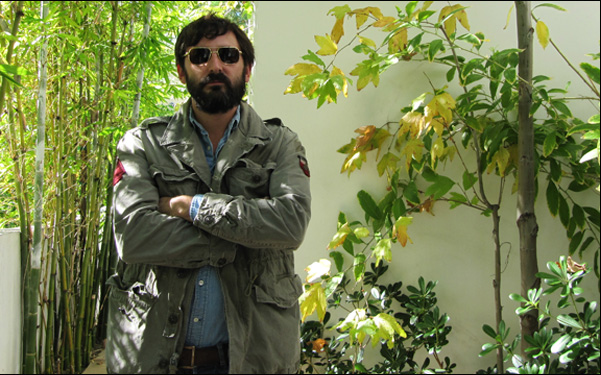 Posted by Stephen Saito on
Anyone who has seen "Rubber" during its most unlikely of festival runs will know what a big deal it was for the film's star, Robert the tire, to finally roll into Hollywood last weekend for its premiere at AFI Fest, where the guest of honor donned a bowtie for the occasion and posed for pictures at the film's afterparty. That audience members would want to pose with a tire they had just seen crush bugs, explode rabbits and eventually blow up the human population of a small desert town with its mind is a testament to the strength of the simple idea at the core of Quentin Dupieux's sharp absurdist comic thriller.
A tribute in some ways to films like Steven Spielberg's "Duel," but on one wheel instead of four, the instant identification of "Rubber" as "that killer movie" has made it an easy recommendation among festivalgoers, yet that description hardly does justice to the alternate reality Dupieux creates. Giving himself the license to do anything he pleases after breaking the fourth wall for an introduction from an investigating lieutenant (Stephen Spinella) who tells audience directly, "All great films contain no reason," and rattling off examples in "Love Story" and "E.T." as evidence, Dupieux imagines a world in which cops inexplicably carry stuffed crocodiles under their arms and tourists will camp out to watch a tire telekinetically explode the heads of any person who dare step in front of it.
In other words, it's the kind of film you might expect from Dupieux, a known iconoclast from his days of spinning as a DJ under the pseudonym Mr. Oizo. Now a remixer of images as well as sounds, he took a break from the festival to talk about "Rubber," the limits of French cinema and why education can only limit creativity.
How did you come up with this idea?
Honestly, I don't know because when you want to make movies, you're basically always thinking. You have tons of ideas per day. And you have tons of bad ideas. Your brain is always trying to find good ideas. The tire came and I just picked it up, like okay, this is good, interesting… and that's it. I wrote it in three weeks because I decided with my producer to shoot a movie quickly – write it quick, shoot it quick, edit it quick and I finished the shooting here a year ago exactly.
This was actually an alternative to another film you were working on. Did that development process have an impact on how you approached this film?
Yeah, I'd been writing this other script for a year-and-a-half. It's called "Reality," and the script is really good, but we realized that it was quite hard to finance because it's a bit expensive and it has a lot of actors, a lot of locations. So my producer started to look for money to do it and in the mean time, we decided instead of waiting, we decided, let's do a pirate movie – a commando movie. Let's do something we can do now, something you could shoot in two weeks. And then I wrote "Rubber" very quickly and we did it with almost nothing, like less than a Kanye West video. Less.
It sounds like you wrote the film first and figured out the logistics of having the tire as your star later.
The process of finding the tire is quite stupid because first, I wrote ten pages of a script called "Day of the Cubes" and it was almost the same idea, but it was not about the tire, it was about an army of cubes from space — one day people wake up and there are cubes floating everywhere. I was already trying to do a fantastic movie, like oh something strange is happening. But then we quickly did CGI tests and I realized that no, I don't want to do this. CGI is not funny. I'm going to shoot empty spaces and then we're going to work on computers to put the cubes [onscreen]? So I decided to get rid of those 10 pages and start again. Instead of doing an army of cubes, I decided to focus on one character – the tire.
How long did it take to find the personality of the tire?
Honestly, when I wrote the script, for the tire sequences, I was thinking of the first 30 minutes of "Wall-E." To me, it was the same kind of spirit. I just tried to give life to a dead object. First, it was like [the tire is] going to be a bit like Wall-E, even if it's like Rambo and make things explode. I wanted it to be something cute in the beginning. In my mind, it was like okay, it's going to be nice to see him trying to roll and fall and wake up.
It was quite hard to shoot. "Okay, we can't do this, we can't do this, we can't do this." It was a bit like "Jaws." Spielberg was having trouble with the remote-controlled shark and he had to create something different because the shark was not working. So that's a bit the same because the possibilities were very limited with the tire. Basically, we had a remote-controlled tire, but it was just able to roll, stop and roll again. That's it. So we had to do a lot of stuff with a puppeteer out of frame and I created the character and his personality on set.
When you set up a movie where you tell the audience in the first frames of the movie that there is "no reason" for what you're about to see, did that push you towards strictly going for the unexpected?
No, to me, it's a good way to take people's hand and bring them into the movie. I think it's a very good first scene. If you cut it and you start the movie with the tire waking up, the movie's totally different. This scene – this long monologue – gives the tone and when we first showed the movie in Cannes, it was the first time with an audience, and I realized the monologue was working because people were laughing and were getting the spirit and the tone. It's more like a warning. If you don't like this, go away now because it's going to be hard for you.