Bogey and Bacall to Biel and Evans: The Art Of The On-Set Romance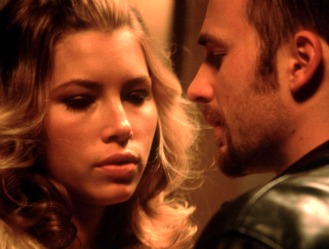 Posted by Melissa Locker on
At 11 p.m. ET tonight we are showing London. The 2005 film follows Syd (Chris Evans) as he crashes the going away party of his ex-girlfriend, London (Jessica Biel), who is moving to California with her new boyfriend. As one is wont to do when crashing an ex's party, Syd brings along his friendly neighborhood cocaine dealer (Jason Statham). That's when the fun starts. Adding to the edge in the film is that Chris Evans and Jessica Biel were dating while the film was made. While she is dating Justin "Sexy Back" Timberlake now, this film will forever stand as a testament to their love that once was. Awkward now, but also sweet.
What other couples met or were dating during filming? Here are a few other romances sparked on set and forever immortalized on the silver screen:
Humphrey Bogart and Lauren Bacall met on the set of To Have and Have Not when Bacall was 19 and Bogart 45. They had two children and were married for twelve years until his death in 1957.
Robert Pattinson and Kristen Stewart play an interspecies couple in The Twilight Saga that bloomed into an intraspecies relationship. Their top secret relationship has long been gossip-rag fodder and will probably last until the final installment of the five part saga. Only 362 days until "Breaking Dawn", you guys!
Brad Pitt and Angelina Jolie met on the set of Mr. and Mrs. Smith
while Brad was still married to Jennifer Aniston. Now the duo has six children and travels the world making films and causing paparazzi flash mobs:
Goldie Hawn met her long-time partner Kurt Russell on the set of the musical "The One and Only, Genuine, Original Family Band", but reconnected in 1983 while filming Swing Shift. They've been together ever since and, yes, starred in "Overboard" together.
After meeting on the set of Woman of the Year, Spencer Tracy and Katherine Hepburn became one of Hollywood's most iconic couples appearing in nine films together, despite never publicly confirming their relationship.
Courtney Cox and David Arquette may be making headlines with their separation, but they once were making pink puffy hearts float over their heads on the set of Scream:
Dev Patel and Freida Pinto warmed hearts as the couple at the center of Danny Boyle's Slumdog Millionaire. And they are still making us go awwwwww as real life sweethearts:
Newlyweds Anna Paquin and Stephen Moyer claim that their too-hot-for-the-networks love scenes in True Blood are real. So, um, don't watch with your parents:
Who is your favorite on-set romance? Tell us in the comments.
London airs tonight at 11 p.m. ET, Thursday, Dec. 2 at 4:00 a.m. ET, Friday, Dec. 17 at 1:45 a.m. ET