Heather Graham Sends Out the "ExTerminators," "The Goonies" Return and More New DVDs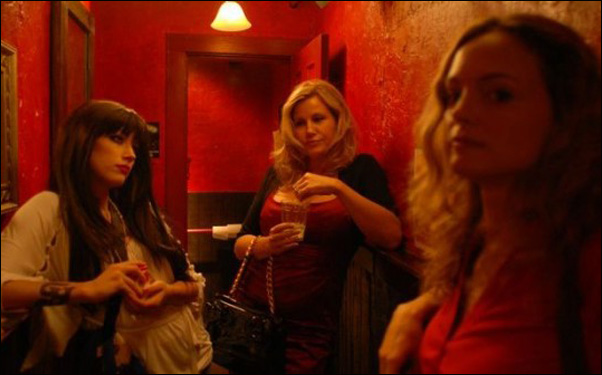 Posted by Stephen Saito on
A look at what's new on DVD today:
"ExTerminators" (2010)
Directed by John Inwood
Released by Image Entertainment
Also appearing on VOD, Heather Graham, Amber Heard and Jennifer Coolidge team up to launch a service that will permanently wipe away your exes from your address book (and life) under the cover of Coolidge's bug extermination business in this comedy from cinematographer-turned-director John Inwood.
"Bad Ass" (2009)
Directed by Adamo Cultraro
Released by Well Go USA
A hitman (Tom Sizemore) has a change of heart when his latest job leaves the nurse of an aging mob boss as the prime suspect in Adamo Cultraro's feature debut. Frank Stallone co-stars.
"Centurion" (2010)
Directed by Neil Marshall
Released by Magnolia Home Entertainment
Following "Doomsday," Marshall returns to Hadrian's Wall in England for the story of surviving group of Roman soldiers in 117 A.D., including Michael Fassbender, Dominic West and Liam Cunningham among their ranks, who defend themselves against the rebellious Scottish tribe, the Picts, led by Bond girl Olga Kurylenko. During the film's premiere at SXSW, Alison Willmore wrote in her review that the action flick "doesn't really aim to be anything more than a loping B-movie, but still comes up hollow."
"Come Hell or High Water"
Directed by Wayne Shipley
Released by North American Picture Company
Writer/director Wayne Shipley's western (also known as "One-Eyed Horse") is a revenge tale that pits a recently released Confederate prisoner of war (Mark Redfield) against the man who tortured him and killed his brother during the Civil War.
"Deadfall Trail" (2010)
Directed by Roze
Released by Midnight Releasing
From a filmmaker who only goes by the name of Roze, this horror film takes place in the Arizona desert where three men's peyote vision quest goes totally awry.
"The Goonies" (1985)
Directed by Richard Donner
Released by Warner Bros. Home Entertainment
If it's the holiday season and the 25th anniversary of Richard Donner's '80s adventure classics, that must mean it's time for a boxed set that is short on additions to the exitsing Blu-ray of "The Goonies," but includes a host of physical goodies to accompany the film, including a board game, reprinted articles from 1985 and 2009 detailing the production, and storyboards, among other collectibles.
"The Hungry Ghosts" (2010)
Directed by Michael Imperioli
Released by Virgil Films and Entertainment
Current "Detroit 187" star Imperioli recruited his "Sopranos" co-star Steve Schirripa for his feature directorial debut, a New York-set drama following the lives of two troubled couples — one trying to work out the differences in their relationship while the other pair of exes reunite to keep their teenage son on the straight and narrow.
"In Therapy" (2009)
Directed by Jose Alvarenga Jr.
Released by Maya Entertainment
Brazilian director Jose Alvarenga Jr.'s often amusing character study follows the 40-ish Mercedes as she confides in her therapist about her unhappy marriage, her two sons and the loss of her mother.
"I Am" (2010)
Directed by John Ward
Released by Fox Home Entertainment
John Ward's religious drama is said to play out like "Crash" for Christians, following a group of strangers around Los Angeles as they try to live by the Ten Commandments.
"Love & Distrust"
Released by Phase 4 Films
Don't let the impressive collection of names on the box cover fool you, but Phase 4 Films has done well to package this collection of shorts as an anthology film to capitalize on some of the most popular actors of the day, including Eric Kmetz's 2006 tragic romance "Grasshopper" featuring James Franco and Rachel Miner as an unlikely pair who bond over a lost cell phone, Darcy Yuille's 2004 drama "Blue Poles," featuring a young Sam Worthington in the story of a woman with a split personality, Warner Loughlin and Diana Valentine's 2006 thriller "Pennies" featuring Amy Adams as a waitress who races against the clock to save her daughter, Daisy Gili's 2008 "The Summer House," which stars Robert Pattinson as the aggrieved boyfriend of a woman (Talulah Riley) who has moved to France for the summer. (trailer)
"Menage a Trois" (1997)
Directed by Richard Zelniker
Released by Pathfinder Home Entertainment
Back when "Charlie St. Cloud" director Burr Steers was an actor, he was part of this threesome in the festival hit originally titled "Fix," where he starred as a man who brings his girlfriend (Lisa Collins) to meet his brother in Los Angeles and realizes it might not have been the best idea when romantic entanglements develop.
"Once Fallen" (2010)
Directed by Ash Adams
Released by First Look Studios
Actor-turned-director Ash Adams assembled quite the cast for this semi-autobiographical drama about the son (Brian Presley) of a lifer (Ed Harris) who recently was released from prison himself and tries to walk a straight line, though the debts of his family and friends on the outside won't let him. Peter Weller, Amy Madigan and Taraji P. Henson co-star.
"Please Remove Your Shoes" (2010)
Directed by Rob DelGuadio
Released by Boston Aviation Services, Inc./Black Pearl Productions
DelGuadio takes a look at the Transportation Security Administration in this documentary that features interviews with air marshals, former FAA agents and legislators to examine whether safety procedures have actually prevented a terrorist attack in the years since 9/11.
"Regeneration" (1997)
Directed by Gillies MacKinnon
Released by Echo Bridge Home Entertainment
"Hideous Kinky" director Mackinnon's World War I-set drama about a squadron of soldiers, led by Jonathan Pryce and Jonny Lee Miller, who face their demons when they're sent to an asylum.
"Rosencrantz and Guildenstern Are Undead"
Directed by Jordan Galland
Released by Indican
Don't worry, Tom Stoppard isn't writing zombie movies yet, but musician-turned-filmmaker Galland uses "Hamlet" as a jumping off point for the story of an off-Broadway director who hopes to win back his ex (Devon Aoki) with a vampire-filled take on Shakespeare's classic. When life begins to imitate art and people involved in the production start to die, two detectives (Jeremy Sisto and Lou Carbonneau) are called in to investigate.
"The Sound of Music" (1965)
Directed by Robert Wise
Released by Fox Home Entertainment
For its 45th anniversary, the Oscar-winning musical is said to have undergone a "meticulous" restoration and remastering for its debut on Blu-ray, which will include many of the special features from the previous DVD editions and new features, including screen tests, audio commentaries by stars Julie Andrews and Christopher Plummer, virtual backlot tour and more.
"Toy Story 3" (2010)
Directed by Lee Unkrich
Released by Disney/Pixar
After fans had to wait over a decade for the third installment of the adventures of Buzz and Woody, they won't wait so long for the DVD and Blu-ray of the film with picture-in-picture commentaries by the film's animators, a plethora of making-of documentaries, and perhaps most exciting to any Pixar fan, the "Day and Night" short that preceded "Toy Story 3" in theaters.
"The Visitor" (1980)
Directed by Michael J. Paradise
Released by Code Red
John Huston, Sam Peckinpah, Mel Ferrer and Shelley Winters star in this lunatic Italian exploitation flick about a young girl with a knack for telekinesis who gets pulled into the the Devil. Franco Nero plays Jesus, so how bad could it be, right?
"The Way We Get By" (2010)
Directed by Aron Gaudet
Released by Virgil Films and Entertainment
A special edition of Aron Gaudet's SXSW Special Jury Prize-winning doc about a trio of senior citizens who spend their lives greeting the troops as they arrive back in the U.S. from fighting in Iraq.
"Winnebago Man" (2010)
Directed by Ben Steinbauer
Released by Kino
It would've been easy for Steinbauer to simply loop the legendary outtakes of profane Winnebago salesman Jack Rebney's misbegotten sales video, which became a viral sensation long after it was made in 1988, and asked audiences to line up to see it. (They would've; the film points out Ben Affleck and Spike Jonze as famous fans.) Instead, Steinbauer tracks down Rebney nearly 20 years later and offers up a complex portrait of the former RV salesman as the personal embarrassment of the infamous tape begins to subside and Rebney starts to accept his unusual celebrity. (Matt Singer's review of the film and my interview with Steinbauer are here.)