"Made in Dagenham" Soundtrack Features The Troggs, Desmond Dekker, James Brown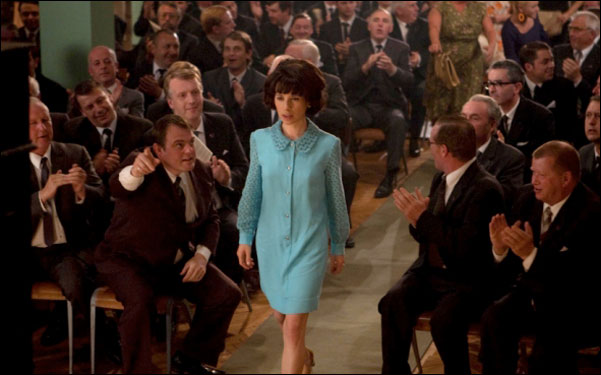 Posted by Brandon Kim on
"Made in Dagenham" is based on the true story about working class women fighting for equal pay with "one foot in the kitchen, one foot on the factory floor" in 1960's England. One of those feel good equal rights flicks with lots of empowering dick jokes that I'd probably never go and see — but it has a killer soundtrack.
Among the 17 tracks that inspire the working girls, lead by Sally Hawkins, to stick it to the man are oldies by James Brown, The Kinks, Small Faces, Dusty Springfield, The Troggs, and reggae genius Desmond Dekker. Not all of these appear to have made it into the film (comparing it to the press release from Sony Pictures reveals at least 6 tracks not in the film) and The Playlist points out that the album notes that it "features music from and inspired by the film." Well, whatever works. Have a listen to these highlights:

"Israelites" — Desmond Dekker & The Aces

"With A Girl Like You" — The Troggs
Best of all is this listing for Sandie Shaw's "(There's) Always Something There To Remind Me." It's a Burt Bacharach song that was probably more notably covered by the band Naked Eyes in the early 80's — solid gold for the dance floor.
Get a load of Sandie's version, and this ridiculous stud who introduces her on some long lost British TV show:
"Made In Dagenham" is playing in limited release now. Here's the full track track list:
1. (There's) Always Something There To Remind Me (1964) – Sandie Shaw
2. Get Ready (Single Mono Version) – The Temptations
3. Israelites (Full Version) – Desmond Dekker & The Aces
4. It's A Man's, Man's, Man's World (Single Mono Version) – James Brown
5. Days – The Kinks
6. Can I Get A Witness – Dusty Springfield
7. All Or Nothing – Small Faces
8. It's Getting Better (Single Version) – Mama Cass
9. A Groovy Kind Of Love – The Mindbenders
10. Wooly Bully – Sam The Sham & The Pharoahs
11. Sunday Will Never Be The Same – Spanky & Our Gang
12. Green Tambourine – Lemon Pipers
13. Paper Sun (Single Mono Version) – Traffic
14. Friday On My Mind (Edit) – The Easybeats
15. With A Girl Like You – The Troggs
16. You Can Get It If You Really Want – Desmond Dekker
17. Made In Dagenham – Sandie Shaw