Isabelle Huppert's A Vision in "White"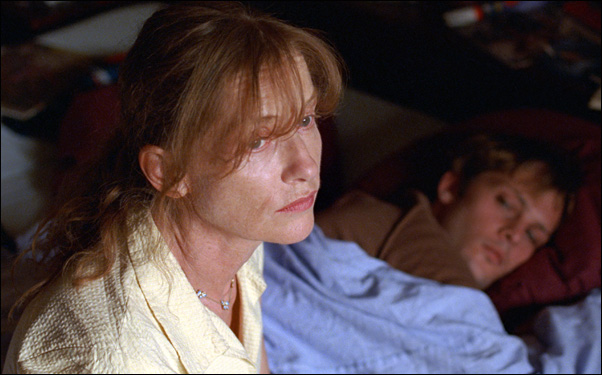 Posted by Bilge Ebiri on
It seems strange that it's taken this long for Claire Denis and Isabelle Huppert to work together on a film, but whatever the reason, it was worth the wait. Denis's "White Material," featuring the legendary actress as a white African farmer who insists on staying in her home even though her war-torn country is descending into madness and bloodshed, offers the director yet another opportunity to display her beguiling style, with its patented mix of intense physicality and ethereal stylization. And who better than the amazing Huppert, the thinking man's goddess of the arthouse corporeal, to help bring this vision to fruition? It's a performance that relies more on movement and gesture than it does on dialogue and story. Huppert brings an intangible humanity to this character – despite the film's elliptical style, we're riveted by this woman's onscreen ordeal. The result is one of the actress's greatest parts – saying quite a bit, given that the résumé in question includes such films as "Madame Bovary," "The Piano Teacher," "Godard's Passion," and "Time of the Wolf." I recently sat down with Huppert to talk about Denis's unique way of working, and about the passing of her great friend and collaborator Claude Chabrol.
What went through your mind when Claire Denis first approached you to do this film?
She didn't really approach me. We've known each other for many, many years, and she's a friend – she was an assistant on a film ["Return to the Beloved"] I did years ago. I consider her a part of my artistic family. I had read Doris Lessing's first book "The Grass is Singing," which she wrote when she was 27 years old, and I was interested in doing that as a film. Claire and I were seeing each other regularly and I asked her if she would be interested in doing it. She read the book, and she kept the idea of doing a film about a white woman in Africa, but she didn't want to do the book itself. She thought the character was too much of a victim in the book. She wanted someone more contemporary, more active — a stronger woman. Then she had the idea of writing the script with Marie N'Diaye, a great French writer who is part Senegalese.
How come the two of you hadn't worked together before?
I don't know. That's a good question. She did other movies, I did other movies. But for "White Material," I was a perfect go-between for Claire and her native land – I mean, she was not born in Africa, but she was raised in Africa. She knows how to speak about being a woman and being blonde in Africa – the fairness of the character, physically, really is what this film is about on some level. It's about her color.
That brings up something I'm curious about. Your performances tend to be incredibly physical. Some actors will actually study and plan the way their characters will move well before they start filming. Is this something you prepare? Is it even conscious on your part?
No, it's never conscious. But in this film, it was essential. I mean, that's all it's about. Even when [my character is] in tears at the end of the film, she doesn't say, "I'm despairing," or whatever. She just says, "I'm tired." The film casts aside any psychology or strategy or complexity. She's defined by her physical capacity to face these events. What's interesting about it is that she's fragile from the outside – others see her as being weak, and in some ways even the camera does. She's like a twig. But when you come in closer to her, she's very strong. In fact, Claire spoke of the character as almost a bionic woman – which was, of course, an exaggeration, but it gave me a real good idea of what to expect from her. She is, in fact, very physical, very daring – almost like a man. I had to learn to ride a motorcycle for this part. These extremes, between fragility and strength, I like that aspect of this character very much.
But one could say the same thing about a lot of characters you've played.
Yeah, you're right. It's true of almost all of the characters I've done. But here it's a bit different because of the cinematic way Claire has of showing it – because of the landscape and the nature around her. She has these roots, and she wants to stick to these roots. But Claire casts a different light on these mechanisms. She has a very different take on post-colonialism. For this character, it winds up being about identity and not possessions. In the end, you talk about being but not having, and that's the main difference. That's what's really original in this movie.
Does that different take on the subject carry over to the actual way Claire works? How would you describe her as a director?
The way she works is the way she lives. Working with Claire, you have to be really available – you have to let yourself go into her rhythm. She's very creative. She's like a painter. She gives me the feeling that she has a vision and you have to be the witness to that vision. You don't want to ask her too direct questions – "Why do you do this?" "What do you have in mind?" — these things I would never ask her. You just have to trust her and follow her. She's very strong. She has a perfect sense of what she does. It's not that she's slow. You can feel that she's elaborating something in her mind – sometimes she knows about it, sometimes she doesn't. But working with a great director means to fit into their rhythm. From the very beginning, everybody has their own rhythm.
How so? Describe her "rhythm."
For example, we spent a lot of time going over costumes. It took us a lot of time before we got to that yellow dress with red sandals in the beginning, and the boots and the little shirt. You would not think when you see this character that so much time was spent on how she looked. All of that was not like this [snaps her fingers]. It was all thought out over a long time. I think the best way to describe it is that Claire is looking for simplicity, but she understands that it can take a lot of time and hard work and thinking to get to something that is simple. So, she tries a lot of things, but you never feel lost, as long as you trust her, because you know that she will find what she is looking for.
I want to ask about another iconic director that you worked with – the great Claude Chabrol, with whom you made a number of movies over a lengthy period of time, and who just recently passed away. I feel in some ways that your career and your performances changed when you did "Violette," your first film with him. Among other things, people began to see you in a different light.
I was not so aware of how I was perceived at the time, but "Violette" was very important for me and my career. In fact, I remember I shared the Best Actress award at Cannes with Jill Clayburgh, who also recently passed away. That was a special moment. But Claude Chabrol loved the idea of me making a statement in a way with my acting. He wanted to really film me just the way I was, without asking me to be otherwise or different. That's the best gift you can get from a director – he says, "Just be who you are." That was the difference with him, and maybe why things seemed to have been different after I worked with him. And he did that with me in so many different movies – sometimes they were costume movies, sometimes they were thrillers or comedies. He would say, "Just take it and do what you want."
I also feel like his films changed after he started working with you, too, in a way. We think of Chabrol as a great director of women and a director very sensitive to stories about women. And while there was certainly some of that in his previous films, he really seemed to embrace that identity around the period he started working with you.
It might be because he did more intimate movies before – some of them were masterpieces, of course, like "Le Boucher," "This Man Must Die," and so on — and then he did more political or more social movies during this time. With me, he did a couple of films like "La Cérémonie" and "Story of Women" that had important social meaning. But he was very versatile, too. We also did lighter movies, like "Rien ne va plus" and "Merci Pour le Chocolat." I think that when you were working with him, his versatility was reflected in your own versatility. You could just be yourself, but you could be yourself in all these different movies, doing different things.
"White Material" is now open in New York, become available on demand on November 24th and open in Los Angeles on November 26th.