Is "Pretty Maids All in a Row" the Weirdest Movie Hollywood Ever Made?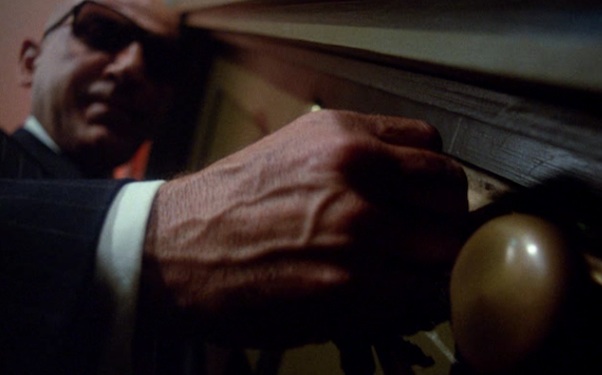 Posted by Matt Singer on
If you were outraged by those risque photos of the cast of "Glee" in GQ, I must warn you: never ever, watch "Pretty Maids All in a Row." You know what? Don't even read this piece. If you do, your brain might explode.
Somehow, the director of "Barbarella," Roger Vadim, and the creator of "Star Trek," Gene Roddenberry, got together in the early 1970s and made one of the weirdest movies ever released by a mainstream Hollywood studio (in this case MGM). Long out of circulation, with a reputation as one of the cultiest cult movies ever, it is finally available on DVD from the Warner Archive. And it is wild.
With "Pretty Maid"'s creative pedigree, you might expect it to be science-fiction. Nope; Vadim and Roddenberry chose to collaborate on a mashup high school sex comedy and slasher film. The result is like watching someone try to make "American Pie" and "Scream" as one 90-minute movie. Boner jokes alternate with shots of dead bodies of nubile teenagers. The Osmonds sing the cheerful theme song right before a girl is discovered bent over a toilet in the men's lavatory. Vadim and Roddenberry invite you to be aroused by their undeniably foxy cast — who peel off their clothes so quickly you'd swear they're allergic to polyester — and then watch helplessly as they're defiled by grabby older men and brutally murdered. Talk about having your cake! This movie lets you have the cake, then tells you it pissed in the cake and asks how it tastes.
Rock Hudson stars as Tiger McDrew, a California high school guidance counselor and football coach. He loves his family but he loves his job more, probably because his job requires him to privately administer IQ tests to the student body, a task he uses as an excuse to get many students' bodies alone and naked in his locked sex pad office. Tiger claims he doesn't "ball" all the female students in school, "just a few truly exceptional girls." But here's the thing. Vadim and Roddenberry's conception of a Calfornia high school is like a less realistic version of Michael Bay's conception of an Ivy League college in "Transformers: Revenge of the Fallen": Everyone looks "truly exceptional." Vadim, a Frenchman making his first English language film, has a unique vision of American high school life in the 1970s, and it looks like an episode of "Kojak" written by the staff of "Penthouse Forum."
You see, some of Tiger's teenage conquests start showing up dead around school. The first body is discovered by Ponce (John David Carson), a protege of Tiger's who comes to him for help with a sexual ailment: too many erections. To help Ponce with his problem, Tiger enlists a sexy substitute teacher named Miss Smith (Angie Dickinson) to tutor Ponce at her home. He doesn't necessarily tell her to sleep with him, but then again he doesn't tell her not to, either. Bawdy sex comedy scenes ensue; in one, Ponce's spontaneous hard-on knocks over a serving tray resting on his lap. As Miss Smith bends down to pick it up, she comes head to head with Ponce's little Leon. "Oh, isn't that wonderful!" she swoons. Another cuts from Ponce and Miss Smith in an embrace to a shot of a lawn sprinkler spraying water everywhere.
So you have Ponce and Miss Smith fooling around while Tiger lavishes his illicit attentions on his pretty maids. Meanwhile, Telly Savalas shows up to investigate the murders and make insinuating remarks to Hudson while his partner James "Scotty" Doohan looks on. And despite the fact that he spends every waking minute shagging his students, Tiger also finds time to coach the school's football team and lead them to the big game against a local rival. That is some fierce multitasking.
By any standard definition, "Pretty Maids All in a Row" is an awful movie. Its actual comedy is a lot less funny than the extremity of its sexism. And though the revelation of the murderer's identity mitigates this theme to some degree, it's still fundamentally a movie about the pleasures of statutory rape. But the sheer existence of a film like this, produced and distributed by a major (and majorly confused) Hollywood studio as an attempt to cater to the increasingly sophisticated tastes of the moviegoing public, is fascinating. No boardroom notes session or studio executive tampering could ever produce something as ill-advised as "Pretty Maids All in a Row." And that makes it unique. Maybe not good, but certainly unique.
I generally reject the notion of a "guilty pleasure;" if you truly and sincerely enjoy something, why feel guilty about it? But I'll make an exception for "Pretty Maids All in a Row." This movie is guilty of a lot of things. But it is a strange pleasure to watch.