Is "Buffy the Vampire Slayer" Headed for a Big-Screen Reboot?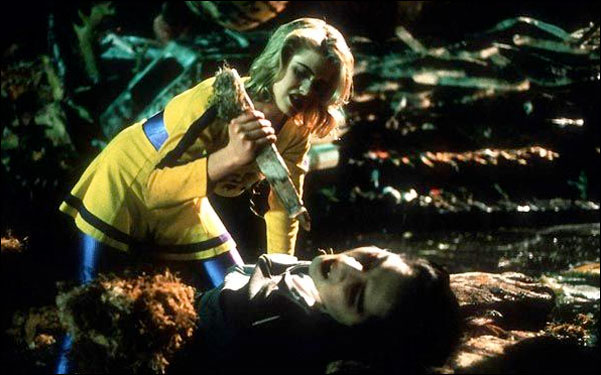 Posted by Alison Willmore on
"Buffy the Vampire Slayer" was an overwhelmingly silly movie (much to writer Joss Whedon's dismay), which is what made its transition into a frequently wonderful TV show all the more miraculous — who would have expected a series about a ditsy blond teenager who killed bloodsuckers on the side to offer such a potent range of metaphors on first love, family, friendship, identity and balancing one's obligations to oneself with those to others?
Yesterday, the LA Times' Geoff Boucher talked to up-and-comer Whit Anderson, who's been hired to write a feature film reboot of "Buffy" — yes, without Whedon — for Warner Bros. Anderson, who observes that "the thing that was so wonderful about 'Buffy' is what made it special was so timeless… The deep struggle she had with duty and destiny, that tug between what you're supposed to be doing and what you want to be doing," certainly seems like a legitimate fan, but Whedon's fiercely devoted followers could hardly be expected to take the news that his most famous creation is being given a Jossless reimagining.
E! has Whedon's endearingly self-deprecating response to the news — "This is a sad, sad reflection on our times, when people must feed off the carcasses of beloved stories from their youths — just because they can't think of an original idea of their own, like I did with my Avengers idea that I made up myself":
I always hoped that Buffy would live on even after my death. But, you know, AFTER. I don't love the idea of my creation in other hands, but I'm also well aware that many more hands than mine went into making that show what it was. And there is no legal grounds for doing anything other than sighing audibly. I can't wish people who are passionate about my little myth ill. I can, however, take this time to announce that I'm making a Batman movie. Because there's a franchise that truly needs updating. So look for The Dark Knight Rises Way Earlier Than That Other One And Also More Cheaply And In Toronto, rebooting into a theater near you.
The "Buffy" reboot, which is, of course, still very far from a reality at this stage, is tentatively being aimed for a 2012 release.