IndieCade 2010: Ian Bogost on Stuff and Scalability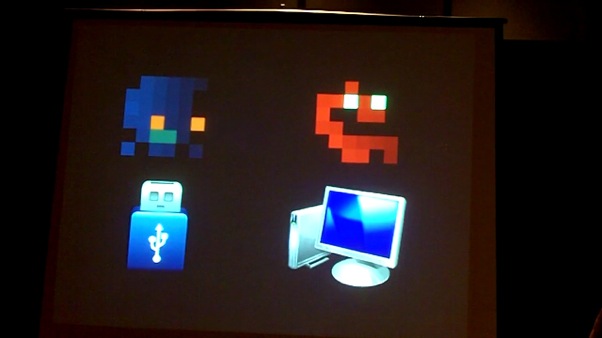 Posted by Evan Narcisse on
Ian Bogost's pretty much a master of making big things in tiny spaces. His award-winning game "A Slow Year" was painstakingly programmed in the measly 4 kilobytes of memory that the Atari 2600 allows and "Cow Clicker"–his dry, sardonic meta-commentary on "Farmville" and other Facebook games–occupies a small yet vital satirical niche where games comment on each other.
Through his Persuasive Games company, Bogost produces games for artistic, political and commercial consumption. You never know what you're going to get from him, which is why his talk during the Project Next session during this year's IndieCade was eagerly awaited. During his talk, Bogost talks about trying to tie his affection for procedural generation–a mechanic where a game automatically makes up part of itself–to things you can carry around with you.
Bogost's nameless game concept intrigues because it would live in both the real world and a dispersed virtual one. Because of the procedural generation aspect, every element of it could be unique and that would make for a unique socialization around Bogost's next project. Whatever he does with the ideas presented here, I, for one, just want the code that lets me press my space bar and populate the screen with odd little critters.