Indie Dev Studio Doublefine Introduces "Stacking"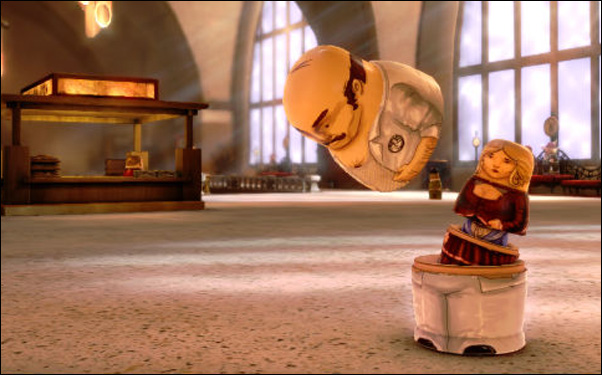 Posted by Evan Narcisse on
Earlier this year, Tim Schafer's Doublefine Productions released the cute and charming downloadable "Costume Quest" to consoles. The well-reviewed title showed off everything that's great about indies and digital distribution: a quirky concept married to a unique look and feel in a bite-sized game that didn't have to fight for shelf space in games stores across the country. "Costume Quest" was only the first in Doublefine's two-game digital distro deal with THQ. And now, they've pulled back the veil on the next. Here's the official description:
In "Stacking," a family of Russian stacking dolls has been separated by tough economic times. The youngest doll, Charlie Blackmore, begins a heroic effort to bring his family back together. But he's one size smaller than any other doll in the world. Game players will help Charlie, who is all too accustomed to being overlooked and dismissed – too small to be of any real consequence – discover that his size can be his greatest strength.
The game's the creation of project lead Lee Perry and showcases the off-kilter humor that's a Doublefine trademark. Like "Psychonauts" before it, "Stacking"'s art style immediately lets you know you're in for something different and the game mechanics take a metaphorical ability and bend it to clever uses. And who doesn't want to play with a farting, wooden stacking doll?
"Stacking" will hit the Playstation Network and Xbox Live Arcade early next year.