Harry Potter and the Future of "Part 1" Movies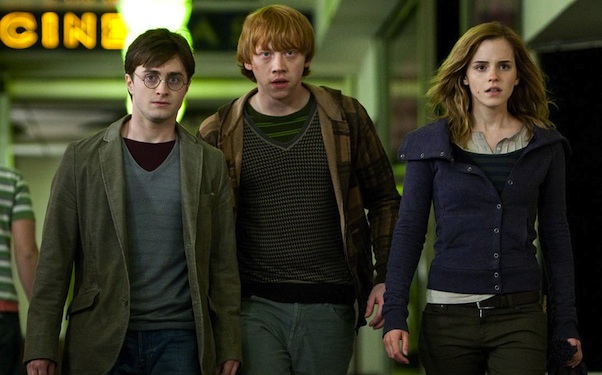 Posted by Matt Singer on
In his review of the new and (sorta) last Harry Potter movie, "Harry Potter and the Deathly Hallows: Part 1," New York's David Edelstein writes, "In all seriousness, there's nothing wrong with the 146-minute 'Harry Potter and the Deathly Hallows: Part 1' that couldn't be solved if this were, as the Brits would say, 'Harry Potter and the Deathly Hallows Full Stop.'" It's a sentiment that's being echoed by several critics reviewing the new "Potter." Richard Corliss from Time writes, "For an hour of its 2 ½-hour expanse it sticks three young people in the woods with little to do but wait for awful things to happen. It's like a minimalist indie horror film — 'The Blair Witch and Wizard Project' — on a $200 million-plus budget."
Overall, reviews for "DH1" are positive. And even if they weren't, it wouldn't matter. At this late stage in the series, a "Harry Potter" film is not only critic-proof, it's opinion-proof. If you've seen all six previous entries — even if you hated the last couple — you will see this one, just for the sake of completing the story. But comments like the ones from Edelstein, Corliss, and others bring up an important point: Warner Brothers has turned the final book in the series into two "final" movies. "Part 1" opens today; "Part 2" on July 15 of next year.
At 750-plus pages, J.K. Rowling's novel of "Harry Potter and the Deathly Hallows" would be a tough story to tell in a single film. But most of the books in the series, particularly the later ones, are long. The fifth book, "The Order of the Phoenix," is a hundred pages longer than "Deathly Hallows," yet the film version of it was shorter than just the first part of "Deathly Hallows." At the time Warner Brothers announced the decision to split "Deathly Hallows," they stated that if they were going to be faithful to the book, they had no other choice. Producer David Heyman told The Los Angeles Times, "Unlike every other book, you cannot remove elements of this book. You can remove scenes of Ron playing Quidditch from the fifth book, and you can remove Hermione and S.P.E.W…. but with the seventh, that can't be done." Alan Horn, president and COO of Warner Brothers Entertainment told The Times, "This way, we have an extra hour and a half, at least, to celebrate what this franchise has been and do justice to all the words and ideas that Jo has put in the amazing story."
Edelstein and Corliss might find fault with the film's telling of that amazing story, but from a business perspective, "Deathly Hallows: Part 1" is a brilliant move for Warner Brothers, who get two guaranteed blockbusters for the price of (a bit more than) one. It's a move that others in Hollywood are starting to copy. There have always been sequels, but instances of one piece of source material being divided into multiple films have been comparatively rare. Until now. In addition to "Harry Potter," the release calendar also includes Bill Condon's "The Twilight Saga: Breaking Dawn: Part 1" and Peter Jackson's "The Hobbit: Part 1." When Jackson first joined the "Lord of the Rings" franchise, the plan was to turn the three original novels into just two films. If they were made today, that plan might have looked a great deal different.
No doubt Harry Potter fanatics, who obsess over the "accuracy" of the films, are glad for their decision. For them, a two-part "Deathly Hallows" represents an opportunity for the most literally faithful movie in the franchise. Same goes for Condon and Jackson, who are working for fan bases as rabid and loyal as the Potterites. For some of the fans of these immersive, fantastical worlds, quantity seems preferable to quality, so that two decent movies are better than one perfect one. Any chance to spend more time with the characters they love. Warner Brothers will be happy to give it to them.