Going Solo: Movies With (Mostly) Just One Actor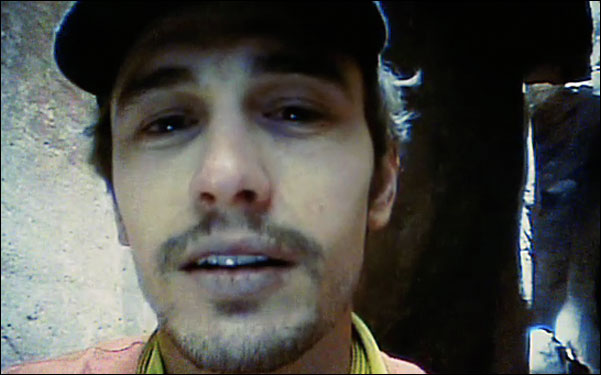 Posted by Alison Willmore on
"127 Hours" is James Franco's show — there are other people in the cast, like Kate Mara and Amber Tamblyn as hikers his character, Aron Ralston, encounters while exploring the canyons near Moab, UT. There's his family, his coworker and his former lover, all glimpsed in memories, but for the majority of the runtime of Danny Boyle's film Franco is alone on screen, doing a remarkable job of holding our attention with no one to talk to but his camera and his own increasingly desperate self.
Movies may be a visual medium, but it's through dialogue that we tend to get to know characters and grasp plots. So having an actor alone on screen is a tricky proposition, one that often requires gimmicks, games or just letting go of any traditional narrative. Here's a look at a few films, recent and older, that have offered significant solo time for a character.
---
"Wrecked" (2010)
Directed by Michael Greenspan
Soloist: Adrien Brody
A man wakes up in a wrecked car in the middle of the woods. His leg is pinned under the dash and there's a dead body in the back seat. Also, he's Adrien Brody, so we know some serious emoting is going to be going on in this Canadian indie, the feature debut of director Michael Greenspan. Aside from a few flashbacks and the sporadic appearances of a woman ("Wonderfall"'s Caroline Dhavernas) and a dog who may or may not be real, Brody spends most of this film alone, telegraphing his pain, frustration and confusion (he doesn't remember anything about who he is or how he ended up in the car) through the kind of half-muttered interjections you make to keep yourself company when you're sure you're totally alone. "Wrecked" is intriguing when it keeps to the unprotected confines of the car and the mystery of who its passengers are, but eventually it has to open up to the larger woods and a somewhat silly threat to our hero.
---
"Buried" (2010)
Directed by Rodrigo Cortés
Soloist: Ryan Reynolds
A man wakes up in a coffin buried in the sand. In Iraq! Like "Wrecked," Rodrigo Cortés' film is a high-concept one-man show about a character trapped in a claustrophobic space, though here there's an attempt at topicality. The sense of time running out is also upped, with limited oxygen and an unstable space posing threats to Ryan Reynolds' Paul Conroy, captured convoy driver. On the other hand, Paul has a cell phone, which means he actually has people to talk to. Reynolds is remarkably game, but is also given off-screen characters with which to interact, relieving some of the burden of having to be exciting on screen all by oneself.
"Symbol" (2010)
Directed by Hitoshi Matsumoto
Soloist: Hitoshi Matsumoto
Comedian and filmmaker Hitoshi Matsumoto (of "Big Man Japan") pits two seemingly unrelated storylines against each other in his second feature. In one, the patriarch of a Mexican family prepares for a lucha libre match against intimidating opponents. In the other, a man (played by Matsumoto) awakens by himself in a white room with no doors or windows, just switches that are actually the genitalia of snickering cherubim hiding in the walls. Alone, Matsumoto displays his gift for physical comedy — the unnamed man he plays, clad in bright pajamas and sporting a bowl cut, isn't terribly bright but is amusing prone to burst of loud frustration. His exploration into what the switches do is a prolonged, and very funny, absurdist journey.
---
"Yaadein" (1964)
Directed by Sunil Dutt
Soloist: Sunil Dutt
You can't fault Sunil Dutt for a lack of confidence — he directed himself in this black and white 1964 Hindi film, aside from a silhouette toward the end, the only actor on screen. "Yaadein" (Memories) consists of a monologue from Anil, played by Dutt, who reminisces about his marriage to Priya, the birth of their children, his straying and its effects on the family. He's come home to an empty house, and believes his wife has finally left him, despairing at his mistakes and overcome with regret. This film is apparently one of three sharing a listing in the Guinness Book of World Records for "Fewest actors in a narrative film."