Five Oscar Bait Movies You Won't See This Awards Season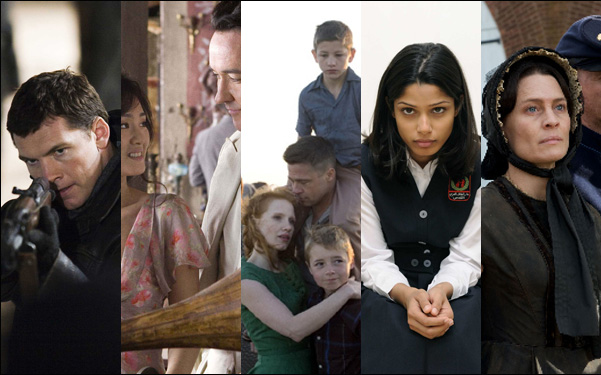 Posted by Stephen Saito on
As demonstrated by our recent holiday indie film preview, there will be nearly a hundred films opening in theaters before the end of the year, with many of them aspiring for Oscar gold. But in a tradition that's getting to be as commonplace as end-of-the-year gift-giving, there are a handful of movies that seemed destined to compete during awards season that won't be seeing the inside of your local theater until next year. Internal studio strife, endless tinkering or simply bad early reviews have contributed to why these five particular pieces of Oscar bait will be sitting on the sidelines instead of jockeying for awards attention.
"Miral"
Since the awards season success of "The Diving Bell and the Butterfly," Oscar prognosticators had been anticipating the arrival of Julian Schnabel's latest film with the idea that the director would once again bring a true artistic sensibility to journalist Rula Jebreal's semi-autobiographical novel that covers three generations of women in Jerusalem, but centers on a young Palestinean orphan ("Slumdog Millionaire"'s Freida Pinto) emboldened to become a revolutionary under Israeli occupation during the late 1960s. However, even before the film premiered at the Venice Film Festival in September, it had already caused some ripples for taking a pro-Palestine point of view, which Schnabel has tried to downplay, telling The Huffington Post in an interview, "This film is not a treatise in political history, nor a polemic. It is a poem."
But it turned out that U.S. distributor (and noted pro-Israel supporter) Harvey Weinstein's headaches in Venice weren't caused by the film's content, but by the response from critics, who ranged from calling it heartfelt but misguided, as IndieWire's Anne Thompson did, to calling it "a disaster," per The Guardian's Peter Bradshaw. Some might argue that the dour reception to the film in Venice and subsequently, Telluride doomed its awards chances, but it was also probably the emergence of "The King's Speech" at those same festivals that deep sixed its December release, which has now been moved to March. Just this week, Schnabel seemed unfazed by the move and the polarizing response in an interview with The Guardian, saying "If Arab people see a Jewish person can do this, they might think, 'Maybe there's somebody on the other side we can talk to.' I'm not a saint. I'm just somebody who thought this was a worthwhile thing to do."
"Shanghai"
While "Miral" was a last-minute call, The Weinstein Company likely never had plans to release this long-shelved production that once started with such high hopes. It was a coronation of sorts for director Mikael Hafstrom, who did right by the Weinsteins with the financially bankable thrillers "Derailed" and "1408" before being handed the keys to the film penned by "The Wings of the Dove" scribe Hossein Amini and a cast with awards bait written all over it, mixing Chow Yun Fat, Ken Watanabe, Rinko Kikuchi and Gong Li with John Cusack, Franka Potente and David Morse in a '40s murder mystery centered around Cusack's American intelligence officer snooping around for clues concerning the murder of his friend (Jeffrey Dean Morgan) shortly before Pearl Harbor in World War II.
Although the Chinese wouldn't allow the production to shoot on its soil in 2008, the film did make its premiere at the Shanghai International Film Festival in June before being released in much of Asia over the summer. (This was only after a 2009 awards run in the States was scrapped.) In his review for Film Business Asia, Derek Elley noted "['Shanghai'] has the feel of one that has been ruthlessly pared in post-production," but generally gave the film a positive review, making it slightly strange that the company hasn't rescheduled the film's release in the U.S., let alone dropping it into awards season just to test the waters for acting nominations. A Weinstein Company rep recently told The Los Angeles Times that the film needed to be released in China first, which caused part of the delay, but as the article goes on to note "Shanghai" has endured other post-production issues. Still, Hafstrom will have one film out while all those ceremonies start rolling around, only it won't be competing – his next film "The Rite," a supernatural thriller which does boast an Oscar winner in star Anthony Hopkins, will is headed to theaters in January, and perhaps not coincidentally it's his first English-language film not made for the Weinsteins.