A Trip Through "Fantasia" to "Valhalla" and More New DVDs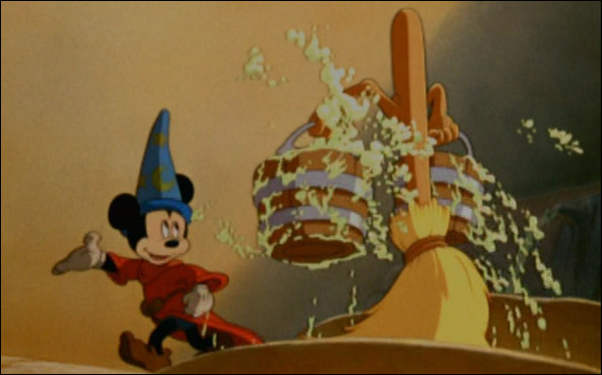 Posted by Stephen Saito on
A look at what's new on DVD today:
"The Fantasia Collection"
Released by Disney Home Entertainment
While the headliner of Disney's incredible group of releases on November 30th will be the four-disc Blu-ray double feature of "Fantasia" and "Fantasia 2000," it's what's less publicized that should be exciting to both Disneyphiles and film fans in general. Starting with the hi-def debut of the two "Fantasias," Disney will finally include amongst the films' copious special features (many ported over from the out-of-print DVD set) the 1946 Salvador Dali-Walt Disney collaboration "Destino," along with an 82-minute making-of documentary. And incidentally, Disney is also releasing three standalone documentaries that shouldn't be overlooked in "The Boys: The Sherman Brothers' Story" about the songsmiths behind the studio's most famous musicals like "Mary Poppins," "Walt & El Grupo," which details the company-shifting trip Walt Disney took with his animators to Latin America as part of the Good Neighbor Policy during World War II, and the most acclaimed of the bunch, "Waking Sleeping Beauty," which chronicles the resurrection of Disney's animation division during the late '80s and early '90s.
"Alarm" (2008)
Directed by Gerard Stembridge
Released by MPI Home Video
"About Adam" director Gerard Stembridge's latest film is a psychological thriller about a woman (Ruth Bradley) who moves from hustle and bustle of Dublin for the Irish countryside, only to be freaked out by how quiet her new hometown is during the day, leading to the installation of an alarm system after she finds someone has broken into her home and the idea that she could be of more danger to herself than those around her.
"Anotherworld" (2010)
Directed by Fabiomassimo Lozzi
Released by Breaking Glass Pictures
A selection of Frameline and the Chicago International Film Festival, Lozzi blends fiction and nonfiction with this collection of 43 monologues about the gay male's experience in Italy.
"Cairo Time" (2010)
Directed by Ruba Nadda
Released by MPI Home Video
A romantic drama both in its subject matter and setting, Patricia Clarkson stars as the wife of a U.N. official who is left adrift in an Egyptian hotel, where her only company is her husband's friend (Alexander Siddig), during a three-week stay in the Middle East.
"Going the Distance" (2010)
Directed by Nanette Burstein
Released by Warner Home Video
Refreshingly foul-mouthed for a romantic comedy while not being of the gross-out variety, the narrative debut for longtime documentarian Nanette Burstein ("American Teen") invovles a pair of young lovers (Drew Barrymore and Justin Long) whose relationship is born out of unfortunate timing as Barrymore's journalist moves to San Francisco while Long's A & R rep must stay in New York. While criticism about Long's face proved more enduring than the actual film during its September release, it's quite possible the comedy will find its audience on home video.
"Henry Jaglom Collection: Love & Romance"
Directed by Henry Jaglom
Released by Rainbow Releasing
On the eve of his latest film "Queen of the Lot," the director rereleases his romantic dramas 1985's "Always…But Not Forever," 1997's "Deja Vu" and 1992's "Venice/Venice" (with appearances from David Duchovny and Melissa Leo).
"Knight and Day" (2010)
Directed by James Mangold
Released by Fox Home Entertainment
Although Tom Cruise's return to action proved to be a box office disappointment domestically, this thriller, in which he stars as a secret agent who must protect a civilian (Cameron Diaz) who gets unwittingly involved in a massive conspiracy, wound up being an international success, perhaps partly because it has a pretty awesome chase scene through Spain. Peter Sarsgaard, Paul Dano, Maggie Grace and Viola Davis co-star.
"La Braconne" (1993)
Directed by Serge Pénard
Released by Pathfinder Pictures
A selection of Cannes, this French coming-of-age story tells of an 11-year-old who lives with his two uncles and gets them into trouble when he is responsible for the disappearance of some chickens in town and lets one of them take the fall.
"Life in Flight" (2008)
Directed by Tracey Hecht
Released by MPI Home Video
Patrick Wilson stars as an architect who seemingly has it all with a great marriage and a wonderful son until his flirtations with an urban designer (Lynn Collins) suggest that even though his life has gone according to plan, that isn't what he wanted from life in director Tracey Hecht's feature debut. Amy Smart co-stars. (My interview with Hecht is here.)
"Liverpool" (2009)
Directed by Lisandro Alonso
Released by Kino
Back in 2009, R. Emmet Sweeney called Lisandro Alonso's latest film "one of the most challenging and rewarding films at Rotterdam," unspooling the character study of a sailor who travels in search of his mother and admires all the sights to be seen on the bottom tip of South America.
"Lulu" (2002)
Directed by Jean-Henri Roger
Released by Pathfinder Pictures
Mathieu Amalric and Tony Gatlif put in appearances in this drama about a transsexual bar owner (Elli Medeiros) accused of murder who becomes romantically entangled with the journalist (Jean-Pierre Kalfon) who tries to set her free.
"Shadowland" (2010)
Directed by Wyatt Weed
Released by Pirate Pictures
In this horror film from director Wyatt Weed, Caitlin McIntosh stars as an amnesiac vampiress who doesn't know whether to run from or towards a bounty hunter dispatched by the Vatican who claims he can save her soul.
"The Sicilian Girl" (2009)
Directed by Marco Amenta
Released by Music Box Films
Amenta dramatizes his 1997 documentary about the 17-year-old daughter of a mafioso who agrees to testify against the mob after the deaths of her father and brother in this Italian thriller that I thought "resembles a Hollywood B-picture of the 1940s" when I saw it last year.
"The Special Relationship" (2010)
Directed by Richard Loncraine
Released by HBO Home Video
Screenwriter Peter Morgan and Michael Sheen's third entry into their shared Tony Blair series ultimately landed without director Stephen Frears and on HBO, but critics suggested Richard Loncraine filled in Frears' shoes admirably in recounting the bond that formed between Blair and Bill Clinton (Dennis Quaid) between 1992 and 2000.
"The Sorcerer's Apprentice" (2010)
Directed by Jon Turteltaub
Released by Disney Home Entertainment
If old school Disney doesn't do the trick this week, Jerry Bruckheimer's bombastic spin on the "Fantasia" staple is also being released on DVD and Blu-ray, with "Undeclared" star Jay Baruchel getting the magic wand after he accidentally unleashes the mortal enemy of Nicolas Cage's sorcerer and must send him back to hell. And win the girl (Teresa Palmer).
"Valhalla Rising" (2010)
Directed by Nicolas Winding Refn
Released by MPI Home Video
Arguably one of the most visually striking depictions of Viking life ever forged, "Vahalla Rising" reunites Refn with his "Pusher" star Mads Mikkelsen for this elegiac journey across the Scottish Highlands interrupted by disembowlings, bludgeonings and beheadings at the hands of a warrior named One-Eye (Mikkelsen) in 1000 AD.
"Vampires Suck" (2010)
Directed by Jason Friedberg and Aaron Seltzer
Released by Fox Home Entertainment
We're completists at IFC.com, which is why we're including the latest from cinematic arsonists Friedberg and Seltzer ("Date Movie" and "Meet the Spartans") in this column. Ken Jeong and Diedrich Bader are present in this "spoof" of "Twilight" and whatever else has caught their fancy recently.