"Fallout: New Vegas" Gets Beaten in Pacifist Playthrough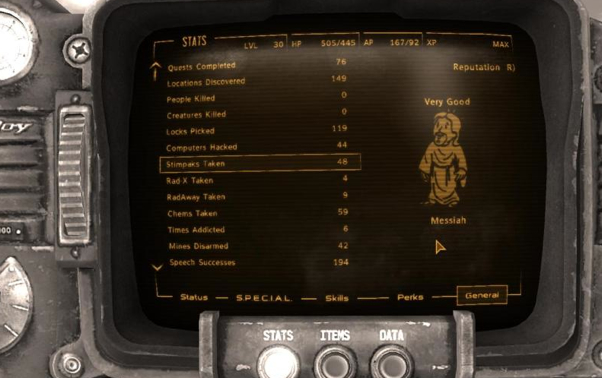 Posted by Evan Narcisse on
Role-playing video games take a lot of their cues from pen-and-paper entertainments like "Dungeons & Dragons." The combination of richly populated fantasy worlds with the statistically detailed structures that govern them creates a juicy tension that drips into every interaction.
But games by their very nature demand action and, in some implementations, a corresponding amount of violence. However, while orcs and goblins met their ends in a play session of "D&D," the death doled out during a tabletop session doesn't come close to the kinds of numbers of enemies killed during a game of, say, Mass Effect or Final Fantasy.
So it's especially impressive that NeoGAF user water_wendi played through "Fallout: New Vegas" without killing a single living thing. "FNV" assigns players different skills and lets them allocate stats to them. The non-combat skills–Charisma, Barter, Speech–let players resolve situations without firing any of the game's exotic retro-futuristic weapons, but it's extremely rare that anyone uses such methods for every encounter in the game.
"Fallout: New Vegas" isn't the first high-profile game to have a no-kill resolution. Many of the games in Konami's "Metal Gear" series have offered a less violent option to players painstaking enough to only disable enemy soldiers. Stealth is "Metal Gear"'s stock-in-trade, though, and a no-kill play-through makes sense in a sneaky-centric game.
"New Vegas" is much more of a mixed bag and it doesn't seem like water_wendi did every quest in the Bethesda title. Nevertheless, the achievement's still impressive because killing is an essential part of farming the experience points used to build skills like Charisma. Head over to NeoGAF to read how water_wendi smooth-talked his way to no-kill nirvana.