"Undeclared" Ep. 3 and 4, "Eric Visits" / "Jobs, Jobs, Jobs"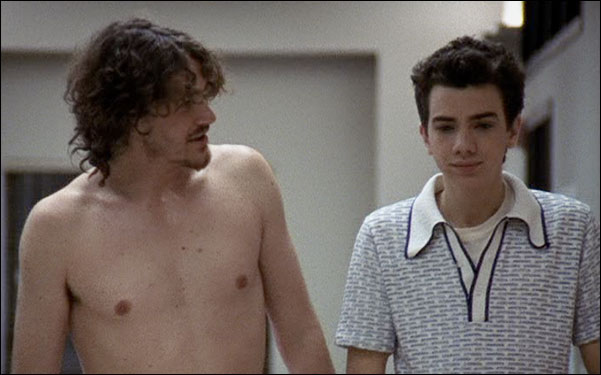 Posted by Alison Willmore on
"Undeclared" is now airing on IFC, and we thought we'd take this opportunity to revisit the show that further cemented broadcast television's inability to recognize the genius of Judd Apatow. Every week, Matt Singer and Alison Willmore will be offering their thoughts on that night's episode.
Episode 3
"Eric Visits"
Written by Judd Apatow & Rodney Rothman
Directed by John Hamburg
Episode 4
"Jobs, Jobs, Jobs"
Written by Joel Madison
Directed by Greg Mottola
"Why would you even want to be on that show? I mean, it hasn't been funny in, like, forever." — Rachel
"Undeclared" really kicks into gear with "Eric Visits" and "Jobs, Jobs, Jobs," the first of which gets a big boost from guest Jason Segel as Lizzie's so far unseen but much heard boyfriend Eric, and the second of which has a surprisingly serious center. Let's deal with Eric first. As Nick on "Freaks and Geeks," Segel displayed an unparalleled ability to play creepy-charming, a talent in full, magnificent display here. Having just rewatched both "Eric Visits" and "Forgetting Sarah Marshall," I feel comfortable declaring Segel film and television's reigning king of creepy-charming. The secret is that his intense neediness never contains the threat of harm to its target — he plays suffocatingly clingy, mushy, vulnerable, but he's a puppy. There's more danger of him hurting himself, emotionally or, as his punches his own head in frustration while weeping in the shower, physically.
Eric is a goofier and more pathetic creation than Nick, and, with that patchy beard, scraggly haircut and near-unibrow, just generally… grosser. (When he emerges, post-coital, from Lizzie's room in his boxers, poor traumatized Steven can barely look at him.) He's a college dropout who works at a copy shop and is obviously a few years older than Lizzie — she informs Steven that she's been dating him since tenth grade, which is ever so statutory rapey. All of Eric's gifts to her take advantage of his copy shop resources, including the ridiculous "Dreaming of you" pillowcase.
And yet… Eric is a nice guy. A likable guy, even, when he's not being smotheringly lovey-dovey. His interactions with Steven, who he never even considers as a romantic threat, are sincere and open, and after some consolation he's ready to gracefully accept defeat and move on. It's Steven who, having seen Eric's positive side, can't bring himself to let the guy slink off into the night alone, and while that chocolate box photo collage (the assembling of which includes a nice bit involving Eric cheerily slicing up headshots up perfectly without even needing to look) might be shudder-inducing, at least we now know Lizzie isn't stuck in a completely insane relationship.
In the second of these episodes, we have another character whose surface loserdom hides a caring heart: Steven's dad Hal, who after being downsized can't pay Steven's tuition, and ends up taking a downwardly mobile (but much more enjoyable) waitstaff position at a posh restaurant. Once again, Steven's escapist college mellow is harshed by his proximity to the real world and his real parents (or parent). Here, though, that comes with a real rebuke of Steven's unthinking sense of entitlement — after scolding his father for putting Tivo above his son's education, Steven's forced to actually confront the sacrifices the man is making on his behalf, and because of it signs himself back up for that abusive job at the cafeteria alongside Marshall and his weird rash.
Speaking of TiVo, these two episodes are heavily salted with pop culture references, from Ron trying to bond with Lloyd over "You've Got Mail" (and Lloyd predicting with hilarious accuracy what happens in the second half of the movie) to Jimmy (Geoffrey Arend) the impressionist's repertoire. Matt, what's your opinion on all this specificity, given how little most characters on TV seem to watch TV (or movies) themselves? And what's your take on Jimmy and his rant about his comedy aspirations and need to practice his skills?
Matt: Jimmy is an interesting character. He's a fan of a lot of Judd Apatow's collaborators, and he's got a poster for at least one Apatow production, "The Cable Guy," hanging on his dorm room wall. But he's also portrayed as a fairly awful person: talented maybe, but also completely self-obsessed and incapable of carrying on a normal conversation without breaking out his Jimmy Stewart or Al Pacino impersonations. Though his neuroses seem fairly specific — he wants to be on "SNL" and thinks of his entire life as a long-form audition for the job — his portrayal is also a bit of an indictment of the kind of person who can only communication with others through the filter of pop culture. Which is sort of interesting because, as you point out Alison, most of the characters on "Undeclared" communicate with each other through the filter of pop culture, as Ron and Lloyd do during the "You've Got Mail" boondoggle, as Steven and Lizzie did last week at a screening of "American Pie." I suppose the point here is a cautionary one: we all love pop culture, but be careful not to take that too far.
Alison, you said you felt like "Undeclared" kicked into gear with these third and fourth episodes. Watching them, I felt like I was watching Judd Apatow — or maybe "Judd Apatow" — kick into gear as well. These episodes look and feel more like Apatow's more famous film work than anything in "Freaks and Geeks." The "You've Got Mail" scenes are a good example. Once Ron gets hammered on the contents of the free keg he's found, he starts opening up to Lloyd about his taste in movies. He tells people his favorite flick is "Red Dawn" but his real passion is for Nora Ephron. The scene may have been scripted but Rogen's delivery feels improvised, as if he riffed on different movies for Ron to like until he found the funniest one. Those small moments of truth are the best parts of these episodes, just as moments like Paul Rudd railing against the Michael McDonald music on the sample televisions at the electronics store are the best parts of "The 40-Year-Old Virgin."
I feel like we're also watching Seth Rogen become "Seth Rogen." Ron is a classic Apatow creation: the sweet-natured, schlubby party dude with a cockeyed view of the world and of problem solving. One of my favorite moments in either episode this week is the shot panning down all the different improvised cups and mugs Ron found to hold all the beer in the keg he has to return: mouthwash bottles, vases, even ziplock bags. That moment would not feel the least bit out of place in "Virgin" or "Knocked Up."
Though "Jobs, Jobs, Jobs" has a stock sitcom premise — even Steven and Marshall's white on white cafeteria uniforms seem to harken back to Lucy and Ethel at the chocolate factory — I like the way Steven and Hal's simultaneous employment in the food service industry crystalizes the former's ugly sense of entitlement. The show's rebuke of his elitism also feels like a sign of things to come for Apatow. All three of his movies have had working class protagonists and ethos; in the case of "Funny People," Adam Sandler's character's extreme wealth is presented as one of the primarly obstacles to his happiness. And as a guy who got mono from a tainted utensil, I wholeheartedly endorse "Undeclared"'s depiction of a college cafeteria as the most unsanitary and revolting place on earth.
Maybe it's because I had just listened to his fascinating two-part appearance on the WTF Podcast With Marc Maron, but Apatow himself was obviously on my mind a lot this week. Alison, did I miss any other connections between these two episodes and his later films?