Edgar Wright, Guillermo Del Toro and the Wonderful Afterlife of "Scott Pilgrim"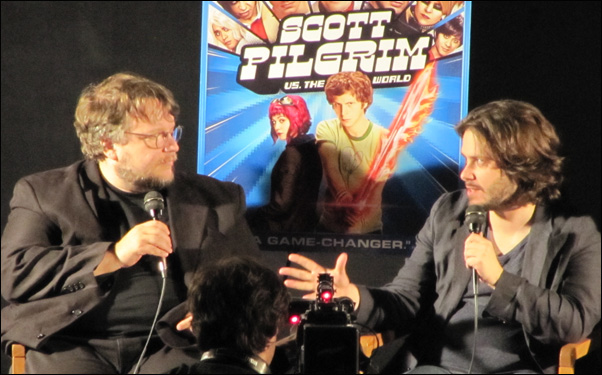 Posted by Stephen Saito on
If "Scott Pilgrim Vs. the World" died at the box office this past August, it's enjoying the heavenly embrace of its true fans now. During election season, one of the fiercest campaigns waged hasn't been led by any political candidate, but rather the cast and crew of "Scott Pilgrim" who have gone far beyond the call of duty to restore honor to Edgar Wright's gloriously insane adaptation of Bryan Lee O'Malley's graphic novel with a barnstorming tour of the country that began in Los Angeles last month at the New Beverly Cinema where everyone from star Michael Cera to director Edgar Wright showed up for the film's first official midnight screening and will continue at a free screening the Bloor Cinema in Toronto on Friday, sold out dates at the Brattle Theatre in Boston this Saturday (where the 7:30 show is not yet sold out) and the Village East in New York on November 8th, before returning to Los Angeles for a encore weekend of midnight screenings at the New Bev on November 12th and 13th moderated by Doug Benson.
Surely, promoting the film's DVD release on November 9th is a driving force behind these screenings, but for anyone that has been to one knows that a true phenomenon seems afoot. Just a few weeks ago, Rope of Silicon writer Bill Cody wondered, "Is Scott Pilgrim the New Lebowski?" and in a way few other films besides those contending for Oscars have, "Scott Pilgrim" has brought its followers, many of whom are quite famous, out of the woodwork to support the film.
Arguably, this started even before the film was released when J.J. Abrams bestowed the "This is Your Life" treatment to Wright's career at the L.A. Film Festival in June and continued through last night where Guillermo Del Toro held court at the Egyptian Theatre in Hollywood to interview Wright, O'Malley and Cera in front of a crowd that included co-stars Johnny Simmons, Mary Elizabeth Winstead and Satya Bhabha, as well as others like the film's fight choreographer Brad Allan and "Donnie Darko" director Richard Kelly. (Apparently, it was Allan who was an initial link between Del Toro and Wright – Del Toro invited Wright to the set of "Hellboy 2," when Wright was looking for a fight choreographer and when Del Toro was in the editing bay, Wright showed him animatics for what would become "Pilgrim.") With the fervor of an evangelist, Del Toro acknowledged shortly after the end credits rolled on the film that this wasn't some mere screening but an invocation of sorts.
"To me, [this] is a really important screening because I think we all can go out to the world after this screening and tell every motherfucker out there to watch the movie," said Del Toro. "Why? Because anyone that didn't watch it is a motherfucker. We can tell them when they ask why does Hollywood make such shitty movies because when they do great ones, you don't fucking show up."
For Del Toro, "Scott Pilgrim" is the first movie that "articulates our pop culture," which is why Monday evening's Q & A was so interesting as it veered away from cute behind-the-scenes anecdotes (which there were in spades, including this nugget about the film's cameos and how it took an entire year for a clearance producer to get the rights just for Scott Pilgrim's many T-shirts) to a wider-ranging talk about the potential for paradigm shifts in storytelling and the eventuality of transmedia. Since the event was ostensibly a promotional event for "Scott Pilgrim"'s DVD release, Universal quickly released some selected clips from the discussion that followed, a few of which will be embedded below, but we hope to fill that out with some of the more interesting parts of the conversation that weren't on video (uncensored, if you will, since Del Toro frequently dropped the f-bomb).
Guillermo Del Toro's introduction to the film:
Guillermo Del Toro: I'm here because I love the movie and I'm here as a fan. One of the reasons why I'm doing this event is one of the things that is…some people confuse with effortlessness with ease. One of the hardest things to simulate is something breezy and light and effortless and most people like to say that's just somebody winging it or having a good time. It applies to writers, actors and directors. When they talk about an actor just playing himself on the screen, that's absolutely not possible in the same way that getting a boner at home is easy, getting it hard in front of a film crew is pretty hard.
As a director, ultimately, you don't have a boner on the set, but the director is the same thing – keeping the rhythm and the flow of the movie is one of the cardinal things in telling a story, an incredibly intricate practice. And as a writer, the same. When people say he writes like he speaks, that is a huge task, not to change the voice in your head to the page. Many times you hear dialogue, you think about great dialogue being improvised because it seems to flow effortlessly. One of the things that Edgar did that absolutely destroyed me was transitions. When you see the movie again, the transitions are absolutely incredibly effortless, fluid, smart and completely deliberate and apropos of the movie. They are not just feats of camera and storytelling that are the struggles that he has putting on his platform shoes and dancing – it's none of that James Brown stuff. He's doing it not as a showboat, but as part of the reason and the narrative behind the story.
Another one I'd like to direct your attention towards is the color palette. I think there's a very deliberate use of saturated colors as the story advances and for good reason. Finally, when you go to Disneyland, they're always telling you to pay attention for the hidden Mickeys because there are Mickey Mouses hidden all over Disneyland, including the urinals, I think. I'm not sure about that, but just as much being a movie about evil exes, I would love for this to be a drinking game because then the actors would be great. But try and spot all the exes in the film that are everywhere.
Edgar Wright on The Film's Origins
Del Toro started this portion of the conversation by asking O'Malley whether he actually had to fight seven evil exes for the inspiration for the graphic novels, to which O'Malley replied that in real life his then-girlfriend had dated three guys named Matt and "I just thought three Matts was kind of a funny concept and what if they were evil. And to be honest, I was smoking a lot of pot at the time." Del Toro suggested that "there is a reading of [the film] where it could all be happening in Scott's mind" and Wright acknowledged that it was O'Malley's observation that Scott Pilgrim "is the hero in the movie in his own head" that really clarified things for the director.
Edgar Wright: Once I had that information, it was a really great way of how to imagine the movies that this movie is playing inside Scott Pilgrim's head and the real version of it would be like a 16mm Sundance indie comedy. But Scott Pilgrim has reinterpreted it as this thing with massive kung fu battles and musical sequences and the reality of it would be a quirky indie comedy minus the fight sequences.