Disc Covering: "I Knew It Was You: Rediscovering John Cazale"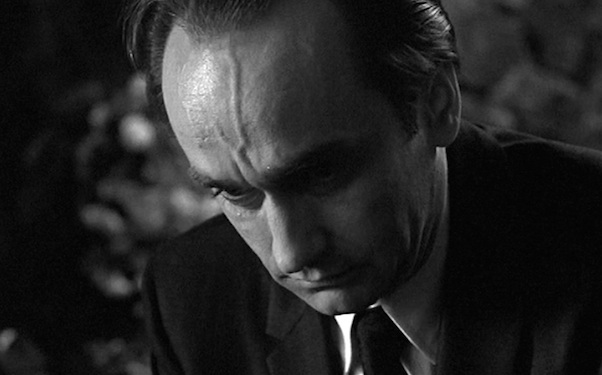 Posted by Matt Singer on
"He appeared in only five movies. All five of his movies were nominated for Best Picture. He worked with the best actors of his generation. He played one of the most iconic characters in film history. Yet today, most people don't even know his name." So read the title cards that open "I Knew It Was You: Rediscovering John Cazale," which premiered at the Sundance Film Festival in 2009 and is designed as a corrective to the mass ignorance surrounding one of most overlooked American actors of the 1970s. But does it succeed in revealing the man beneath those iconic cinematic images? Let's find out.
I Knew It Was You: Rediscovering John Cazale
Directed by Richard Shepard
Tweetable Plot Synopsis: A brief documentary on the life actor John Cazale, who made only five movies in short career, all of them nominated for Best Picture.
Biggest Success: Cazale died in 1978 at the age of 42 after a battle with lung cancer. Outside of his five feature films — "The Godfather," "The Conversation," "The Godfather Part II," "Dog Day Afternoon," and "The Deer Hunter" — there's almost no existing footage of him. So fans of Cazale, or at least fans of those movies, won't see much they haven't seen before. What you'll hear, though, are some unique anecdotes and stories from his peers, people like Al Pacino, Robert De Niro, Gene Hackman, and Meryl Streep, who don't give a lot of interviews (and by a lot of interviews I mean any at all ever) but made time to talk about what sort of man and what sort of actor Cazale was.
Best Moment: Film critics understand the craft of filmmaking, but I don't think a lot of them truly understand the craft of acting, certainly not in the way that trained actors do. Which is why it's so great to hear actors like Phillip Seymour Hoffman, Sam Rockwell, and Steve Buscemi gush about Cazale in "I Knew It Was You." They can scrutinize his work in ways that outside observers can't and they pick up on subtle gestures and choices most of us miss. In the section of the film about "The Deer Hunter," Sam Rockwell and Steve Buscemi assess Cazale's performance so carefully it will make you look at his role in a completely new way.
Special Features: The DVD from Oscilloscope Pictures includes a commentary from director Richard Shepard about why he wanted to make the documentary and all the great stuff he had to cut to hit the 40-minute runtime that his distributor, HBO Documentary Films, demanded. The commentary's sort of a double-edged sword: it's great to learn that Cazale was a passionate baseball who snuck away from the set of "Godfather Part II" to check out games in Havana, but it would have been better to see it in the film. The disc also includes extended interviews with Pacino and playwright Israel Horowitz, an essay on Cazale by critic Mark Harris, and two short films from the 1960s, "The American Way" (1962) and "The Box" (1969), that Cazale starred in and photographed, respectively.
Worthy of a Theatrical Release? At only forty minutes, you couldn't really release "I Knew It Was You" in theaters. If this film were an bonus feature on a "Godfather" box set, it would be the highlight of the package. As its own film, it's more an appetizer than a full meal; as wonderful as it is to hear his colleagues speak about him, this documentary is as frustratingly brief as Cazale's career. People say, for example, that Cazale brought a lot of pain to his performances but we never really learn where that pain came from. Viewers will learn about Cazale the actor, but Cazale the man remains a bit of a mystery. Still, this a must-watch (if not a must-buy) for fans of these movies and for anyone who likes to hear actors talk about acting.
For Further Viewing: an interview about "The Deer Hunter" with director Michael Cimino, who declined to contribute to "I Knew It Was You." He talks about Cazale around the seven minute mark.