Daft Punk Took A Baroque Approach To Scoring "Tron: Legacy"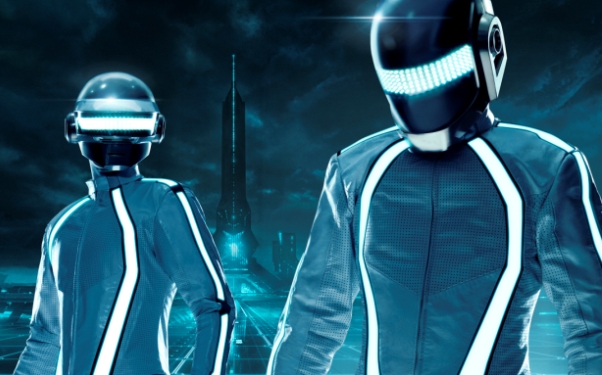 Posted by Brandon Kim on
It's been almost a month since I've written about "Tron: Legacy" or about Daft Punk's score for the long awaited sequel to the original 1982 film, which was notable both for it's ground breaking visuals as well as it's score by synth pioneer Wendy Carlos. We're clearly due for an update and I've got some positive news.
While some of the tracks serve the mood of the various trailers well and hint at great potential, others have been hard to embrace, sounding a bit like too many chemical glow sticks rubbing on a sweaty pair of phat pants.
Happily, there is a warmer, more complex quality to much of the score thanks to the decision to employ a 90-piece orchestra. "We knew from the start that there was no way we were going to do this film score with two synthesizers and a drum machine," Thomas Bangalter, one half of the futuristic duo, told Dazed & Confused.
He went on, surprisingly, to downplay the historical importance of synthesizers, "A cello was there 400 years ago and will still be here in 400 years. But synthesizers that were invented 20 years ago will probably be gone in the next 20. Synths are a very low level of artificial intelligence. Whereas you have a Stradivarius that will live for a thousand years." [FACT via Pitchfork]
Listen to clips from the soundtrack on IFC, or head to the official soundtrack site for more links.