When Silents Are Golden: Chaplin, Keaton, "Metropolis" and More New DVDs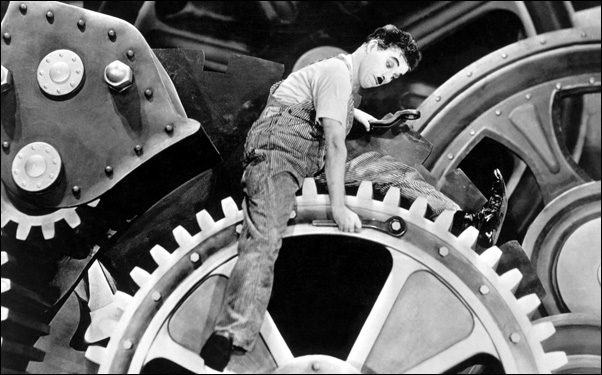 Posted by Stephen Saito on
A look at what's new on DVD today:
"Modern Times"
Directed by Charlie Chaplin
Released by Criterion Collection
Granted, Warner Brothers released an extensive two-disc collection of arguably Charlie Chaplin's finest film back in 2003, but Criterion Collection is bringing the silent comedian to Blu-ray for the first time with a newly remastered edition of the Depression-era classic with an array of special features including the Dardenne brothers' 2003 tribute to the film, the 1916 two-reeler "The Rink," the Alistair Cooke home movie with Chaplin and Pauline Goddard, "All at Sea," two deleted sequences from the film, a new featurette on the film's special effects with Ben Burtt and Craig Barron and much more.
"Avatar: Extended Collector's Edition"
Directed by James Cameron
Released by Fox Home Entertainment
After a bare bones edition was released in April, James Cameron's box office world-beater receives a three-disc set with all the bells and whistles one might expect for a more suitable gift-giving edition, offering 16 minutes of new footage, over an hour of deleted scenes, an hour-and-a-half making-of documentary, and countless featurettes and galleries documenting the film's production.
"31 North, 62 East"
Directed by Tristan Loraine
Released by MTI Home Video
John Rhys-Davies stars in Tristan Loraine's political thriller about a British prime minister's dirty dealings coming back to haunt him when he secures an arms deal by leaking the location of one of his squadrons in Afghanistan who are thought to be killed in short order as a result. But when one of them survives the attack, the female soldier (Heather Peace) will stop at nothing to get revenge.
"Barking Water"
Directed by Sterlin Harjo
Released by Kino
After its weeklong run at the Museum of Modern Art over the summer, Sterlin Harjo's road trip drama arrives at home on DVD, telling the story of a Native American (Richard Ray Whitman) who is accompanied by a former lover (Casey Camp-Horinek) to visit the capital of Seminole nation where his estranged daughter and granddaughter live.
"Bear City"
Directed by Douglas Langway
Released by TLA Releasing
For a comedic history of the gay male fetish towards the large and hirsuite, see Malcolm Ingram's doc "Bear Nation." But for a comedy about the bears, look no further than Langway's film about a weeklong convention of bears in New York where a thin, young and largely hairless man looks for love among a community where he's not an easy fit.
"Beneath the Blue"
Directed by Michael D. Sellers
Released by Inception Media Group
Having David Keith withdrawal after the quick cancellation of Fox's "Lone Star"? (Okay, I may be the only one.) This environmentally-themed thriller might be just the fix as Keith plays a scientist whose daughter (Caitlin Wachs) has to choose between her principles as a dolphin researcher and a naval officer ("The Vampire Diaries'" Paul Wesley) with orders to investigate a series of dolphin deaths suspected to be the result of the government's sonar.
"Best Worst Movie"
Directed by Michael Paul Stephenson
Released by New Video Group
Fans of "Troll 2" may have been disappointed that star Michael Paul Stephenson's loving documentary about the cult of fandom that has followed the truly horrific horror flick wasn't included on the recent "20th Anniversary Nilbog Edition" will be heartened to see it as its own stand-alone release. The DVD of this festival fave includes an audio commentary by Stephenson, deleted scenes and interviews.
"Brotherhood"
Directed by Nicolo Donato
Released by Olive Films
Donato's drama finds the inherent tension in a gay romance between two neo-Nazis in Denmark.
"Coopers' Christmas"
Directed by Warren P. Sonoda
Released by Anchor Bay Entertainment
A selection at the 2008 Toronto Film Festival, "The Daily Show"'s Jason Jones and Samantha Bee star in this mockumentary about a calamitous family get-together over the holidays, complete with a nude Dave Foley.
"Disney's A Christmas Carol"
Directed by Robert Zemeckis
Released by Disney Home Entertainment
To place alongside his adaptation of "The Polar Express," Robert Zemeckis' second motion-capture Christmas tale is coming out on DVD and Blu-ray just in time to place under the tree, starring Jim Carrey as Scrooge in the Charles Dickens' classic.
"A Crime"
Directed by Manuel Pradal
Released by Phase 4 Films
You know Manuel Pradal's crime thriller falls into the fantasy realm when Emmanuelle Beart has to invent a suspect in the murder of Norman Reedus' wife to take his mind off her death. Harvey Keitel shows up as a cabbie who gets involved and soon learns he doesn't want to be in this 2006 potboiler.
"Don't Look Back"
Directed by Marina de Van
Released by MPI Home Video
Speaking of European actresses whose looks could kill, Sophie Marceau and Monica Bellucci play the dual role of Jeanne, a biographer who notices her life and appearance starts to change when she tackles her own experience for her next book and becomes psychologically tortured when no one else seems to notice in this thriller that premiered at Cannes in 2009.
"Exam"
Directed by Stuart Hazeldine
Released by MPI Home Video
Luke Mably heads up a lit of eight applicants for the job interview from Hell involving one enigmatic question, 80 minutes to answer it and a locked windowless room where the applicants must rely on each other before competing against them to figure out what exactly they're answering in Stuart Hazeldine's twisty thriller.
"Exhibit A"
Directed by Dom Rotheroe
Released by IndiePix
One teenage girl's digital camera captures the destruction of her family when her father's secret debt is revealed and results in unexpected ramifications for his brood in this British thriller starring Brittany Ashworth and Bradley Cole.
"The Extra Man"
Directed by Shari Springer Berman and Robert Pulcini
Released by Magnolia Pictures
"American Splendor" co-directors Shari Springer Berman and Robert Pulcini worked with "Bored to Death" author Jonathan Ames to adapt his comic novel about a sexually confused, recently fired prep school teacher (Paul Dano) who comes under the tutelage of a failed playwright-turned-escort (Kevin Kline) for well-to-do women on the Upper East Side. (Aaron Hillis' interview with Paul Dano is here)
"Fear Me Not"
Directed by Kristian Levring
Released by MPI Home Video
"The King is Alive" director Kristian Levring teams with frequent Susanne Bier collaborator Anders Thomas Jensen for this Danish drama about a 42-year-old (Ulrich Thomsen) whose financial situation forces him into the quick cash of a drug trial, though he soon regrets his decision after his behavior becomes erratic as a result of the experimental meds he's taking.
"The Gunslingers"
Directed by Adam Oxsen
Released by Lionsgate
Originally titled "Ecstasy of Gold," Adam Oxsen's oater stars John Elliott as a bounty hunter who just wants a fair shake as a frontier town descends into chaos over a cache of gold, particularly his rival (Brad Allen) who intends to horde the gold for himself.
"A Lure: Teen Fight Club"
Directed by Bill McAdams Jr.
Released by Osiris Entertainment
Oh Bill McAdams Jr., you're a brave soul for inviting comparisons to David Fincher, but I'm guessing few will do so after watching this thriller about an undercover cop assigned to sneak her way into the bowels of the local high school where girls must put up their dukes or be killed.
"The Kids Are All Right"
Directed by Lisa Cholodenko
Released by Focus Features
"High Art" director Lisa Cholodenko teamed with frequent Edward Norton collaborator Stuart Blumberg to write this Sherman Oaks-set comedy that stars Annette Bening and Julianne Moore star as a well-to-do lesbian couple whose teenage children (Josh Hutcherson and Mia Wasikowska) begin to wonder about the identity of their biological father (Mark Ruffalo). (Alison Willmore's review is here)
"The Last Airbender"
Directed by M. Night Shyamalan
Released by Paramount Home Entertainment
Once competitors for the title of "Avatar," James Cameron's action flick and M. Night Shyamalan's adaptation of the popular Nickelodeon show once again will duke it out on the DVD shelves. This home edition will feature a nine-part documentary about the making of the film that will hopefully explain to fans how Shyamalan took this beloved property about a teen tasked with keeping the peace in a world divided into the four elements and scored just a six percent amongst critics on Rotten Tomatoes this summer.
"The Lightkeepers"
Directed by Daniel Adams
Released by Image Entertainment
This turn-of-the-century romance stars Richard Dreyfuss as a crusty seaman and lighthouse operator in Cape Cod whose vow to never fall in love again after the death of his wife is threatened by the arrival of two women (Blythe Danner and Mamie Gummer) who take residence in the neighboring cottage.
"Lottery Ticket"
Directed by Erik White
Released by Warner Home Video
Bow Wow hits the jackpot in this comedy where he must wait out a weekend to cash in a lottery ticket worth $370 million while everyone in his neighborhood from Charlie Murphy, Mike Epps, Terry Crews and Ice Cube try to pry it away from him.
"Metropia"
Directed by Tarik Saleh
Released by New Video Group
There might not be a more eclectic voice cast ever assembled than the one Tarik Saleh put together for this animated dystopian thriller about a world where the Trexx Corporation rules and a desk jockey (Vincent Gallo), suspicious of their motives, begins to follow the voice (Alexander Skarsgård) he hears inside his head and an intriguing shampoo model (Juliette Lewis) with the hope that it will free him from the drudgery of his daily routine. (Aaron Hillis' interview with star Alexander Skarsgard is here)